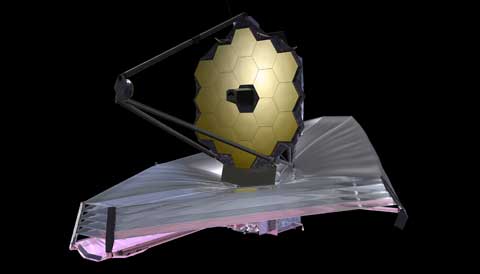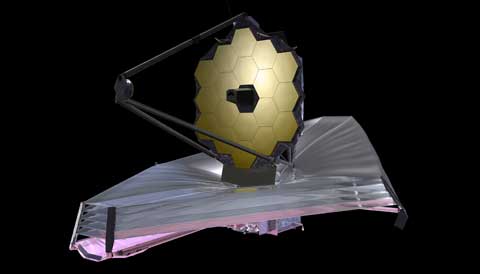 NASA officials announced today that the launch of the James Webb Space Telescope would be delayed until approximately May 2020. This is about a year after the last delay that was announced, which had put the launch date between March and June of 2019. The delay had been foreshadowed in an independent government report issued earlier this month.
The exact launch window isn't definite yet, though. NASA has heard from its own standing review board, whose report indicated additional time is needed, and now NASA is establishing an additional, independent review, which will assess the mission's chance for success and nail down changes in cost and schedule. To date, the agency has spent $7.3 billion on Webb's development. If the mission development costs go even $1 over the $8 billion maximum that Congress set in 2011, the project will face congressional reauthorization. NASA will report its assessment to Congress in late June.
Despite the mission's enormous cost, cancellation seems unlikely (or maybe I'm just optimistic). After all, the flight hardware, the five-layered, membranous Sun shield, and the spacecraft bus are all complete. It's just a matter of putting the observatory together, a phase called "integration and testing." Problems often pop up in this phase and Webb was no exception.
The Problems
Dennis Andrucyk, deputy associate administrator of NASA's Science Mission Directorate (SMD), outlined a number of technical challenges during a press conference with NASA officials.
For example, the complex Sun shield — which consists of five tennis-court-sized membranes that fold together to fit in the Ariane 5 rocket's fairing — was torn during testing. After repairing seven tears in total, including two that were 10 cm long, engineers had to make changes to the sunshield's storage and deployment to ensure that doesn't happen again — the shield is crucial to allowing the telescope to remain sensitive to near-infrared wavelengths.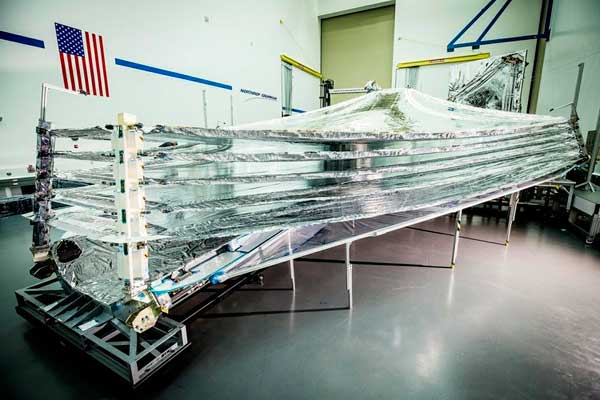 The list also included some avoidable errors: For example, a transducer was incorrectly powered and had to be replaced, resulting in a three-month delay, and an incorrect solvent was run through the propulsion system, damaging valves and seals, which had to be replaced.
While issues often arise during integration and testing, NASA officials admitted that Webb's schedule for this phase was "optimistic."
To address problems and avoid future mistakes, NASA plans to work much more closely with contractor Northrop Grumman Aerospace Systems than it has been, overseeing progress and ensuring that milestones are met. That includes logistical changes, such as putting some permanent NASA personnel on location, as well as holding bi-weekly senior-level meetings with Northrop Grumman's President and COO.
"We just want to make sure we know what's going on on a daily basis," says Robert Lightfoot, NASA's acting administrator. "That level of attention has a lot to do with how important this mission is to us."
Top Priority
Webb is a top science priority within the astronomical community — many is the science paper that concludes with the necessity of obtaining Webb observations. The mission also represents NASA's largest international space science project in U.S. history, including partnerships with the European and Canadian space agencies.
Once it's finally launched, the 6.5-meter near-infrared telescope will orbit the Sun at the L2 Lagrange point, 1.5 million km farther out than Earth, a vantage point that will enable it to explore the cosmos as we've never seen it before. The telescope will peer back to the universe's first stars and galaxies, seeing farther than the Hubble Space Telescope ever could. Astronomers will also use Webb to study nearby exoplanets, following up on planets discovered by the TESS mission, among others, characterizing their atmospheres, and looking for potential signs of life.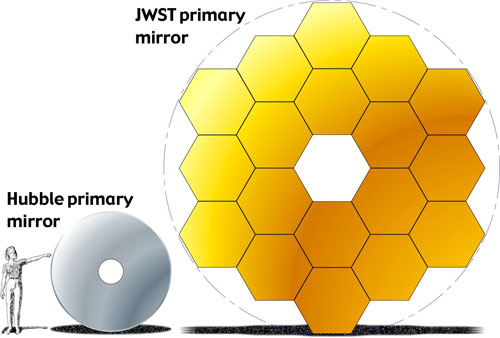 The Impact on Astronomy
The timing of today's announcement is critical for astronomers, who had been preparing proposals for a deadline on Friday, April 6th. That deadline will now be moved "until no earlier than February 1, 2019."
The delay in potential data and funding was met with understanding and some dismay in the community. "I was getting all jazzed up about the science that would come, which is one let down," says Katherine Whitaker (University of Connecticut). "But the other for me is the fact that possible funding lines are delayed for quite some time. I have a graduate student who has been a great help in proposal planning and this likely means that this data can no longer be included in the road map for his thesis."
"The data are so unique that this just can be picked up where I left off in a years time," Whitaker adds, "but the more practical worries remain."
There's a broader impact on the astronomical community, too. "First there will be an impact of perception," says Thomas Zurbuchen, SMD associate administrator. "Then there's the impact of actual cost — each dollar can only be spent once."
While Zurbuchen was hesitant to outline the impact on budget, because the full analysis on additional cost won't be complete until this summer, he did emphasize that the Science Mission Directorate has performed below cost when you look at all space science missions together. Still, he added, the agency has learned important lessons on mission planning, which will undoubtedly affect WFIRST (whose funding is already on the line in the FY2019 budget proposal), as well as potential 2030s-era missions such as LUVOIR, HABEX, or Lynx.
"I'd rather not have this kind of call we're having now; I'd rather have 100% success," Zurbuchen admitted during NASA's press conference. Nevertheless, he added, "I want us to have ambition."