Astronomers have discovered an exploding star that belongs to the "superluminous" class, and it's the most luminous one ever found.
A new light source popped into images taken as part of an all-sky survey starting in late May this year. With follow-up observations in hand, astronomers now think this is the most luminous supernova ever observed. It shines with the luminosity of 572 billion Suns.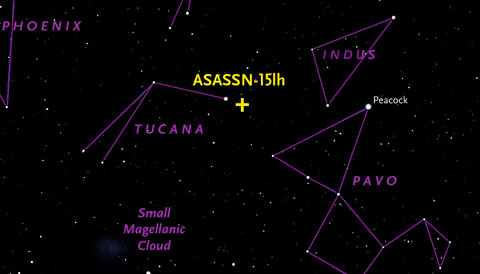 Dubbed ASASSN-15lh, this supernova was found as part of the All Sky Automated Survey for SuperNovae (ASASSN), which relies in part on the observations of Cassius, twin 14-centimeter telescopes in Cerro Tololo, Chile.
Astronomers across the Southern Hemisphere have conducted follow-up observations using several telescopes, including the robotic 1-meter telescope in Chile that's part of the Las Cumbres Observatory Global Telescope Network, the du Pont 2.5-meter telescope at Las Campanas Observatory, South Africa's 10-meter SALT telescope, and several others.
Spectra have confirmed that the object's blue-colored light has been traveling toward Earth for the past 2.8 billion years. (That's a redshift, z, of 0.2326.) The light also appears to lack hydrogen features, which means that the star would have lost its outer hydrogen-rich layers in a wind prior to exploding.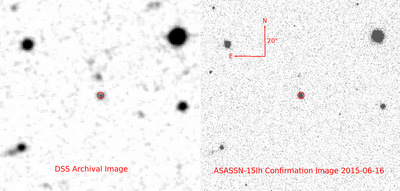 Subo Dong (Kavli Institute for Astronomy and Astrophysics at Peking University, China) wrote in the Astronomer's Telegram that the object appears to be one of the superluminous supernovae, a rare class that shines with luminosities 10 to 100 times brighter than those of "normal" supernovae. These are also typically larger in physical size and hotter. A paper on the discovery is now available on the preprint arXiv.
Normally, most of a supernova's light comes from radioactive nickel-56, synthesized in the star's core before it runs out of fuel to sustain itself against gravity's pull. This radioactive element decays and produces gamma rays, which heat the surrounding material: the more nickel-56, the brighter the supernova. But hydrogen-poor superluminous supernovae (SLSN Class I in astronomer-speak) fade too rapidly for the luminosity to come entirely from nickel-56 — some unknown mechanism powers their extreme luminosity. Whether that remains true for this new supernova remains to be seen. Stay tuned...