Despite skepticism from scientists and politicians alike, NASA is proceeding with its asteroid redirect mission and has found six candidates for exploration so far.
Usually, the saying goes, getting there is half the battle. In the case of NASA's Asteroid Redirect Mission (ARM), finding "there" might be the bigger challenge.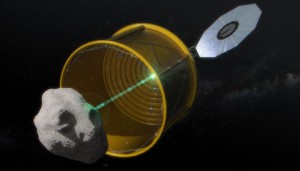 When NASA first announced the mission to find, retrieve, and explore an asteroid, the community reacted with skepticism. Finding asteroids, especially small ones, is hard — and finding small asteroids with just the right criteria for a robotic rendezvous is even harder. An alternative option, flying to a bigger asteroid and retrieving a boulder off its surface, was even added as a possibility to help enlarge the pool of candidates.
Now NASA has announced that they have collected six "valid candidates" between the two options, where "valid" indicates that follow-up observations show the objects meet rendezvous criteria.
For Option A, which aims to bag a whole, small asteroid and bring it back to lunar retrograde orbit, the three criteria are size, spin rate, and mass. Mission planners have three valid candidates so far: 2009 BD, 2013 EC20, and a new candidate announced yesterday, 2011 MD. Each candidate is less than about 10 meters across and spins less than once every 2 minutes. The mass limit depends on the asteroid's orbit.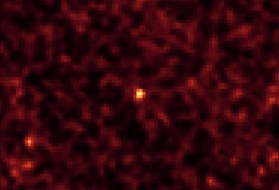 2011 MD, the biggest candidate so far, is between 4 and 10 meters across (13 to 32 feet) and has a surprisingly low density, roughly that of water. Based on the size and density, its mass is somewhere between 50 and 350 tons. This asteroid passed very close to Earth in 2011, enabling its discovery and tweaking its orbit such that it's a good target for a rendezvous in 2024.
Earlier this year, NASA's Spitzer Space Telescope, whose orbit trails Earth's, stared at 2011 MD for 20 hours to characterize the object's temperature, and therefore its size. The low density probably means that the asteroid is really a fleet of flying boulders, though it's also possible that the asteroid is a single rock surrounded by a haze of smaller rock particles.
Regardless of the asteroid's true nature, Option A would have the robotic spacecraft grab the whole thing in a bag and haul it back to an orbit 70,000 km above the lunar surface.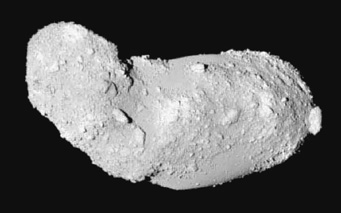 The alternative, Option B, involves retrieving a boulder from a larger asteroid and has fewer constraints, requiring only an accessible orbit and confirmation of boulders on the asteroid's surface. But observational evidence for boulders is hard to obtain. So far, three candidates have made the list for Option B: Itokawa (pictured at right), 2008 EV5, and 101955 Bennu, the target of the upcoming OSIRIS-Rex mission.
In addition to widening the playing field of potential targets, Option B has a side benefit: testing planetary defense. Option A by definition has NASA targeting asteroids that are too small to matter when it comes to close encounters — if these asteroids ever ventured too near Earth, they would mostly burn up in the atmosphere. But Option B targets asteroids 100 times larger, and the robotic spacecraft could demonstrate techniques such as the gravity tractor or ion-beam deflection either before or after picking up the boulder.
Paul Chodas (NASA JPL) estimated that NASA's searches might find an additional two to three candidate asteroids per year until 2018, at which time the agency will have to decide both which option they're going with and which asteroid they'll target for a projected 2019 launch.
As the search for asteroid candidates continues, work begins on retrieval mechanisms. NASA also announced yesterday 18 proposals that will share $4.9 million over the next six months to investigate technology for rendezvous sensors, asteroid capture, adapting commercial spacecraft, and more. See NASA's press release for the full list of accepted proposals.
Facing the Skeptics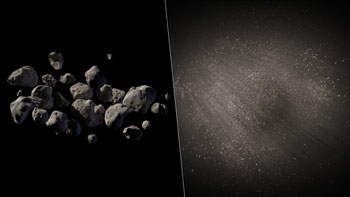 NASA's announcement was intended no doubt to soothe critics in the political and scientific communities alike. Just last week, the U.S. National Academy of Sciences issued a report that urged a return to the Moon rather than a singular focus on asteroid retrieval. Meanwhile, lawmakers have voiced their unease about the asteroid retrieval mission's lack of a firm schedule and budget.
"Our briefing reminded the community that we have some viable candidates already for this proposed mission," Chodas says, "and the prospects are good for finding more viable candidates."
But Jim Bell (Arizona State University), president of The Planetary Society, counters, "Finding suitable targets is just one step in NASA proving that the Asteroid Retrieval Mission is a feasible project." As described in a recent statement from The Planetary Society, the agency also needs to produce an independent assessment of the mission's likely costs and of the technical implementation that NASA plans to pursue, he explains.  "Hopefully those additional steps will be coming soon."
---
We'll soon get our first close glimpse at another alien interplanetary visitor, Comet 67P/Churyumov–Gerasimenko — subscribe to Sky & Telescope and take a sneak peak at the Rosetta mission with our August 2014 issue.