Sky & Telescope editors reconnected with readers this past weekend at the Northeast Astronomy Forum, the world's largest astronomy and space tradeshow.
Every spring astro-enthusiasts gather at the Northeast Astronomy Forum (NEAF) in Suffern, New York for two days of astro talks, activities, and equipment galore. Organized by the non-profit Rockland Astronomy Club, NEAF hosted booths from 120 vendors and exhibitors this year. There was also a full slate of experts lecturing on recent developments in astronomy and space exploration, a solar-observing field, and a special children's area. Many NEAF attendees also attended the Northeast Astro-Imaging Conference (NEAIC), a two-day meeting organized by Bob Moore that features workshops and lectures by both amateur and professional astroimagers.

As always, Sky & Telescope had a booth on the main exhibition floor, and our editors spent an exhilarating weekend talking to our readers. Here are some of our experiences:
Editor in Chief Peter Tyson: I've always vaguely wondered what might be better weather-wise to entice folks to attend NEAF on an April weekend: chilly, dark, and drizzly, or bright, sunny, and warm. Well, I have my answer. Both Saturday and Sunday at NEAF were absolutely gorgeous outside, and people came in droves. Around 11 a.m. on Saturday, I don't believe I've ever seen the show more crowded with astro enthusiasts of all ages. With Sky & Telescope's booth the very first one attendees pass as they enter the main floor, it was all we staff could do to keep up with the questions and comments about S&T products, tours, articles, and more.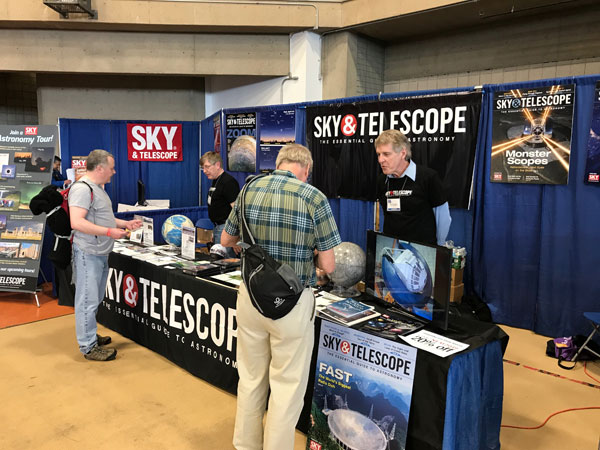 The social weather was as invigorating as the physical. The order of the day at NEAF is camaraderie. Everybody is here for the same reason: to celebrate astronomy. I even had pleasant chats with folks working for two of our chief competitors — Dave Eicher at Astronomy and Chelsea Gohd at space.com, whose booth was right beside ours. The unspoken feeling was: We can worry about whose website is getting more unique visitors later; right now, we're savoring a shared passion.
NEAF is a place to see old friends and make new ones. I always enjoy running into some of S&T's long-time advertisers and supporters, like Al Nagler of Tele Vue, Explore Scientific's Scott Roberts, and Perry Remaklus of Willmann-Bell, all of whom I caught up with at our booth. It's a place, too, to consider new ideas for future collaborations. Over glasses of a good rioja at a local Spanish restaurant, two S&T staffers and I discussed the possibility of co-leading dark-sky tours with Ken Kattner and Ruskin Hartley, the president and executive director of the International Dark-Sky Association.
New faces are always stimulating. There was the young, bearded rabbi who raved so fervently about S&T content that I ran out of ways to say thank you. There were the two young, neatly dressed brothers who do sidewalk astronomy at 4th and South Streets in Philadelphia. Given the heavy light pollution of downtown Philly, their specialty is the Moon, they say — and sometimes they're overwhelmed with curious passerby. And, of course, there are always those wide-eyed looks of children who have clearly caught the astronomy bug. Our hobby's future counts on that spark.
Once again, a big thanks to Ed Siemenn, Keith Murdock, and everyone else at the Rockland Astronomy Club for putting together another phenomenal show. Heck, they even arranged for perfect weather.
Associate Editor S. N. Johnson-Roehr: This year's NEAF was mostly about re-connecting with our readers, our vendors, and my friends (those categories aren't mutually exclusive!). It's rewarding to talk to our readers and hear what they've gotten out of the magazine in the past year. I talked to a reader who'd taken the advice of Contributing Editor Jerry Oltion for collimating his Newtonian and another who'd made his reading choices based on our book reviews. I connected with one reader who relies on our event calendar and another who shapes his observing program based on Contributing Editor Matt Wedel's Binocular Highlights column. It's useful to see how people use the magazine, and I'm always grateful for whatever feedback amateur astronomers want to share with us.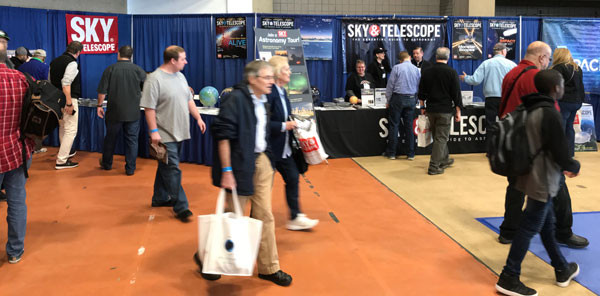 Equally rewarding was talking to various club representatives about their observing and outreach programs. While clubs have long been concerned with attracting younger members to the hobby, I was heartened by the many conversations I had with people determined to diversify their club's membership rosters. How can we attract more women? Several clubs, including Skyscrapers, Inc., the Astronomical Society of Rhode Island, and the Connecticut River Valley Astronomers Conjunction, have made elevating women's voices a priority. How can we bring in indigenous voices? Okie-Tex and Table Mountain Star Party were both mentioned as success stories in this area. Lowell Observatory (not a club, but an institution with a major outreach program) is doing work in this area as well, and it was fantastic to hear about Native American Astronomy Outreach Program, not to mention their soon-to-be-open Giovale Open Deck Observatory.
The show floor was full (so many astrographs!) and, just like every other year, I spent a lot of time debating solar scope set ups. I had a long chat with Tom Peters of DiscMounts, Inc., trying to figure out a portable yet robust mount for my as-yet-to-be-purchased solar upgrade. I dropped some money at Infini-tees, as usual. And I finally picked up that Celestron NexYZ smartphone adapter that I mentioned in last year's NEAF write up (shout out to Woodland Hills Camera & Telescopes for the great price).
Two things really stood out for me this year. One, it was beyond words fantastic to meet up with the friends I made during the S&T Great Observatories of the American Southwest tour. They were ideal traveling companions and I'm happy that I get to meet up with them at shows like NEAF. Two, the NEAF organizers hit a bases-loaded, grand-slam home run when they invited seamstress Jean Wright to speak on Saturday. With 17 other women, Wright literally blanketed the Space Shuttles, sewing (by hand and with a slew of awesome machines) the thermal protection for the spacecraft. Her talk was informative, interesting, and inspiring, and I suspect few in the audience remained dry-eyed during her passionate discussion of the role played by the arts in developing creative thinking. An informal poll (made by me on the show floor) suggested that everyone in the audience was blown away by her talk. Now retired (but still serving as a docent at Kennedy Space Center), Wright runs Sew Sister Space Creations, where she designs and makes clothing that includes flown Payload Bay liner fabric from three different Space Shuttles.
Observing Editor Diana Hannikainen: I'm not sure "forum," the "F" in NEAF, quite conveys the atmosphere at this event. To me, the riot of telescopes and eyepieces and gadgets and booths and people and red-and-white Sky & Telescope bags and domes is better described by "festival" or "fête." NEAF feels like a celebration of everything astronomical.
The passion on the floor is palpable. Mingling among equipment vendors, astronomy clubs, chart-makers, and space photographers gives one an intimate sense of how deep that passion flows. It's tough to walk the floor of the great exhibition hall and not feel the excitement bubbling as one overhears people contemplating their next telescope, coming upon an eyepiece they've coveted for a while, or perking up at the announcement of the next talk. Children's excitement at the realization that that bubble there in the back is actually a planetarium they can sit inside and look at stars and planets is particularly endearing.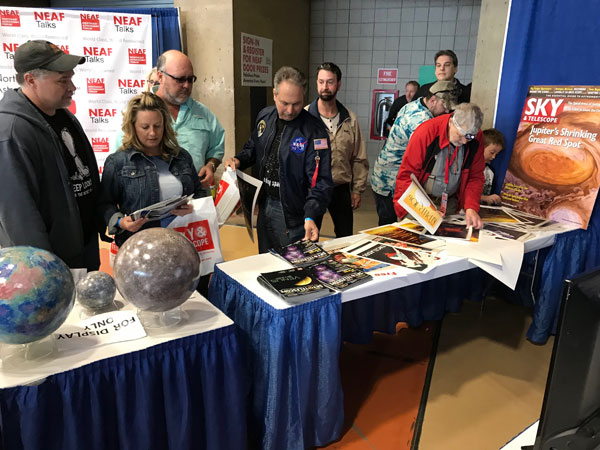 Staffing the Sky & Telescope booth was, for me at my second NEAF, again very rewarding. I love seeing the eager faces of people as they traipse down the stairs and file past our booth. Many stop by to ask us a variety of questions or to share their experiences with us — it's fascinating to witness the breadth of interests that people have in astronomy and observing. We talked about recent observing experiences, and what equipment made them particularly satisfying. We discussed charts, globes, and jigsaw puzzles (they're fun!), as well as S&T tours. Excitement is building for the upcoming solar eclipses (July this year, December 2020, and the next "American" one in 2024). It's truly such a pleasure to interact with our readers: My favorite moments must be when they — some shyly, some less so — tell us how long they've been subscribers. I feel honored to be in a capacity where I can continue this service for them. So if you come to NEAF next year, please stop by our booth and tell us about yourself, and share your passion with us.
Senior Editor J. Kelly Beatty: Walking around the main floor at NEAF gives me, in one setting, a "state-of-the-art" snapshot of amateur astronomy. I'm a lousy astrophotographer (and really have little hope of mustering the enthusiasm to get better), but even I can appreciate the explosive growth and diversity of cameras, accessories, software, and other aids to take terrific images of the night sky.
It's much the same with telescopes and mounts. I'm amazed by how many optical variations — and the range of their apertures — are now available. (I'll confess that I did succumb and purchased a spiffy little equatorial mount that's highly portable yet can easily carry a small refractor I have sitting at home.)
But I'm mostly a dabbler when it comes to observing. I'll buy a small "this" one year and a nice "that" the next. And for this-and-that purchases like eyepieces, filters, and so forth, I am grateful that NEAF continues to attract some of the "general store" vendors that provide these things.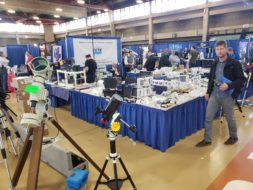 It requires tremendous effort and expense to lug all those hundreds of individual items to NEAF each year, then set up them up for display, and to have enough staff on hand to answer questions and ring up sales. It's somewhat easier for High Point Scientific and Camera Concepts & Telescope Solutions, both of which are relatively nearby. But it's a greater challenge for Astronomy To Go, based in Philadelphia, and Woodland Hills Telescopes, which brings everything from Southern California.
There's not a lot of profit in selling astro goodies these days, and most vendors offer modest discounts for those who buy at NEAF. So these companies aren't making tons of money when they show up. But what's more important, they tell me, is cultivating relationships with their new and long-time customers.
I'm grateful to all the vendors who make the trek each year, but this dabbler owes special thanks to Bob Dugan Jr. (High Point Scientific), Jeff Norwood and Margarete Becker (CCTS), Bob and Lisa Summerfield (Astronomy To Go), and Farah Payan (Woodland Hills) for always seeming to have exactly what I'm looking for.
Associate Editor Sean Walker: The showroom floor featured many newcomers this year. The big manufacturers, including Celestron, Explore Scientific, Meade, and Sky-Watcher, had impressive displays with large scopes, but often the smaller products were what caught my eye. There's always so much to see at NEAF it's hard to list it all, but here are some things I saw while walking the floor.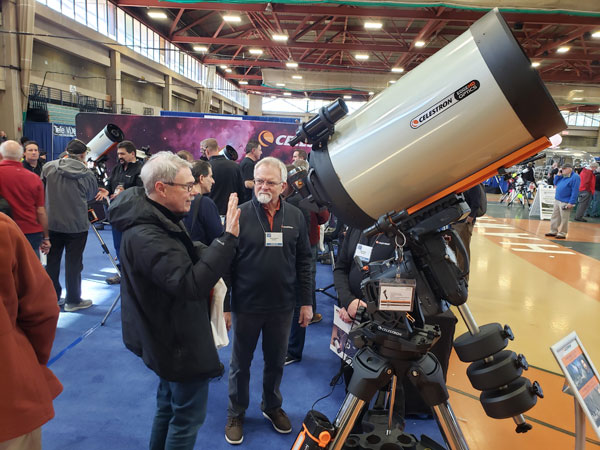 Tele Vue made a big splash with the announcement of its Apollo 11 50th Anniversary Commemorative Eyepiece (11mm with an 85° apparent field of view). The booth also featured the return of its popular "blemished eyepiece" sale. Meanwhile, over at Celestron's booth, a new 7-inch Maksutov-Cassegrain was on display, but it was Celestron's free CPWI Astronomy Suite that should be of most interest to current and future customers: This program allows users to control any Celestron Go To telescope, either at the telescope or remotely through a LAN or WiFi connection.
The CEM series of center-balanced mounts from iOptron were a big draw to the company's booth. The company recently integrated its iPolar electronic polar alignment device to the CEM mounts, as well as to its popular Sky Guider Pro.
Explore Scientific's portable and extremely affordable IEOS-100 PMC-Eight equatorial mount looks perfect for small-scope users.
Remote imaging is a big thing lately, and several telescope hosting services, including New Mexico Skies, as well as newcomers Deep Sky Chile and Obstech as well as a few others were promoting their exceedingly dark skies and support.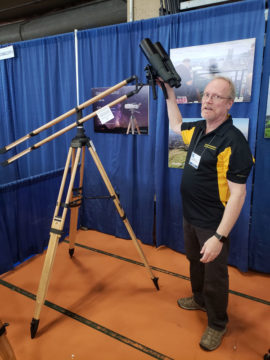 Closer to Sky & Telescope's booth, ExploraDome had several domes that include its new chain drive shutter system, and Outdoor Sport Optics drew lots of interest with its 6-inch APO binoculars that feature interchangeable eyepieces. Speaking of binoculars, Oberwerk's BT-70XL-ED binoculars and the company's new PM1 Parallelogram Mount with sliding counterweights looks like a winning combination, particularly with the addition of their interchangeable  eyepieces costing just $250 a pair.
Astro-Physics introduced the Mach2GTO mount with absolute encoders, and Meade showed off its new Coronado SolarMax III hydrogen-alpha telescopes. They also introduced some fine telescope covers and Bahtinov focusing masks.
Lunt Solar Systems drew lots of curiosity with the largest commercially produced solar telescope seen at NEAF so far: a gigantic 304-mm solar hydrogen-alpha telescope that uses an open truss tube design and several energy-rejection filters in line. I'm not sure if it made it outside to join the solar observing crowd.
Robotic mounts were sprinkled liberally around the showroom floor, with Avalon Instruments, Software Bisque, 10 Micron, Rainbow Astro, and PlaneWave Instruments being among the standout vendors with these technological wonders. Some attendees may have noticed a familiar face in the Software Bisque booth.
Of course, cameras were found virtually everywhere at NEAF this year. Atik, Diffraction Limited (SBIG), Starlight Xpress, and Finger Lakes Instrumentation showed off their latest wares, as well as ZW Optical and QHY CCD, the latter two displaying the first full-frame and medium-format CMOS cameras for astronomy.