Since C/2012 K1's discovery two years ago, this first-time visitor from the outer solar system has brightened steadily and is now within reach of a small telescope and even binoculars.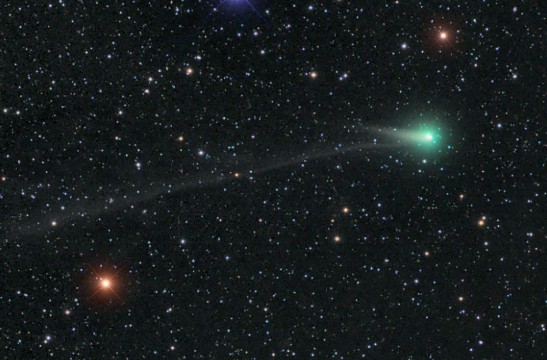 With the Moon departing the early evening sky this weekend, eager skywatchers have a delightful prize before their eyes: Comet PanSTARRS (C/2012 K1). This reliable visitor seems as if it's been around forever. Well, not quite but almost.
It was discovered more than two years ago by the Pan-STARRS 1 telescope atop the 10,000 foot summit of Haleakala volcano in Hawaii. At the time, the comet glowed a feeble 20th magnitude and was nearly as far as the planet Saturn.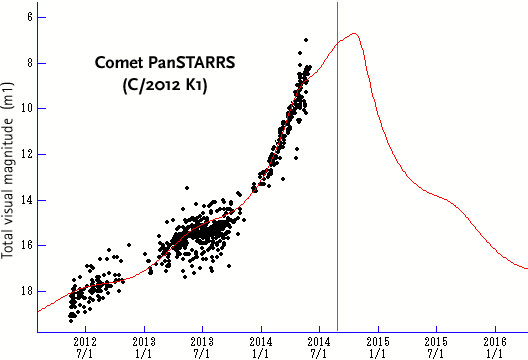 That was then. C/2012 K1 has been fattening up on sunlight ever since. With its distance from the Sun shrinking from 8.7 astronomical units at discovery to 1.05 a.u. at its upcoming perihelion on August 27th, the comet has brightened to magnitude 8. This puts it within easy range of 50-mm binoculars from a dark-sky site.
I saw it a week ago with a simple pair of 8×40s as a blob of fuzzy light in the little constellation of Leo Minor. Through a 15-inch reflector at low magnification, C/2012 K1 displayed a bright, well-condensed coma swaddling a tiny, brighter nucleus. A lovely dust tail about ½° long extended to the east-northeast and seemed to flutter about according to the vagaries of averted vision. I could only detect a hint of the much fainter ion tail to the southeast.
Ready to have a look yourself? Face west at nightfall in the coming weeks and locate the familiar "backward question mark" asterism better known as the Sickle of Leo. The chart will help you star hop from there to the comet.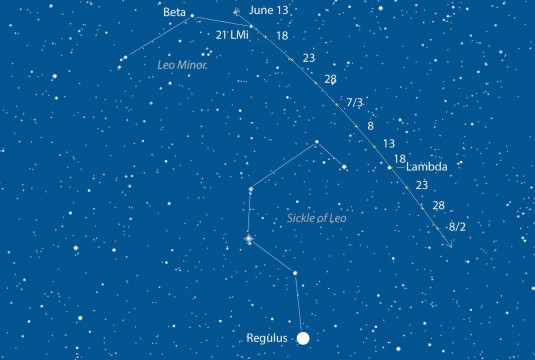 While not a spectacular sight in binoculars, I encourage you to go for it. Binocular comets are few and far between, and this one is worth the risk of a few mosquito bites on a summer night. Besides, the next few weeks will be the last chance for mid-northern observers to catch C/2012 K1 at a convenient time and relatively high altitude.
Come mid-July, the comet dips into the twilight glow and disappears from view. It returns to view, this time in the morning sky before dawn, in mid-September, but it won't climb much higher than 20° for mid-northern skywatchers while swinging south from Hydra into Puppis.
In theory, Comet PanSTARRS should continue to brighten over this months-long interval. Will it crest to naked-eye brightness as the leaves start to fall? I've got my fingers crossed!
---
Bob King is the newest blogger here on SkyandTelescope.com. By day, he's a photographer and photo editor for Duluth News Tribune in Minnesota. At night, he morphs into veteran skygazer "Astro Bob." Check back for more of his musings about observing the night sky.