Watch as Saturn's Rhea steals a star from the sky for nearly a minute on the evening of Friday September 12th.
Rarely does a planetary moon occult a bright star, but Saturn's Rhea is likely to do just that on Friday evening September 12th for skywatchers across much of the eastern U.S. and Ontario.
Thumbing back through my memory, I can't recall ever seeing this rarity. Hmmm ... I must have some reason to fly to New York that evening.
For those in the lucky locations, a clear sky and modest telescope are all you'll need.
One challenge will be to scout out an observing site with an open view to the southwest, where Saturn will be low. Stray clouds or dense haze might also be deterrents, but I trust you'll persevere.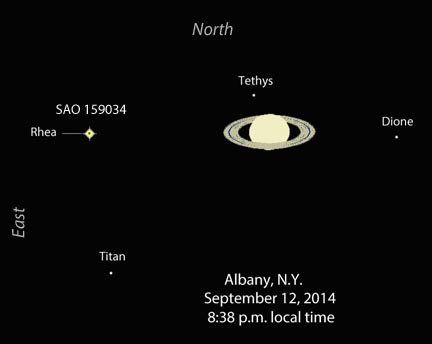 If you're lucky, you'll see 10.2-magnitude Rhea black out 7.6-magnitude SAO 159034 for up to 58 seconds — depending on how far you are from the center of the shadow path — between 8:38 and 8:39 p.m. Eastern Daylight Time. While Saturn's low altitude likely means soft images from air turbulence, the vanishing of the star should be obvious in a 60-mm telescope.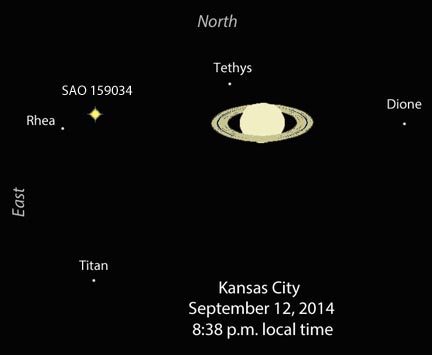 The occultation map below is only the most-likely case; "The prediction is quite uncertain," says David Dunham of the International Occultation Timing Association;
"It's possible that the actual southern limit will pass almost entirely north of the Earth, so that even observers in the Northeast would have a miss, but it's also possible that it will shift south; even observers in Florida have a chance for an occultation. The dotted line parallel to the southern limit and south of it, passing approximately from Houston to Orlando, is the southern limit in case of a 1-sigma southward shift of the path, considering the various prediction errors; there is a 16% chance that the path would shift at least that far south (and an equal chance that it will shift at least a similar distance north). The chance that the occultation will occur somewhere entirely between the two dotted lines is 68%."
Still, all of us will get to see the Saturnian system temporarily invaded by a bright star posing as a moon, whether there's a hit or a miss. As Rhea and Saturn go their separate ways, SAO 159034 will appear to slowly drift away from the planet, soon giving itself away as an intruder.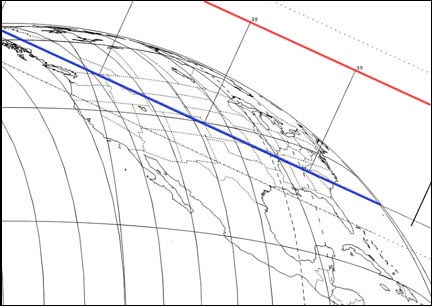 We know Rhea's diameter with precision thanks to 10 years of observations by the orbiting Cassini probe, but new information about the occulted star may come to light. Although SAO 159034 is listed as a single star, occultations can sometimes reveal that seemingly solitary stars have extremely close companions that reveal themselves as stepwise drops of the star's light.
However you enjoy the event, consider that Rhea, at 949 miles (1,528 km) across, will perform that favorite occultation sleight of hand where the little guy gets to eclipse the big guy, in this case a star estimated at some 121 million miles (195 million km) across.
---
Learn to navigate the sky with Sky & Telescope's Pocket Sky Atlas.