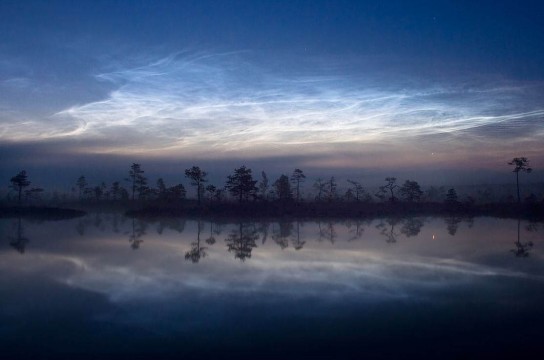 Clear nights are precious, so what self-respecting skywatcher would waste one chasing clouds? Unless they're noctilucent clouds, that is. These electric blue billows at the boundary between Earth and space incite the imagination and inspire us to keep watch at dusk for their arrival.
Noctilucent (night-shining) clouds return every summer between about 45° and 60° latitude, from May through August in the Northern Hemisphere or November through February in the Southern Hemisphere. Infrequent appearances and a habit for hugging the horizon make spotting them a quest akin to finding the Holy Grail.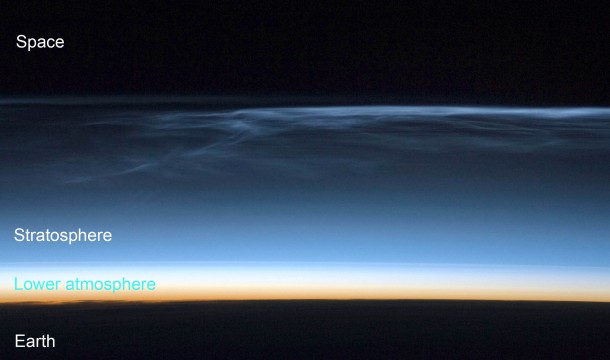 These oddballs of the cloud world are unbelievably high, floating 47 to 53 miles (76 to 85 km) overhead in a layer of Earth's atmosphere called the mesosphere. Typical high clouds, such as the feathery cirrus we see on a summer's day, crystallize 4 to 8 miles high, about the same altitude as a transcontinental jet flight.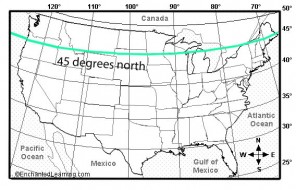 Both are composed of ice crystals, but they grow in different ways. Dust from windstorms and salt from ocean spray are some of the materials that supply condensation nuclei for water droplets and ice crystals in the lower clouds. Noctilucent clouds (NLCs) rely on dust left by flaring meteors — interplanetary soot, as it were. Particulates from volcanic eruptions may also play a role.
"We've detected bits of 'meteor smoke' embedded in noctilucent clouds," reports James Russell of Hampton University, principal investigator of NASA's AIM mission to study the phenomenon.  "This discovery supports the theory that meteor dust is the nucleating agent around which NLCs form."
As Earth travels around the sun, it sweeps up some 40,000 tons of interplanetary dust a year, plenty enough to get the job done. As for the water vapor, some may find its way to the mesosphere from summer storms, but methane gas released from both human activities and nature provides a key source. Methane rises high into the stratosphere where it reacts with hydroxyl radicals (-OH) derived from ozone to create the water vapor that freezes onto meteor smoke.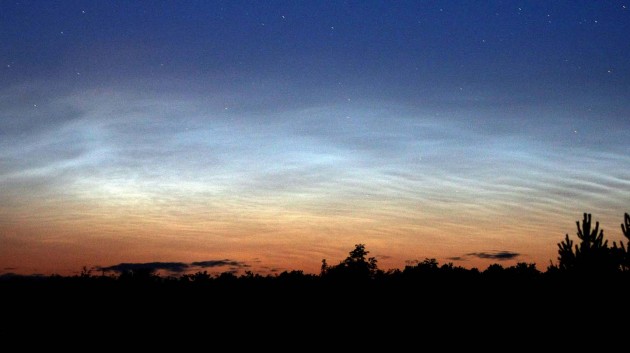 Indeed, it's thought that an increase in the extent and frequency of noctilucent clouds in recent years may be yet another bellwether of global warming. Methane released from intensive agriculture, as well as a drop in mesospheric temperatures caused by a build-up of greenhouse gases such as carbon dioxide, may be behind the "cloud-creep." Once restricted to the boreal north, they've now been spotted as far south as Italy and Utah.
Noctilucent clouds are only visible in deep twilight, from about 75 minutes to 2½ hours after sunset or before sunrise. At latitude 46° north, I live at their fringe of visibility and catch a display about once a summer.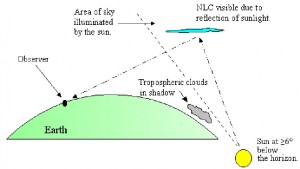 Because of their great height, NLCs reflect light long after sunset, when other clouds have faded to gray. Their color is imparted by the ozone layer, which absorbs the yellows and oranges of reflected sunlight, tinting the clouds a striking silvery-blue.
While they have been seen near the zenith from the higher end of their latitude range, in the northern U.S. they rarely extend above 10° altitude.
In June and early July, displays reach about as high as the bright star Capella in Auriga (6°-8° altitude) for locations in the northern U.S. That means that your cloud-spotting site needs a prime view to the north. Bring binoculars to help you better appreciate noctilucent clouds' supple shapes.
NLCs linger from dusk through early nightfall across the north and northwestern sky and then return around the first light of dawn in the northeast. Not only are they beautiful to look at, but you can contribute to science by noting their form and appearance and reporting your observations to the Noctilucent Cloud Observing Network (NLCNET).