Scientists have detected phosphorous in an extraterrestrial ocean for the first time.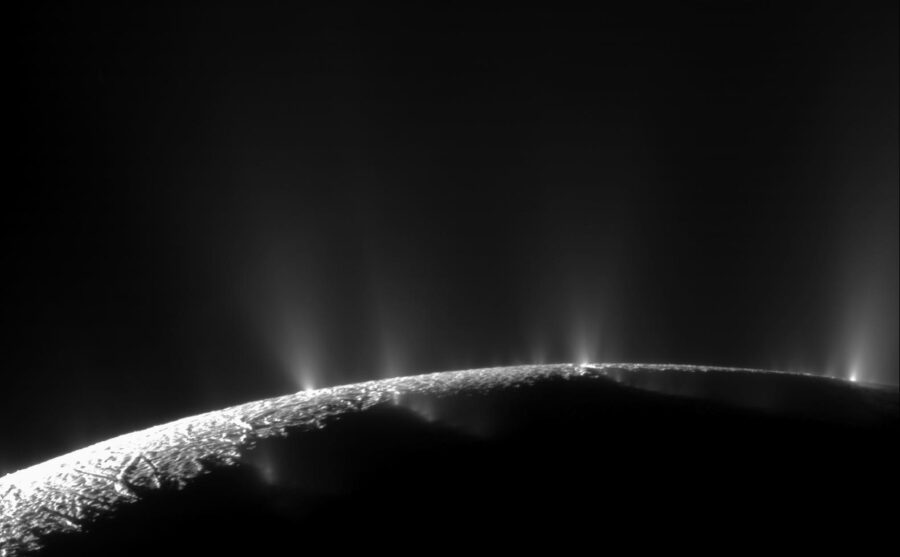 Do you remember high school biology? One thing you learned was that CHNOPS were essential for life. CHNOPS stands for six light elements essential to every known organism: carbon, hydrogen, nitrogen, oxygen, phosphorus, and sulfur. Five of these are abundant across the solar system, but phosphorus is uncommon and rarely detected. (You may recall hype about phosphine in Venus' atmosphere.) This week, researchers announced the first detection of phosphorus in an extraterrestrial ocean.
The research, led by Frank Postberg of the Freie Universitat Berlin and published in Nature, examined publicly archived data collected by the Cosmic Dust Analyzer (CDA) aboard NASA's Cassini orbiter as it passed repeatedly through Saturn's E ring. The E ring is a tenuous but very broad donut of material orbiting Saturn that is densest near the orbit of the moon Enceladus. Cassini data has already demonstrated that Enceladus's south polar geysers, which originate in a sub-crustal ocean, are the source of the icy particles of the E ring.
Most of the E ring is isolated water molecules, but it contains some larger particles, too. Those larger particles are (probably) tiny frozen droplets of Enceladus's ocean. They therefore contain not only water but also all the salts dissolved in Enceladus's ocean water. The CDA detected these particles when they struck a rhodium metal target within the instrument at very high speed and vaporized. Positively charged ions within that vapor careened into the instrument's electrically charged detector, which separated the ions by atomic mass and counted the number of ions of each mass.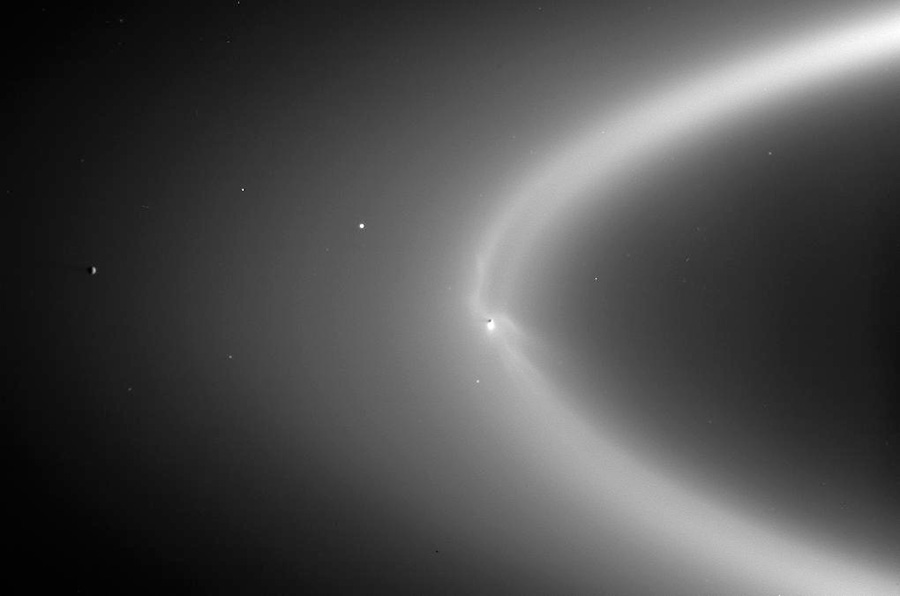 Postberg's research team examined 345 such particles in the CDA data archives. Nine of those particles contained significant numbers of ions with masses of 125, 165, and 187 atomic units, corresponding to different fragments of what had begun as the mineral sodium phosphate (Na3PO4). Laboratory experiments using a high-powered laser to zap a solution of sodium phosphate in water produced ions with the same masses. The phosphate in Enceladus's ocean would come from carbonate-rich ocean water percolating through rocks, reacting with calcium phosphate (apatite) minerals to make calcium carbonate (calcite) and sodium phosphate.
It's cool to detect a rare element, but why does it matter? The study explains that "the availability of phosphorus would be the bottleneck of bio-essential elements on Enceladus and other icy ocean worlds with potential hydrothermal activity and without dry land." The detection of phosphate salts in the E ring means that Enceladus's ocean "has a high availability of dissolved [phosphorus], which is thus extremely unlikely to be a limiting factor in the survival of putative life on Enceladus — and perhaps also on other ocean worlds."
To be clear, this is not a detection of life, or anywhere near it. It is the removal of one specific concern about whether one specific world has the necessary raw materials for life. That's the way science works, in tiny little steps; for those of us who hope to find life elsewhere, it's a step in the right direction.
---