New evidence suggests the first stars to shine in the universe formed in groups.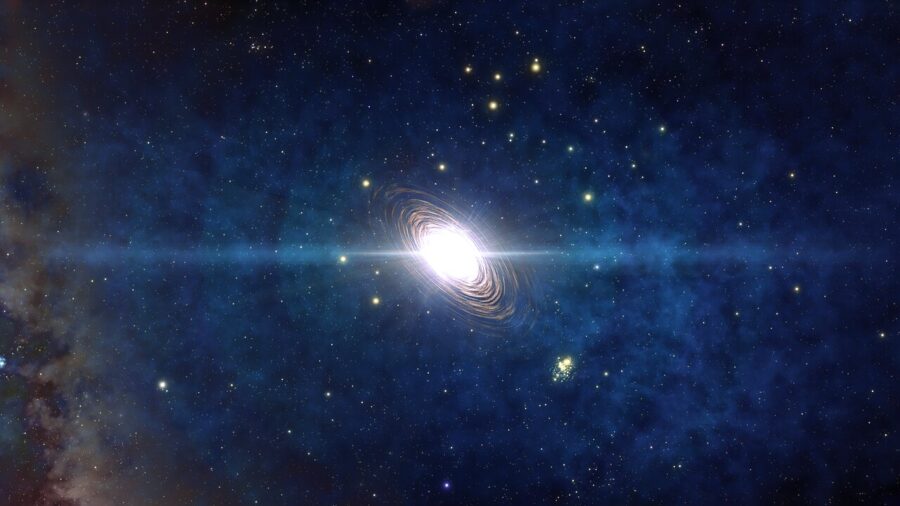 More often than not, the universe's very first stars didn't live a solitary life but formed in small groups and clusters instead. That's what Tilman Hartwig (University of Tokyo) and his colleagues conclude in a recent paper in The Astrophysical Journal, after comparing observations with computer calculations. "It's an exciting result, with far-reaching consequences," says Simon Portegies Zwart (Leiden Observatory, The Netherlands), who wasn't involved with the study.
No one has ever seen a true first-generation star. Born shortly after the Big Bang from primordial clouds of hydrogen and helium, these massive stars (also called Population III stars, for historical reasons) only lived for a few million years or so before going supernova. Little is known about the circumstances of their origin, or their masses — information that is crucial for better understanding the formation and early evolution of the very first galaxies.
So, to learn more about the first generation of stars, Hartwig and his Japanese colleagues studied the composition of the second generation. So-called Population II stars are born from interstellar clouds that are already slightly enriched with heavier elements, forged in the cores of Population III stars and blown into space when these earlier stars exploded.
Through detailed calculations of stellar nucleosynthesis, astronomers know the mix of elements that Population III supernovae of various masses should produce. Comparing the yields of these supernovae with the observed abundances of heavy elements in a Population II star tells astronomers whether this next-generation star was born from material enriched by a single supernova or by multiple explosions in the same region.
The team collected archival data on the composition of 462 Population II stars (also called extremely metal-poor stars) in our own Milky Way galaxy. Together with their own theoretical results on supernova yields, they fed these data into a machine-learning neural network. The result: just one-third of the stars appears to have formed from material enriched by only one supernova.
"This means that the majority of extremely metal poor stars are likely multi-enriched, suggesting that the first stars were born in small clusters," the authors write.
It might not be surprising that most Population III stars were born in small groups or clusters, since the same is true of the most massive stars born today. "But for the first time," says Portegies Zwart, "this paper provides a benchmark in a discussion that has been going on for a long time."
---