Nova Cas jumps again. Four months ago Nova Cassiopeiae 2021 erupted to magnitude 7.7. It has mostly stayed about that bright ever since — a "slow nova" — but with a brightness spike to 5.5 in early May and smaller bumps since. Then as of July 26th, it was back up to 6.2. Charts and comparison stars.
---
FRIDAY, JULY 23
■ Full Moon (exact at 10:37 p.m. EDT). The Moon is up in the east by late twilight. Look for Saturn about a fist at arm's length to its left. Later after dark, Jupiter rises farther to the Moon's lower left.
By dawn on the 24th, this group shifts to the southwest and twists clockwise so that Saturn is above the Moon, as shown below.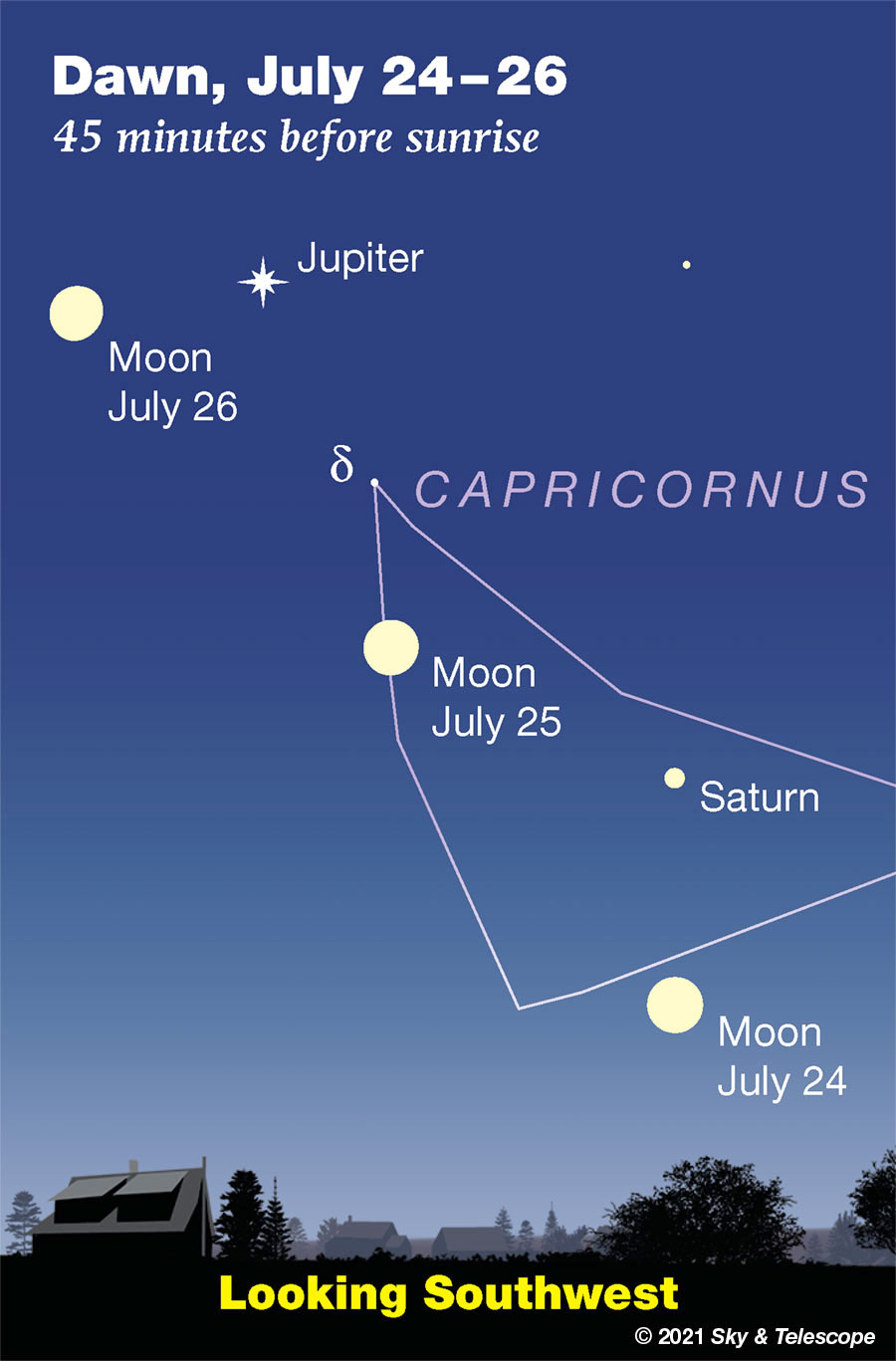 SATURDAY, JULY 24
■ Now both Regulus and Mars are well down to Venus's lower right, by 4° and 7° respectively as shown below. Bye-bye!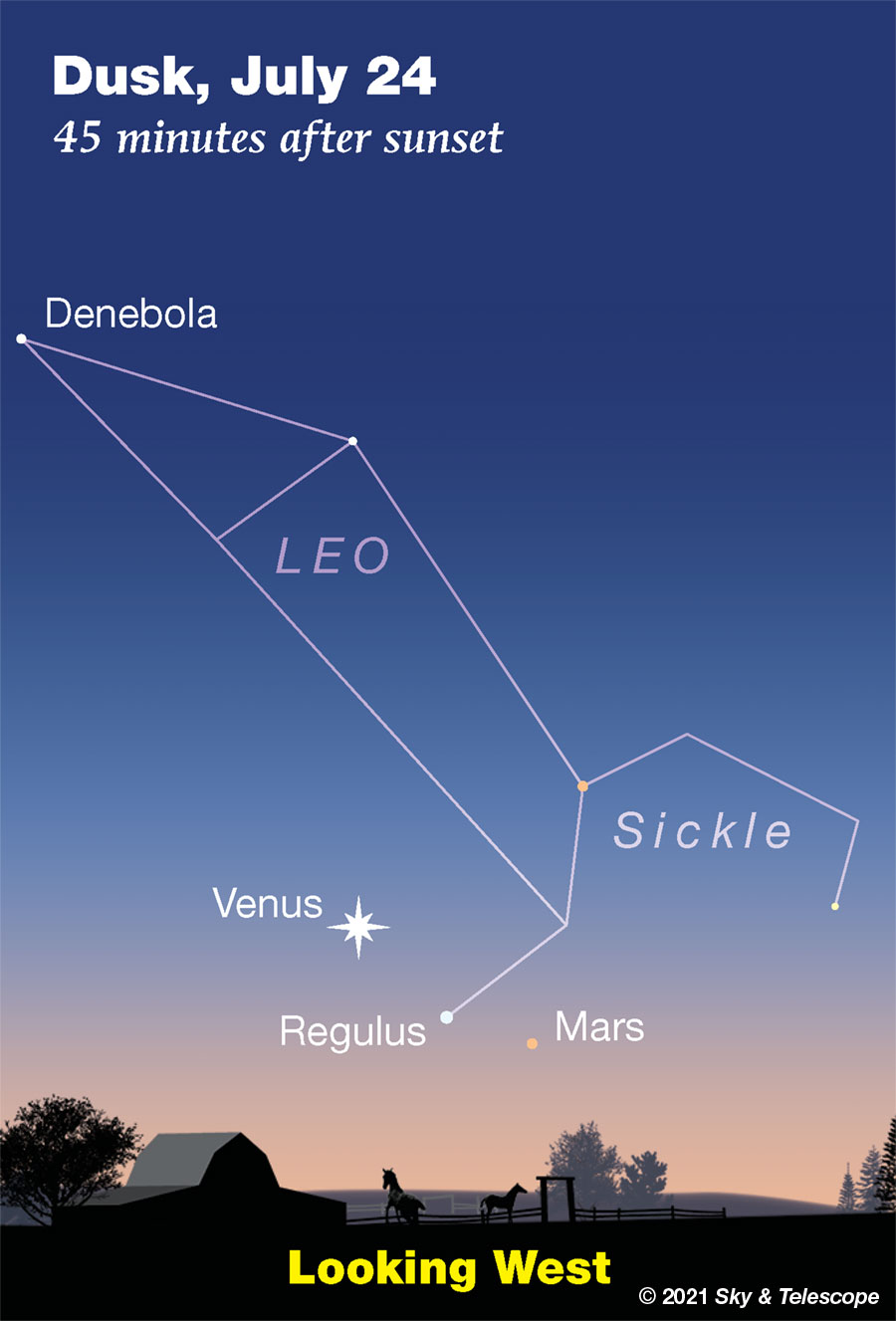 ■ And in the east after dark, Saturn now shines upper right of the Moon, and Jupiter shines farther to the Moon's left. Again, by dawn on the 25th this scene of action shifts to the southwest and twists clockwise. See the graphic for dawn on July 24–26 above.
■ As summer progresses, bright Arcturus moves down the western side of the evening sky. Its pale ginger-ale tint always helps identify it. Off to Arcturus's right in the northwest, the Big Dipper scoops to the right.
SUNDAY, JULY 25
■ Look again to Arcturus high in the west. In astronomy lore today, Arcturus may be best known for its cosmic history: It's an orange giant some 7 billion years old, older than the solar system, racing through our part of space on a trajectory that indicates it was born in another galaxy: a dwarf galaxy that fell into the Milky Way and merged with it.

But in the astronomy books of our grandparents, Arcturus had a different claim to fame: It turned on the lights of the 1933 World's Fair in Chicago celebrating "a century of progress." Astronomers rigged the newly invented photocell to the eye end of big telescopes around the US and aimed them where Arcturus would pass at the correct moment on opening night. The star's light crept onto the cells, the weak signals were amplified and sent over telegraph wires to Chicago, and on blazed the massive lights to the cheers of tens of thousands.

Why Arcturus? Astronomers of the time thought its was 40 light-years away (modern value: 36.7 ±0.2). So the light would have been in flight since Chicago's previous such event, the World's Columbian Exhibition in 1893.

And earlier? Arcturus was the first of the familiar nighttime stars to be seen in the daytime with a telescope: by Jean-Baptiste Morin in 1635.
MONDAY, JULY 26
■ With the advance of summer, the Sagittarius Teapot, in the south after dark now, is tilting and pouring from its spout to the right. The Teapot will tilt farther and farther for the rest of the summer — or for much of the night if you stay out late.
TUESDAY, JULY 27
■ Homing in on Hebe. The asteroid 6 Hebe is just past opposition, a magnitude 8.4 pinpoint north of the Sagittarius Teaspoon. A pair of 10x50 or larger binoculars, used very carefully under a dark sky before moonrise, may be enough for you to pick it out using the finder chart in the July Sky & Telescope, page 50. (The chart there shows Hebe's position for 0:00 UT on the dates indicated, which falls on the evening of the previous date for North America.)
WEDNESDAY, JULY 28
■ The long, drawn-out Southern Delta Aquariid meteor shower should peak sometime around this date, though the light of the waning gibbous Moon will interfere late tonight.

And speaking of long, drawn-out meteor showers, the Perseids have already begun. For now you'll only see the very occasional Perseid during the course of your observing sessions, but their numbers are gradually growing. The shower is due to peak on the night of August 11-12 under near-perfect moonless conditions. See the August Sky & Telescope, page 48.
THURSDAY, JULY 29
■ Sunset challenge. I've said Regulus and Mars are disappearing for the season down to Venus's lower left. Well, if you'd like one last challenge, Regulus and Mars this evening are in conjunction, 0.6° apart.

Get Venus in your lowest-power, widest-field eyepiece as soon after sunset as you can. Then shift to watch 8° to Venus's lower right to see whether you can pick up Regulus and fainter Mars before they get too low and set in the fading twilight, as shown here: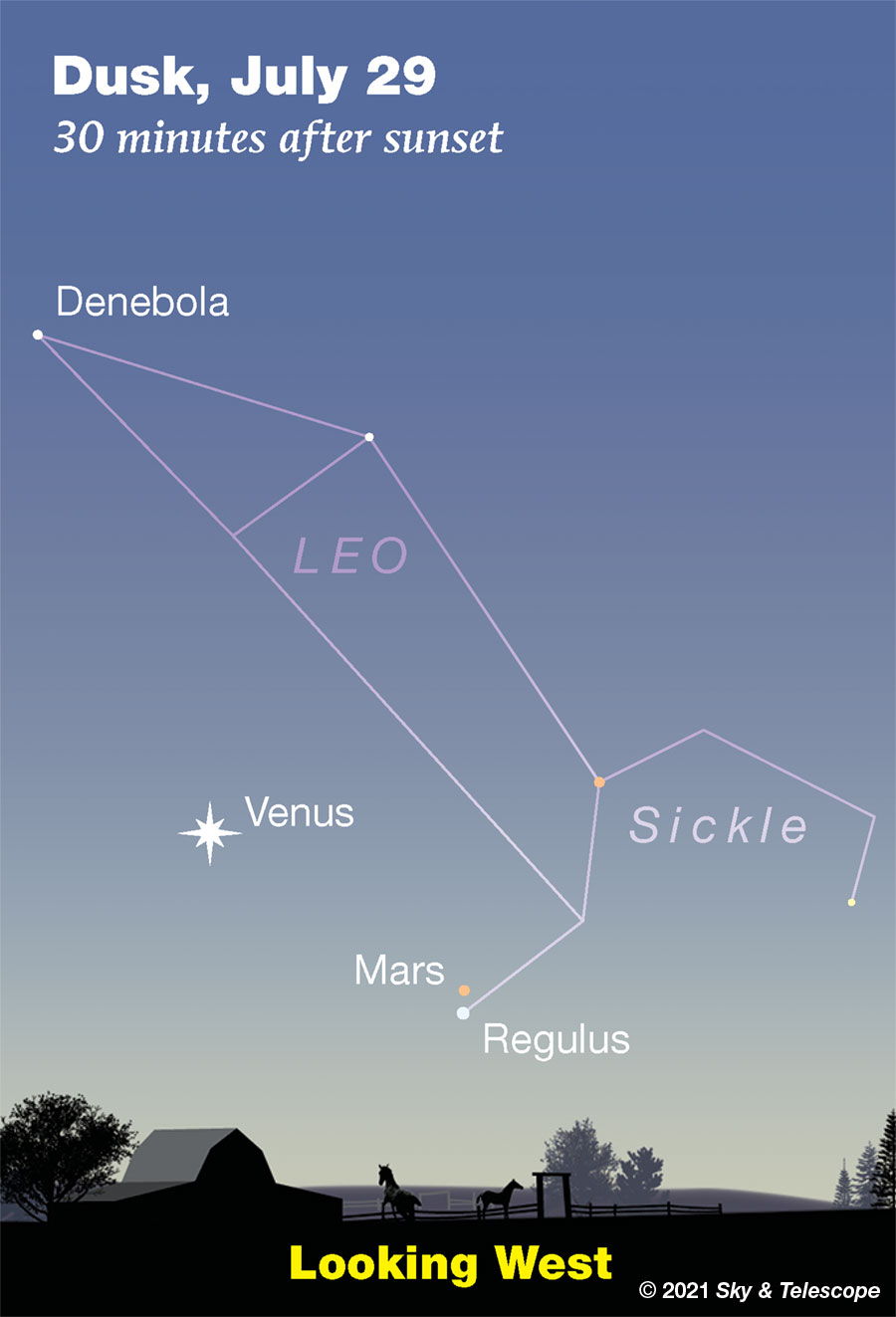 ■ Fourth star for the Summer Triangle. The next-brightest star near the Summer Triangle is Rasalhague, the head of Ophiuchus.

First identify the Triangle. Face east soon after dark and crane your neck high to spot bright Vega. Look two fists lower left of it for Deneb. Three or four fists lower right of Vega is Altair.
Next, Rasalhague. As you still face east, it's three fists to the right of Vega and three fists upper right of Altair.
Admittedly, at 2nd magnitude it's not as bright as the three Triangle stars. But include it and you've got a giant, flattened quadrilateral.
FRIDAY, JULY 30
■ As summer progresses, Arcturus moves down the western side of the evening sky. Arcturus forms the bottom point of the Kite of Bootes. The Kite, rather narrow, extends upper right from Arcturus by 23°, about two fists at arm's length. The lower right side of the kite is dented inward, as if some celestial intruder once banged into it.
SATURDAY, JULY 31
■ Saturn is at opposition tomorrow night. Do you already notice that Saturn's rings are distinctly brighter, compared to Saturn's globe, than they usually are? This Seeliger effect is caused by the solid ring particles backscattering sunlight to us when the Sun is almost directly behind us. The dusty surfaces of the Moon and Mars do this too, but Saturn's clouds do not. In the case of Saturn the effect is named for Hugo von Seeliger, who studied it in detail and published his findings in 1887.
---
This Week's Planet Roundup
Mercury is out of sight deep in the glow of sunrise.
Venus (magnitude –3.9) continues to shine low in the west during twilight. It sets around twilight's end.
Mars is disappearing from sight deep in the sunset, lower right of Venus.
Saturn (magnitude +0.2, in Capricornus) and brighter Jupiter (magnitude –2.8, in Aquarius) shine in the east-southeast as the stars come out. Saturn is a lone, steady yellowish point. Jupiter shines brighter about two fists at arm's length to Saturn's lower left. By late evening they make an impressive duo higher in the southeast. They're highest in the south, at their telescopic best, around 1 or 2 a.m. daylight saving time.
Saturn reaches opposition on August 1st, Jupiter on August 19th, so they're already essentially as close and big as they'll get. See "Action at Jupiter" in the July Sky & Telescope, page 50, and "Saturnian Challenges" starting on page 52. Also "Dog Days with the Gas Giants" in the August issue, page 49.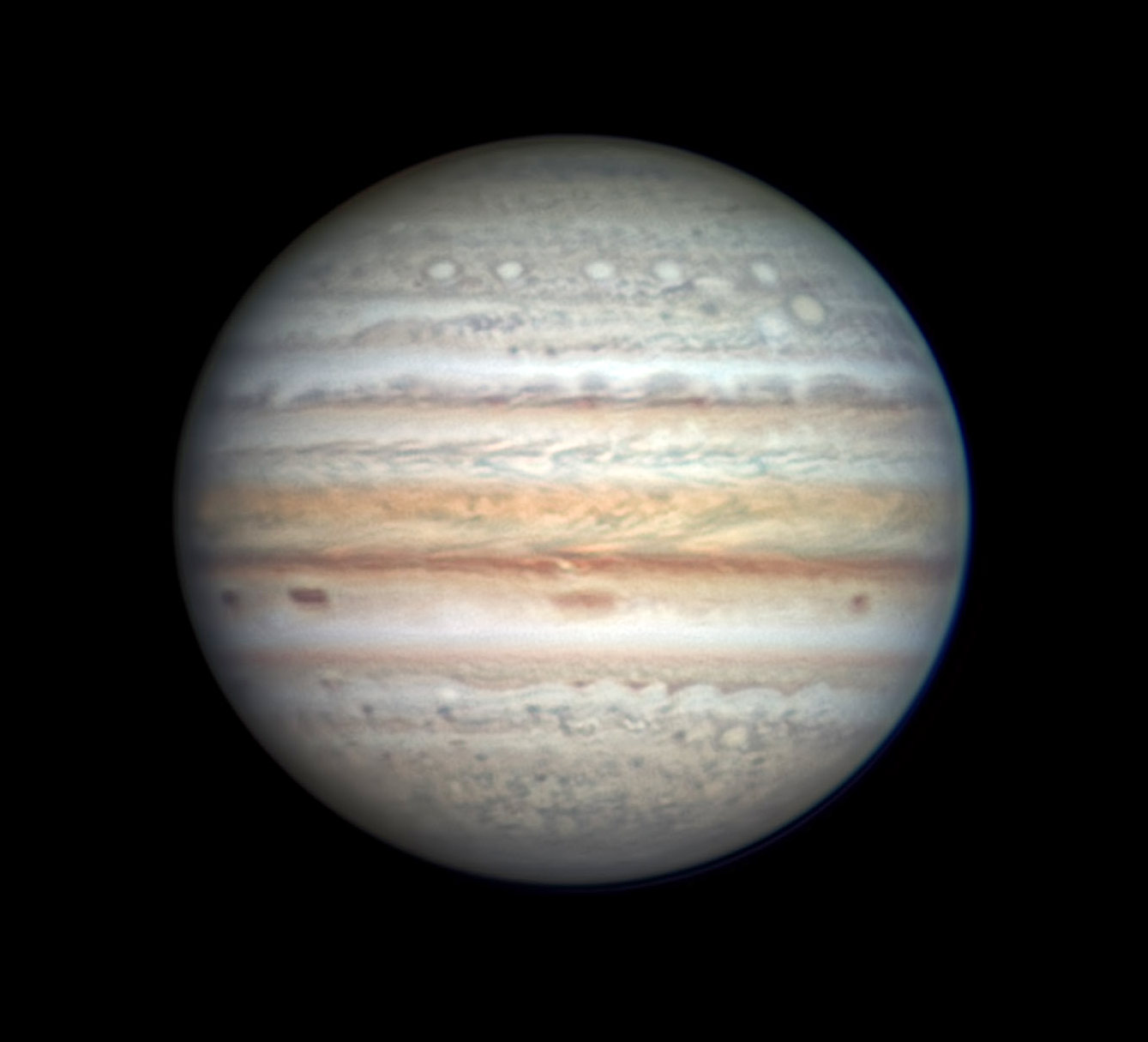 Uranus (magnitude 5.8, in Aries) is high in the east-southeast before dawn begins.
Neptune (magnitude 7.8, in Aquarius 23° east of Jupiter) is high in the south before dawn begins.
---
All descriptions that relate to your horizon — including the words up, down, right, and left — are written for the world's mid-northern latitudes. Descriptions that also depend on longitude (mainly Moon positions) are for North America.
Eastern Daylight Time, EDT, is Universal Time minus 4 hours. Universal Time is also known as UT, UTC, GMT, or Z time. To become more expert about time systems than 99% of the people you'll ever meet, see our compact article Time and the Amateur Astronomer.
---
Want to become a better astronomer? Learn your way around the constellations. They're the key to locating everything fainter and deeper to hunt with binoculars or a telescope.
This is an outdoor nature hobby. For an easy-to-use constellation guide covering the whole evening sky, use the big monthly map in the center of each issue of Sky & Telescope, the essential magazine of astronomy.
Once you get a telescope, to put it to good use you'll need a detailed, large-scale sky atlas (set of charts). The basic standard is the Pocket Sky Atlas (in either the original or Jumbo Edition), which shows stars to magnitude 7.6.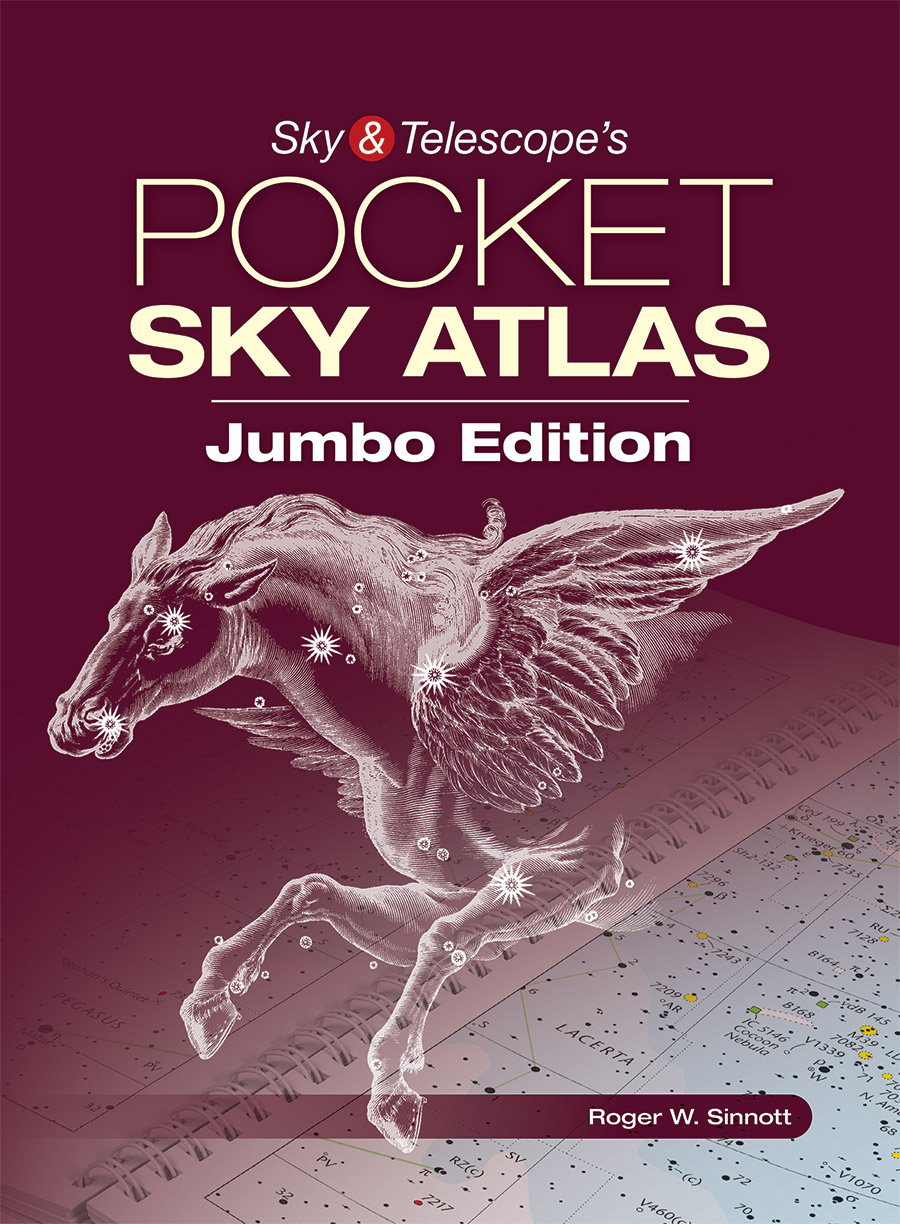 Next up is the larger and deeper Sky Atlas 2000.0, plotting stars to magnitude 8.5; nearly three times as many. The next up, once you know your way around, are the even larger Interstellarum atlas (stars to magnitude 9.5) or Uranometria 2000.0 (stars to magnitude 9.75). And be sure to read how to use sky charts with a telescope.
You'll also want a good deep-sky guidebook, such as Sky Atlas 2000.0 Companion by Strong and Sinnott, or the bigger (and illustrated) Night Sky Observer's Guide by Kepple and Sanner.
Can a computerized telescope replace charts? Not for beginners, I don't think, and not on mounts and tripods that are less than top-quality mechanically, meaning heavy and expensive. And as Terence Dickinson and Alan Dyer say in their Backyard Astronomer's Guide, "A full appreciation of the universe cannot come without developing the skills to find things in the sky and understanding how the sky works. This knowledge comes only by spending time under the stars with star maps in hand."
---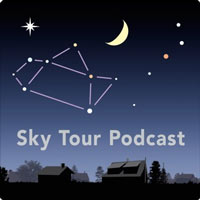 Audio sky tour. Out under the evening sky with your
earbuds in place, listen to Kelly Beatty's monthly
podcast tour of the heavens above. It's free.

---

"The dangers of not thinking clearly are much greater now than ever before. It's not that there's something new in our way of thinking, it's that credulous and confused thinking can be much more lethal in ways it was never before."
— Carl Sagan, 1996
"Facts are stubborn things."
— John Adams, 1770
---