When we say a galaxy is 300 million light-years away, is that its distance now or 300 million years ago?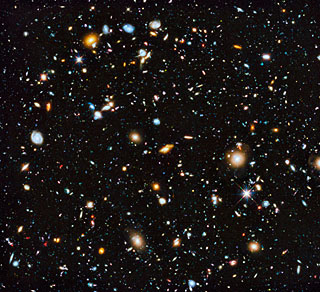 Oftentimes, neither! In most cases astronomers try to get a handle on a galaxy's distance by measuring its redshift: the degree to which the universe's expansion has stretched its light heading toward Earth. Then, by using independently measured numbers like the Hubble parameter, they can infer (1) how far away the galaxy was when it emitted the light we see now, (2) how far it now lies from Earth, and (3) how far the light traveled in the interim. (They can also derive the distance from the galaxy's luminosity or from its angular size, but those are different approaches with their own caveats.)
In an ever-expanding universe like ours, the first two distances always bracket the third, which tells us how far into the past we probe when we observe a particular galaxy. The three distances agree fairly closely (that is, within 2 percent) when a galaxy is "only" 300 million light-years away, like those in the Coma Cluster. But they diverge dramatically when we look back billions of years, as astronomers did when they discovered that the universe's expansion is accelerating (S&T: August 2001, page 62). In casual usage, light-travel distances are often misrepresented as "now" distances. But at the outer reaches of the visible universe the two can differ by billions of light-years.
— Joshua Roth