With two months to go until the total solar eclipse on August 21, it's time to get planning — if you haven't already! Don't miss this opportunity!
It's officially two months until this summer's total solar eclipse, the first to sweep across the contiguous United States in 99 years. Totality will pass through 14 states over the course of 1½ hours on August 21st.
NASA/Goddard Space Flight Center Scientific Visualization Studio. The Blue Marble data is courtesy of Reto Stockli (NASA/GSFC).
There are loads of resources to help you plan for the total solar eclipse. If you haven't already planned where you'll be on eclipse day, think about it now or you may find that there's nowhere left to sleep (or use the restroom). Do not wing this! The Department of Transportation is asking that people DO NOT pull off to the side of the interstate. Visit the DoT website where you can see how traffic may be affected by the eclipse.
If you can't make it out to the path of totality, or if weather prevents you from viewing the eclipse, NASA will be streaming live video through the eyes of satellites, aircrafts, and balloons during the entire eclipse as it passes from coast to coast. You can even commemorate the event with an awesome heat sensitive stamp from the U.S. Postal Service.
Once you know where you're watching the eclipse, whether from the path of totality or only a partial eclipse, you'll need to think about how you'll watch the eclipse. Of course, there are always handy solar glasses, so that you can observe with your eyeballs, but if you'd like a more zoomed-in view, or if you plan to take pictures with your smartphone, you'll need to think about which filters are right to protect your eyeballs and your equipment.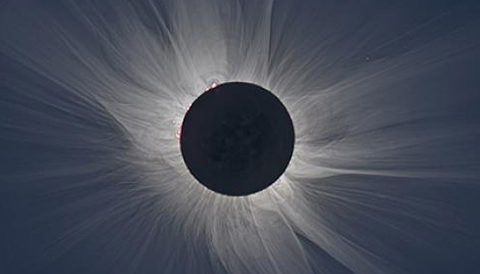 PRO TIP: do not point binoculars, telescopes, finder scopes, cameras, and cell phones directly at the Sun, even during an eclipse, without solar filters. At minimum, you could damage the optics of your camera or telescope. At maximum, you could cause yourself immense pain and permanent blindness. Take it from someone who tried to set paper on fire with a telescope in college: a telescope will focus the light enough to burn through paper, and it's painful to put soft tissue at the focal point. (Good news: the soft tissue in question was a hand, not an eyeball.) Always block the light before it gets to the focusing apparatus, not after.
Whether you have a solar telescope or just a smartphone, the solar eclipse also offers a great opportunity to do some science. While professional scientists are conducting some of the research, other projects are being carried out by enthusiastic volunteers. The Citizen CATE project will use identical setups across the country to help determine what accelerates the solar wind, and the Megamovie Project will give us a closer look at the solar corona. You can even help scientists observe how the eclipse affects plants and animals with the Life Responds project.
If you're planning to photograph the eclipse, you'll probably want to plan your shots down to the sub-minute, and you might want some pro tips to help you do that. Start planning your sequence now, so you're prepared when the moment comes. Because in the short minutes of totality, you'll be too overwhelmed with awe and wonder as you realize our place in the universe — as bit players in the cosmic dance between the Moon, Earth, and Sun.