Find some of our favorite resources for the April 8, 2024, solar eclipse, including apps, video explainers, children's activities, and books.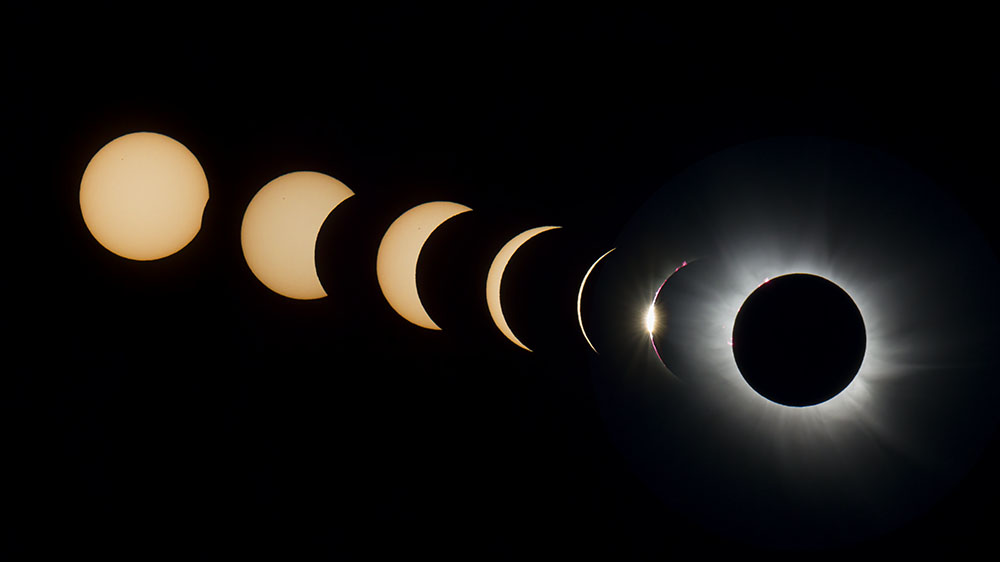 Whether you've been planning for April 8, 2024, for decades, or just started yesterday, this list of eclipse-related resources will help you make the most of the Big Day.
Below, you'll find a plethora of websites, apps, books, and other tools to help you understand what the eclipse will look like where you're going, what the weather will be like, what to watch for (and how), and more.
Websites for the 2024 Solar Eclipse
Websites abound for the 2024 solar eclipse. The websites below each offer something of value to readers, whether in terms of long-term planning, local circumstances, safety, observing advice, or all of the above.
American Astronomical Society
Find comprehensive resources for all aspects of the April 2024 eclipse.
EclipseWise.com
Fred Espenak has provided vast listings of tabulations and maps for solar (and lunar) eclipses all the way from 1900 to 2100.
Eclipse2024.org
The website of eclipse enthusiast Dan McGlaun offers specific pages for towns within totality's path and simulators to show what totality will look like from each location.
GreatAmericanEclipse.com
Michael Zeiler's extensive collection of maps provide details for the 2024 eclipse, as well as historical eclipse records.
NASA: April 8, 2024, Solar Eclipse
NASA's official overview of the April 2024 solar eclipse, with an emphasis on NASA resources and activities
Sky & Telescope's Eclipse Portal
We offer in-depth eclipse coverage, including how to observe and record eclipses as well as links to eclipse-viewing events and venues.
U.S. Naval Observatory
The Astronomical Applications pages help you generate custom eclipse predictions for your location.
Xavier Jubier's Interactive Map
Zoom in and out on this interactive map for the 2024 solar eclipse and grab specific circumstances for any location.
Eclipse Apps for Apple and Android
These apps provide useful tools for timing, phone photography, and providing localized eclipse information. They're also all available on both Android and Apple devices. Oh, and they're all free!
Great American Eclipse (Apple / Google Play)
by Michael Zeiler / GreatAmericanEclipse.com
Solar Eclipse Timer (Apple / Google Play)
Free with in-app purchases, by Foxwood Astronomy
Solar Snap, for use with Solar Snap filter (Apple / Google Play)
by Doug Duncan & American Paper Optics
Totality by Big Kid Science (Apple / Google Play)
by Jeffrey Bennett and the American Astronomical Society
Video Eclipse Explainers
Total Solar Eclipse - April 8, 2024 by Sky & Telescope
Science Through Shadows by Fiske Planetarium
(YouTube playlist includes videos in Spanish and English)
Informational Videos about Eclipses by the University of Texas, San Antonio
in Spanish / in English
Solar Eclipses by PBS, adapted from NASA segment
in Spanish / in English
Eclipse Weather Forecasts
Weather is the number one factor when it comes to seeing an eclipse, so don't let clouds get in your way. These websites (and their associated apps, where available) can help you understand and plan for whatever the weather might be on eclipse day.
Astrospheric
This website provides astronomy-focused weather predictions, including extended cloud-cover forecasts. The same data is also available as a free smartphone app.
Eclipsophile: 2024 Total Solar Eclipse
Canadian meteorologist Jay Anderson provides a comprehensive analysis of eclipse-day weather prospects and other logistics, ideal for long-term planning.
National Oceanic and Atmospheric Administration
Find real-time satellite imagery from NOAA satellites to help you track weather in the days before and the day of the eclipse.
Weather Underground
Find accurate forecasts plus location-specific satellite and radar.
Detailed Guides to the 2024 Eclipse
When it comes to the specifics of the April 8, 2024, solar eclipse, these are the guides that Sky & Telescope editors turn to for both observing particulars and the logistics of getting there and back again.
Eclipse Bulletin: Total Solar Eclipse of 2024 April 8 by Fred Espenak & Jay Anderson
(2022, 105 pages, available from greatamericaneclipse.com)
Eclipse Day: 2024 and More! by Gordon Telepun
(2022, 514 pages, available from Apple Books)
Get Eclipsed: The Complete Guide to the Two North American Eclipses by Fred & Pat Espenak
(2021, 50 pages, available from eclipseglasses.com, includes viewing glasses)
Road Atlas for the Total Solar Eclipse of 2024 by Fred Espenak
(2017, 40 pages, available from greatamericaneclipse.com)
Your Guide to the 2024 Solar Eclipse by Michael E. Bakich
(2022, 144 pages, available from myscienceshop.com)
Books About Eclipses
In the months before the eclipse, and in the travel to and from your destination, there is no better resource than a good book — whether for informing, inspiring, or simply for passing the time. The list below is not exhaustive but is a selection of books from Sky & Telescope editors' reading lists.
American Eclipse: A Nation's Epic Race to Catch the Shadow of the Moon and Win the Glory of the World by David Baron (W. W. Norton, 2017, 352 pages)
Atlas of Solar Eclipses: 2020 to 2045 by Michael Zeiler and Michael Bakich (Great American Eclipse, 2020, 256 pages)
Being in the Shadow: Stories of the First-Time Eclipse Experience by Kate Russo (Being in the Shadow, 2017, 144 pages)
ECLIPSE: Experience Awe in the Path of Totality by Bryan Brewer (to be published in 2023)
In the Shadow of the Moon: The Science, Magic, and Mystery of Solar Eclipses by Anthony Aveni (Yale Univ. Press, 2017, 328 pages)
Mask of the Sun: The Science, History, and Forgotten Lore of Eclipses by John Dvorak (Pegasus Books, 2017, 272 pages)
Sun Moon Earth: The History of Solar Eclipses from Omens of Doom to Einstein and Exoplanets by Tyler Nordgren (Basic Books, 2016, 264 pages)
Total Addiction: The Life of an Eclipse Chaser by Kate Russo (Copernicus, 2012, 208 pages)
Eclipse Photography Books and Sites
Capture the moment with these helpful guides for the unique art of eclipse photography.
How to Photograph the Solar Eclipses by Alan Dyer
(Amazing Sky Photography and Publishing, 2023, 350 pages)
Mr. Eclipse: How to Photograph a Solar Eclipse
This website provides helpful, time-tested advice and detailed tables for taking solar-eclipse photos
The Ultimate Guide for Solar Eclipse Photography 2023 / 2024 by Makoto Honda
(Independently published, 2022, 100 pages)
Eclipse Books for Kids & Families
Prepare the kids for the Big Day and keep them entertained as the Moon takes the first bites out of the Sun with these books for the young (and young at heart). Kid-tested, S&T editor approved.
Totality! An Eclipse Guide in Rhyme and Science by Jeffrey Bennett (2022, 32 pages, best for kids 9–12 years old)
BONUS: Watch Steve Bowen's lyrical reading of Totality! from the International Space Station!
When The Sun Goes Dark by Andrew Fraknoi and Dennis Schatz (2017, 36 pages, best for kids 9–12 years old)
Solar Eclipse Coloring Book for Toddlers by Nature Splendour (2022, 84 pages, best for kids 3–6 years old)
Solar Eclipse 2023/2024: The Complete Kids' Guide to Great American Solar Eclipse Viewing by Nature Splendour (2022, 40 pages, best for kids 5–11 years old)
Educator Resources for the Eclipse
An eclipse, whether total or partial, provides a unique opportunity for classroom learning. Make the most of it with these guide, books, and classroom tools for educators.
Eclipse Activities for Educators by Andrew Fraknoi
(free PDF)
Galileoscope Kit with Sun Filter and Tripod
Getting Ready for the North American Eclipse: An NGSS Storyline Approach to Classroom Instruction
by Brian Kruse
(free PDF)
Look UP, Below! An Educator's Guide to the April 8, 2024, Total Eclipse of the Sun by Deborah L. Skapik
(Friends' Central School, 2022, 58 pages, including 15 activity pages for various education levels)
NASA: Night Sky Network
The Night Sky Network offers outreach resources for amateur astronomers and other informal educators
Solar Eclipse Activities for Libraries by STARnet
Register to request free eclipse glasses for your library!
Solar Science: Exploring Sunspots, Seasons, Eclipses and More by Dennis Schatz & Andrew Fraknoi
(NSTA Press, 2016, 360 pages)
Eclipse Safety
The American Astronomical Society, NASA, and Sky & Telescope all provide information about using handheld viewers, projection techniques, and safe filters for optics.
The American Astronomical Society also maintains a list of reputable sources for safe solar filters, both for handheld use and for telescopes, binoculars, and cameras.