What will El Niño do to the weather prospects for the 2024 total solar eclipse?
When it comes to viewing a total solar eclipse, weather is everything. And weather across North America on April 8, 2024, can be an iffy prospect. The El Niño event that began doesn't change that big picture, but it does introduce some complexity that might affect your travel plans.
If you've looked at the cloud climatology on my website, you're already aware that the month of April poses a challenge when it comes to finding one particular five-minute period in the month during which the sky is clear in the direction of the Sun.
The average April cloud cover is lowest in the south, over Mexico and Texas, and becomes steadily gloomier as you go north along the track. There are, however, a few places along the way where cloud conditions improve, especially along the south shores of Lakes Erie and Ontario. Those prospects make Cleveland, Ohio; Erie, Pennsylvania; and Rochester, New York, worth watching as eclipse day approaches.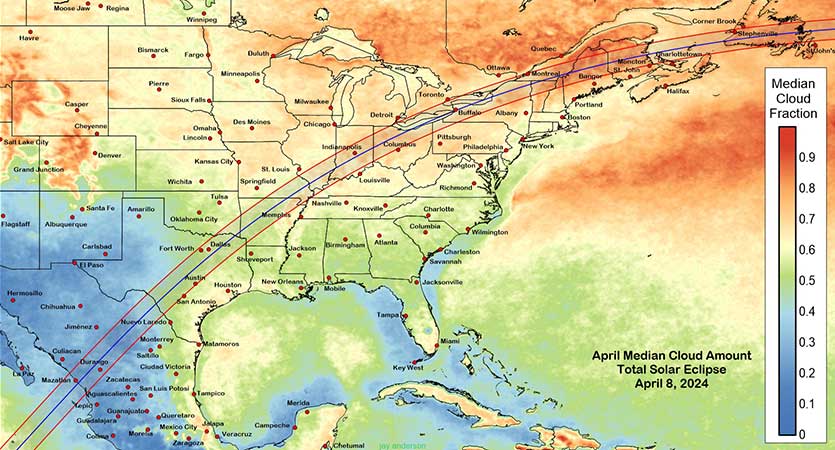 This cloud climatology is based on more than 20 years of data collected from orbit by NASA's Aqua and Terra satellites. These data are not without complications, but for comparison of one region with another, they serve the purpose. They have to, as there is nothing else (except for other satellites), since most airports in Canada and the U.S. stopped collecting sunshine data in the 1990s. The satellites pass overtop of you every day, one at mid-morning and the other, mid-afternoon.
However, earlier this year, a much-anticipated El Niño event began in the tropical Pacific Ocean. El Niño occurs when sea-surface temperatures along the equator begin to warm and rise more than ½°C (1°F) above normal for at least 7 months. Currently, those temperatures are more than 1°C above normal, and while the phenomenon hasn't lasted long enough to be formally categorized just yet, it has been given a greater than 90% chance of continuing into winter and becoming a full-fledged El Niño.
El Niños disrupt the global climate—in fact, after the annual cycle of seasons, it's the strongest of Earth's climate-forcing mechanisms. Now, the question that's coming up in eclipse discussions is, "What's El Niño going to do to the cloud-cover prospects in April?"
While Aqua and Terra haven't been around long enough to give a good answer to that question, other polar-orbiting satellites have, going back as far as 1979. I downloaded the cloud-cover measurements extracted from these satellites and separated the El Niño years from the neutral years. Then, for each data point used to construct the map, I subtracted the neutral-year cloud values from the El Niño years. (I classified the April measurements as being El Niño-influenced based on the January–March ocean temperatures, since the warming tends to fall back in the spring, weakening or ending El Niño.)
Here is the resulting map over North America: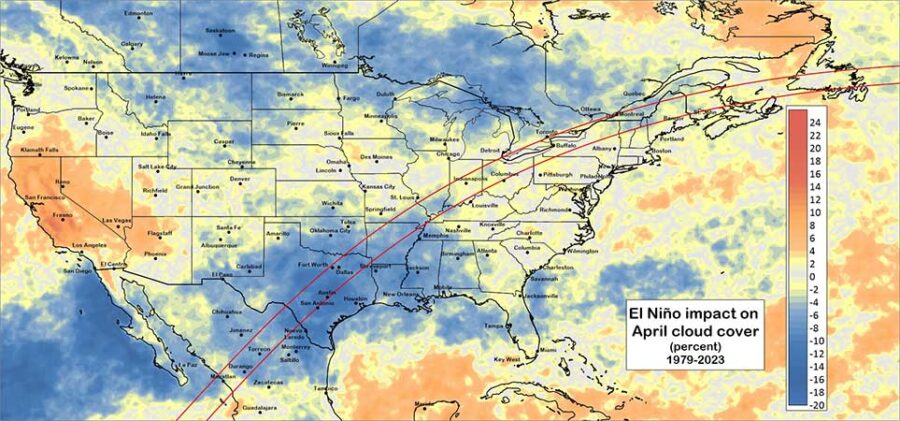 There are some unexpected results. Along the eclipse track, from Durango in Mexico to the Missouri Bootheel and even as far as Carbondale, Illinois, the analysis shows a reduction in cloudiness of 5–15%. The greatest El Niño impact is in Texas, near San Antonio and Austin. It's a clear-cut case of "them as has, gets," since the Texas Hill Country was already the best place in the United States for viewing April's show.
Unfortunately, beyond southern Illinois, the impact of El Niño is muted, with a cloud-cover change of less than 2% except for a part of the track near Montreal. There is some evidence in the map that mountainous areas are less likely to be affected by Pacific warming, over Mexico and the Appalachians.
If you have plans to view totality along the southern parts of the track, then El Niño works for you. Elsewhere, it doesn't make a whole lot of difference — just watch the forecasts and pick your viewing site a little closer to eclipse day.