Stargazers will be interested not only in the annular eclipse this October but also in the dark skies along the eclipse path!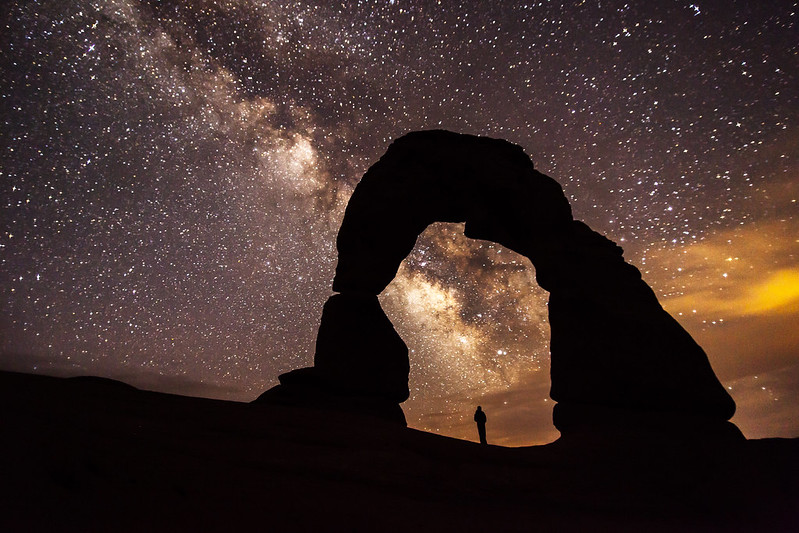 An annular solar eclipse is typically of limited interest even to committed eclipse-chasers, but on October 14, 2023, this "ring of fire" will be visible from some of the most alluring landscapes in North America.
For a maximum of 5 minutes, 17 seconds, it will be possible to see a ring around the new Moon from a wider-than-average track that first makes landfall in southern Oregon. It then moves across the northeastern tip of California; northern Nevada; the "four corners" where New Mexico, Arizona, Colorado, and Utah meet; and then diagonally across New Mexico and Texas. The shadow then hops over the Gulf of Mexico before passing down through Mexico's Yucatán Peninsula, Honduras, Nicaragua, Panama, Colombia, and northwestern Brazil.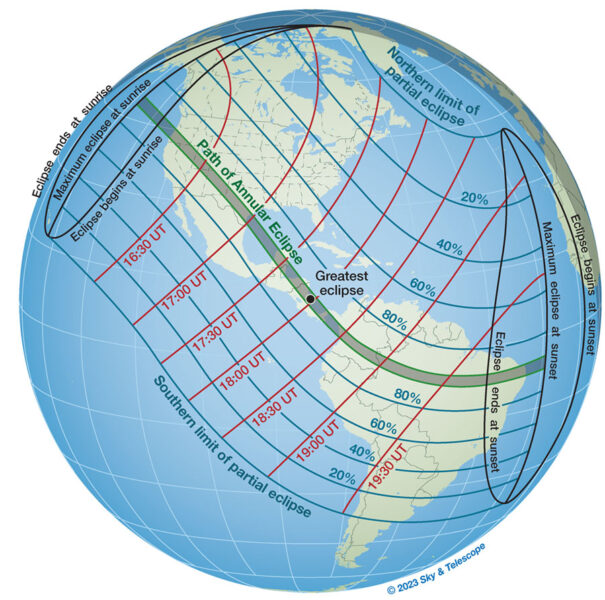 Crucially for amateur astronomers and stargazers in the U.S., the path crosses 29 national parks, state parks, and other protected wilderness areas. Many of these are also designated International Dark Sky Parks. Many more parks are located close to (but not in) the path of annularity.
Since by definition a solar eclipse occurs during new Moon, the nights just before and after October 14, 2023, are ideal for stargazing. Many readers will find a stargazing-themed road trip difficult to resist. The only problem is that word has gotten out about the upcoming "ring of fire" — and accommodations in honeypot locations are already hard to find.
Where to Stay
You'll need to act quickly to secure lodging within the path on the nights of October 13–15. Hotel space is especially limited in Albuquerque, New Mexico, which is also hosting its International Balloon Fiesta just before the eclipse, and in parts of Utah close to the path's centerline. 
One good option is to stay just south or north of the eclipse track and drive into it on the day. Another option is to find a hotel in a less popular region along the path.
Campgrounds in most of the parks in or near the path are similarly crowded, although there are first-come, first-served opportunities. You'll want to arrive at least a few days beforehand for those. Surprisingly, some private campgrounds still have availability as of July 19th (check HipCamp's dedicated map for the eclipse), while those in an RV have ample boondocking opportunities – not least on U.S. Bureau of Land Management land – which you can find using apps like The Dyrt.
Stargazing Opportunities Along the Annular's Path
1. Southern Oregon
The Watchman Peak/Trailhead (4m 23s) will give you view of the annular ring above Wizard Island at Oregon's Crater Lake National Park. However, snow could ruin both eclipse-chasing and stargazing. So consider instead taking an RV to Eclipse Fest 2023, which includes organized stargazing the night before the eclipse. The Oregon Outback Scenic Byway just to the east in the desert may serve as an escape on the morning of the eclipse, both from crowds and clouds.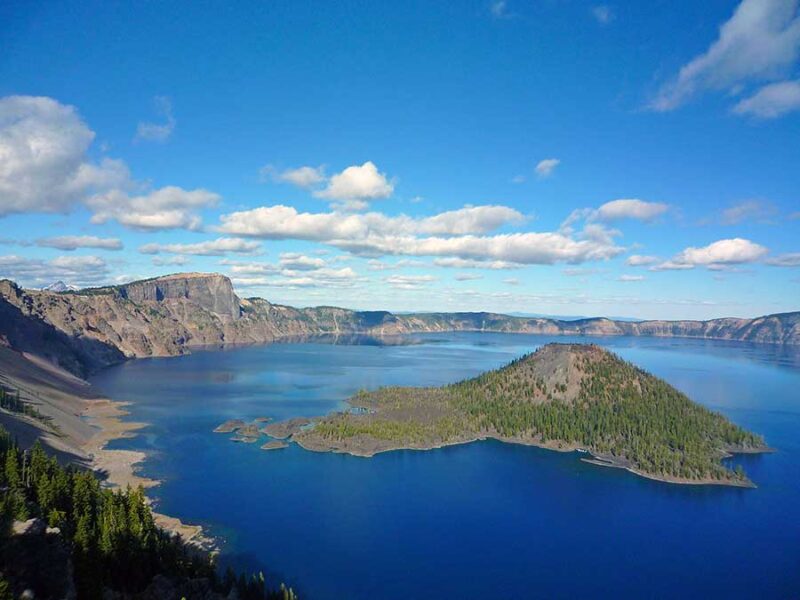 2. Nevada
At one of the least-visited national parks in the country, the Great Basin National Park (3m 48s) offers more than a view of the eclipse — it's also an International Dark Sky Park. The staff there has planned an observing event for the big day and recommends its Mather Overlook for stargazing. Nearby Ely has lodging. If you're coming from Salt Lake City, consider visiting Antelope Island State Park; those driving from Las Vegas should consider Valley of Fire State Park. Both of these are International Dark Sky Parks, too.
3. Southwest Utah
Save visits to Bryce Canyon National Park (2m 17s), Kodachrome Basin State Park (2m 30s), Fremont Indian State Park (4m 38s), Capitol Reef National Park (4m 37s) and Goblin Valley State Park (2m 54s) for after the eclipse, as crowds are likely. Instead, watch the ring of fire from one of many private campgrounds in the area. You'll find plenty of hotels in St. George and Cedar City just south of the path.
4. Eastern Utah
Stargazing in Arches National Park, Dead Horse Point State Park, and Canyonlands National Park — all close to Moab, Utah — is sure to be popular. Hotel availability in Moab around the eclipse dates is currently good.
If you're staying in Moab, just an hour's drive south gets you into the eclipse path at Monticello (2m 18s). Its Canyon Country Discovery Center is staging a 2023 Eclipse Festival, consisting of weekend packages that include eclipse-viewing from the campus, a concert, and Dark Sky Discovery events every evening.
Another option in this area is to drive to Grand View Point Drive in Canyonlands' Island in the Sky District on eclipse day. It juts into the path for a "ring of fire" lasting 1m 8s. But be sure to get there really early; it's likely to be packed.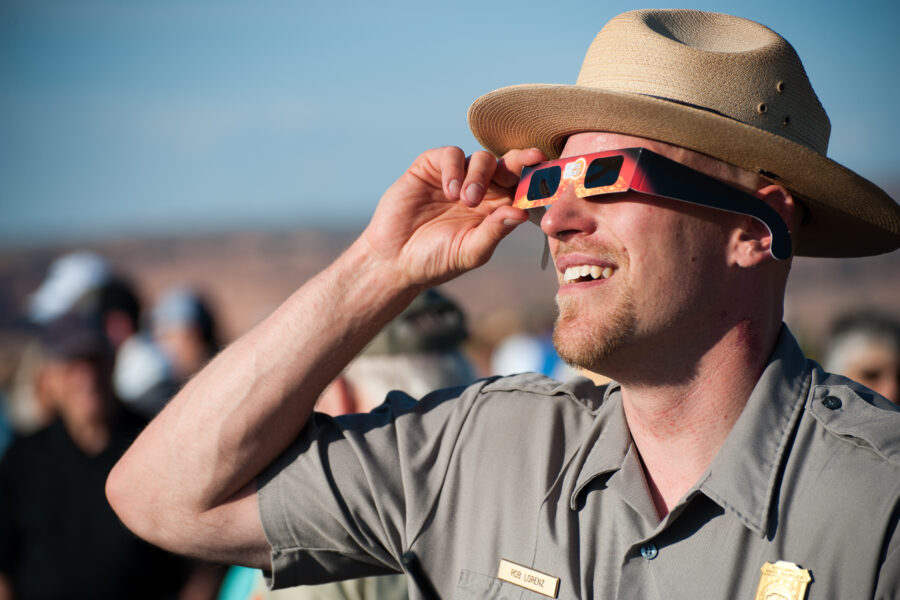 6. Southeast Utah
There are no bookable campsites at Natural Bridges National Monument (4m 27s), Hovenweep National Monument (3m 45s) or Goosenecks State Park (4m 40s), but boondocking in this area should still be possible. While Monument Valley Navajo Tribal Park (4m 16s) is best avoided on eclipse day due to crowds, it would make a good trip on the Arizona-Utah line in the days afterward.
7. Rocky Mountains, Colorado
If you're headed for the eclipse path from Denver, you'll find many first-come, first-served RV spots under dark skies at the Curecanti National Recreation Area. Drive an hour west, and you'll arrive at the huge Black Canyon of the Gunnison. Both of these are International Dark Sky Parks. Bring warm clothes — it will be cold in the mountains come October.
8. Colorado-New Mexico border
Dolores (1m 13s) and Cortez (2m 48s) in Colorado still have hotel rooms available. There's also space at campsites, including Mountain View Campground (3m 11s), Navajo Lake State Park (2m 39s), and Sleeping Ute RV Park north of Shiprock (3m 35s). Visit stargazing hotspots like Mesa Verde National Park and Chaco Canyon before or after the eclipse.
9. Central Colorado
It's easy to turn Interstate 25, which runs between Denver, Colorado, and Albuquerque, New Mexico, into a stargazing highway. To its west, at the foothills of the Rocky Mountains, Great Sand Dunes National Park is famous for stargazing. Interstate 25 will also take you farther south, and east, to Capulin Volcano National Monument and Clayton Lake State Park, two often-overlooked International Dark Sky Parks. All are north of the path of the eclipse, so carry on to Santa Fe (2m 45s) or Albuquerque (4m 42s) for the eclipse.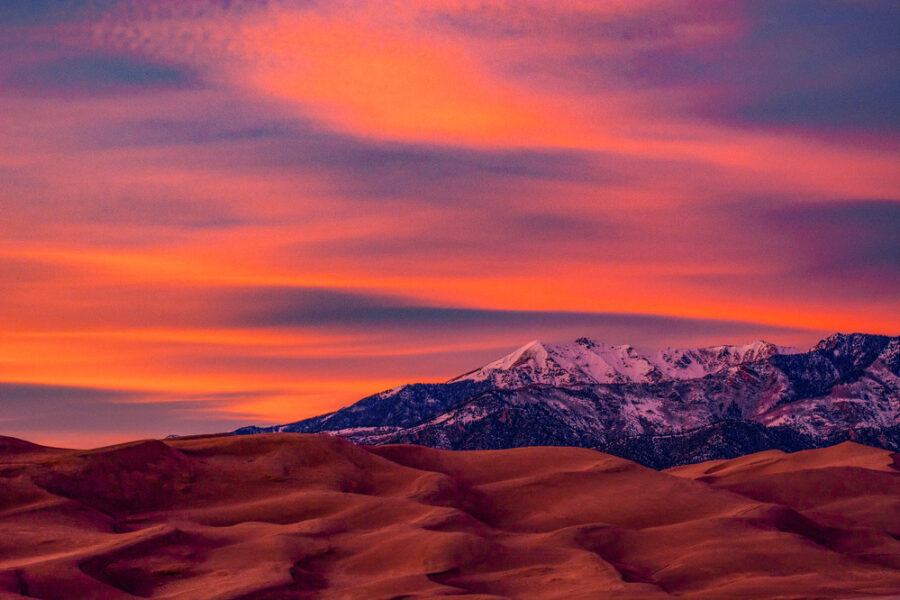 10. West Texas
Stay in Odessa (4m 38s) or Midland (4m 45s) for the eclipse, then tack on a visit to a true dark-sky gem: Big Bend National Park. It's an International Dark Sky Park, as is the adjacent Big Bend Ranch State Park. Backcountry camping is possible in both parks, and there are lots of camping choices outside the parks. 
---
Jamie Carter is the Editor of WhenIsTheNextEclipse.com and the author of several eclipse travel guides.