Light pollution is pervasive, and its impact on people is larger than you might think. 
I clearly remember the night I decided I wanted to be an astronomer. It was a cool summer evening when 12-year-old me sat on my front porch and contemplated the universe. I traveled to the edge of the galaxy and explored the known universe. The euphoria I felt at that moment is incomparable.
Growing up in the 1990s in rural California allowed me to experience this life-dictating event—unfortunately, many 12-year-olds may not get the same experience. One third of the human population cannot see the Milky Way at night due to the glow of artificial lights, according to an updated and just-released "New World Atlas of Artificial Night Sky Brightness" that quantifies the global impact of light pollution.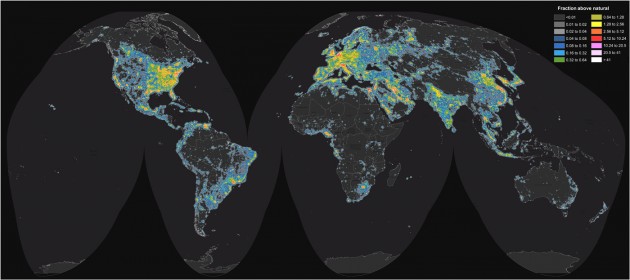 Moreover, more than 80% of the world's citizens and more than 99% of those in the U.S. and Europe live under an artificial skyglow, or reflected light scatter in the atmosphere from the electric lighting below. This isn't just a problem in megacities and urban areas. For instance, Death Valley is awash with skyglow from Las Vegas and Los Angeles, which are 80 and 150 km away, respectively.
"There's almost no place in some of these countries that looks dark anymore, at least by this atlas's estimates," said Christopher Luginbuhl (Flagstaff Dark Skies Coalition).
Singapore is the most light-polluted country, where the entire population lives under skies so bright that their eyes can never fully adapt to night vision. Vitrually everyone living in Kuwait, Qatar, United Arab Emirates, and Saudi Arabia also experiences this level of light pollution. The countries with populations least affected by light pollution are Chad, Central African Republic, and Madagascar, with more than three-quarters of their population living under pristine sky conditions.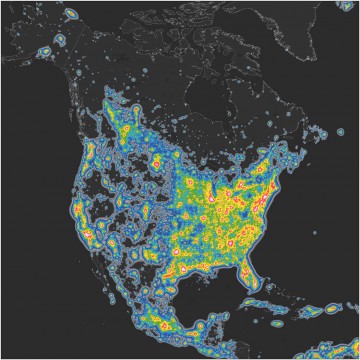 The atlas was first released in 2001, but this new release is more carefully calibrated and involves better models and computations. "It is no question a big step forward in the scientific study of light pollution," said Luginbuhl.
Gathering data
Fabio Falchi (Light Pollution Science and Technology Institute, Thiene, Italy) and an international team of colleagues took advantage of the newly available, low-light imaging data from the Visible Infrared Imaging Radiometer Suite Day/Night Band sensor on the Suomi National Polar-orbiting Partnership satellite. This satellite orbits at 800 km above the Earth and takes high-resolution photos from the ground at night.
The team also used new precision measurements made at ground level using CCD detectors and handheld Sky Quality Meters (SQMs) made with the help of the U.S. National Park Service and thousands of citizen scientists around the world. These data don't depend on models, so they are very important for the atlas's calibration.
Although this atlas is the second of its kind, Luginbuhl cautions against comparing the two. The old atlas utilized a less-precise set of satellite images and lacked much "ground truth." There have undoubtedly been changes to the amount of light being used outdoors in the last 15 years, but these atlases are not meant to be compared.
The new atlas by Falchi's team appears in the June 10th issue of Science Advances and is now available in print form.
Cultural Impact
The researchers make a point that light pollution is a concern for everyone, not just astronomers. Biological systems and human health are also affected by an increase in light pollution. Our internal circadian rhythm — a cycle for sleep and wake patterns, hunger, activity, hormone production, body temperature, and other physiological processes — has been developing over billions of years. Yet we've only been living with electricity since the late 1800s.
The skyglow reported in the atlas is probably below the threshold for directly affecting our circadian rhythms, but the skyglow measurement is from the atmospheric reflection of electric lights in our local environment. Those lights are in many, if not most, cases enough to cause circadian disruption. These include the lights from inside homes and commercial buildings, and even some forms of street lighting.
Biological sciences have begun to show what forms of light and what times of day are most, or least, harmful to our circadian health. This knowledge is being used to produce light sources that are more appropriate for the time of day being used—bright light with high-blue content (fluorescents) in the morning and dim light with low-blue content (low-wattage incandescent) beginning at dusk.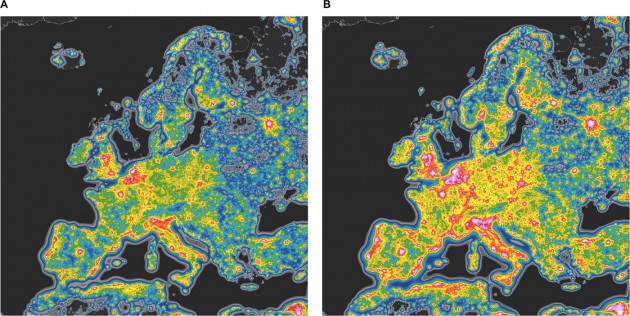 Bright lights like fluorescents and LED lights may be significantly contributing to the amount of light pollution. While high-pressure sodium (HPS) lights are yellow and with a low correlated color temperature, LED lights are white, have a higher correlated color temperature, and emit energy in blue and green wavelengths. The American Medical Association has just-released a policy document blasting the use of blue-rich LED streetlights.
"White LED light threatens to dramatically increase the amount of outdoor lighting. We need to slow down this LED juggernaut and think about it more carefully." said Luginbuhl. Unless the blue-light emission is restricted, switching to LEDs can more than double the night sky brightness as perceived by our dark-adapted eyes.
Moving Forward
Luginbuhl thinks that beyond being a biological problem, light pollution is a societal problem. It's wasted energy that's flooding into space. But culturally, we won't do anything about light pollution unless it matters to more than a few thousand astronomers. He says that when the person down the street thinks, "that matters to me," only then do we have a chance of putting sufficient effort and resources into fixing the problem.
The Light at Night Index (LANI) is a satellite-based evaluation of how efficiently communities in the U.S. with a population of more than 500 use light at night. "The LANI metric is a powerful tool to target communities that would benefit from thoughtful, new lighting installations and to establish priorities in light at night mitigation," said Eric Craine (STEM Laboratory) in a press conference at the 228th meeting of the American Astronomical Society.
While creating the index, researchers found that thoughtful retrofitting of older outdoor lighting can move communities to significantly more efficient use of light. This improves communities' LANI ranking, but more importantly, it also saves them lighting costs and provides maximum protection for dark skies.
"You don't have to be an astronomer to be influenced by a view of a starry night," said Luginbuhl. "And you don't have to know how far a star is to get the basic message that the universe over your head has meaning and perspective to give to human life."
Perhaps if we continue to work to reduce light pollution, we can create a night sky visible enough to inspire more 12-year-olds sitting on their front porches.