FRIDAY, AUGUST 18
■ A twilight challenge. About 30 minutes after sunset, look for the thin crescent Moon very low due west. Binoculars or a telescope might show faint Mars (magnitude +1.8) just below or lower left of the Moon, by about 1° or 2° (for North America). Some 6° below them, Mercury is probably too low and faint to detect at all.
SATURDAY, AUGUST 19
■ Saturn climbs well up in the southeast by 10 or 11 p.m. Look below Saturn, by about two fists at arm's length, for Fomalhaut, the Autumn Star on its way up. No other 1st-magnitude star is anywhere near there to confuse them with.
SUNDAY, AUGUST 20
■ In the fading dusk, look for Spica left of the Moon as shown below. Spica is most often thought of as a springtime star. Now it's finally riding off into the sunset.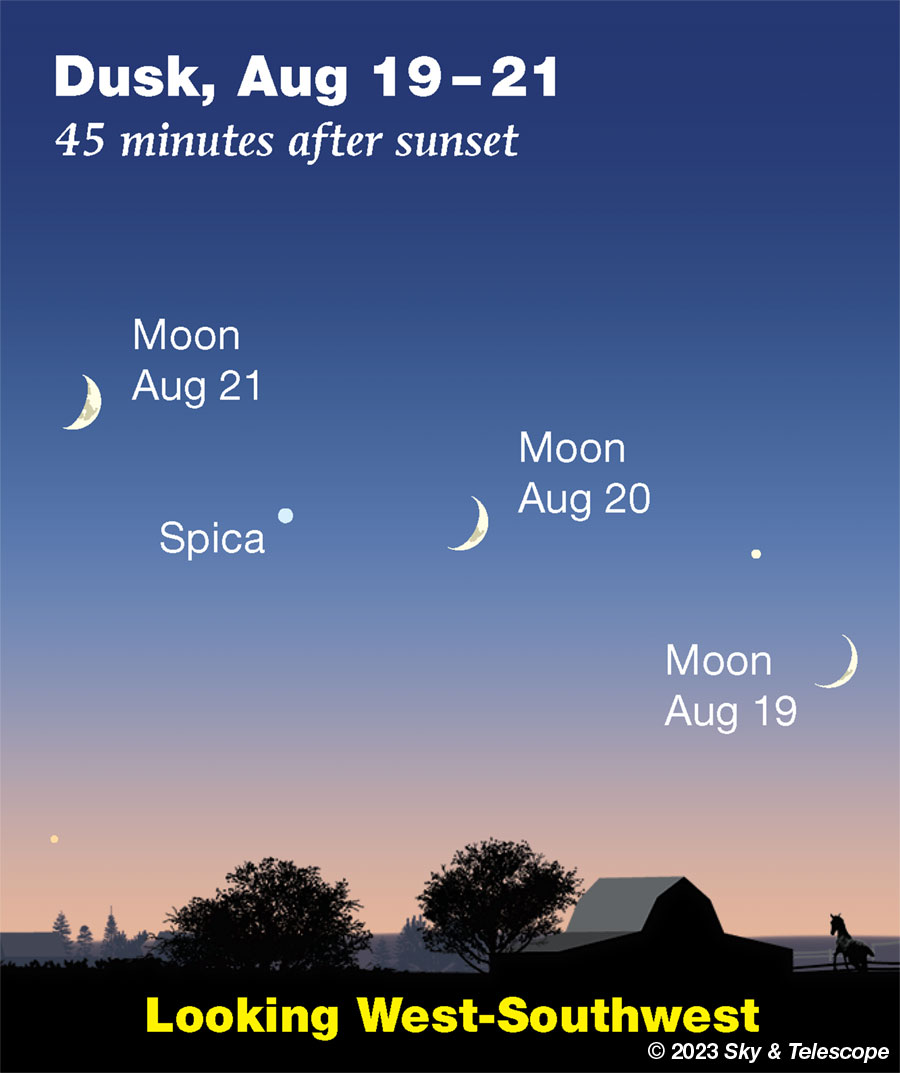 MONDAY, AUGUST 21
■ Different people have an easier or harder time seeing star colors, especially subtle ones. To me, the tints of bright stars stand out a little better in a sky that's the deep blue of late twilight.
For instance, the two brightest stars of summer are Vega, nearly overhead at that time, and Arcturus shining in the west. Vega is white with just a touch of blue. Arcturus is pale yellow-orange. Do their colors stand out a little better for you in late twilight? Could this be a color-contrast effect of seeing yellow, orange, or orange-red stars on a blue background?
Vega is a white-hot, type-A star 25 light-years away. Arcturus is a less hot, type-K giant 37 light-years distant.
TUESDAY, AUGUST 22
■ As August proceeds and nights begin to turn chilly, the Great Square of Pegasus looms up in the east, balancing on one corner. Its stars are only 2nd and 3rd magnitude, and your fist at arm's length fits inside it.
From the Square's left corner extends the main line of the constellation Andromeda: three stars (including the corner) running lower leftward. They're as bright as those forming the Square itself.
This whole giant pattern was named "the Andromegasus Dipper" by the late Sky & Telescope columnist George Lovi. It's shaped sort of like a giant Little Dipper with an extra-big bowl, and it's currently lifting its contents upward.
■ The actual Little Dipper, meanwhile, is over your left shoulder in the north. It's less than half as long as the Andromegasus Dipper, and most of it is much fainter. It's standing on its handle and tipping over leftward; the Little Dipper is rotated more than 90° counterclockwise compared to Andromegasus. It's currently dumping its contents out.
WEDNESDAY, AUGUST 23
■ First-quarter Moon this evening and tomorrow evening (exactly first-quarter at 5:57 a.m. EDT Thursday morning, which splits the difference between those two evenings for the Americas). This evening the Moon is low in the southwest after dark, to the right of Antares and the head of Scorpius.
THURSDAY, AUGUST 24
■ Moon occults Antares. Now the Moon shines near 1st-magnitude Antares as seen from the Americas , as shown below — and the Moon will occult Antares for much of the continental United States and southern Canada.
For the northeastern seaboard, the Moon will be very low over the southwest horizon at the time of Antares's disappearance behind its dark limb. In most of the West, the sky will still be bright or even full daylight. But everywhere in between, this will be the best lunar occultation of a star in quite a while!
The occultation is grazing for parts of north-central Florida, with Antares skimming the mountains and valleys along the Moon's southern limb.
See map and timetables. The first two timetables are very long. The first gives the time when Antares disappears behind the Moon's dark limb for many locations; the second table gives the time of its reappearance out from behind the Moon's bright limb (much harder to observe). Scroll to be sure you're using the correct table; watch for the new heading as you scroll down. The first two letters in each entry are the country abbreviation ("CA" is Canada, not California). The times are given in UT (GMT) August 25th. UT is 4 hours ahead of Eastern Daylight Time, 5 ahead of CDT, 6 ahead of MDT, and 7 ahead of PDT.
For instance: Use the tables to see that for Chicago, Antares will disappear at 9:29 p.m. CDT on the 24th when the Moon is 14° above the horizon. Antares reappears for Chicago at 10:33 p.m. CDT with the Moon only 7° up.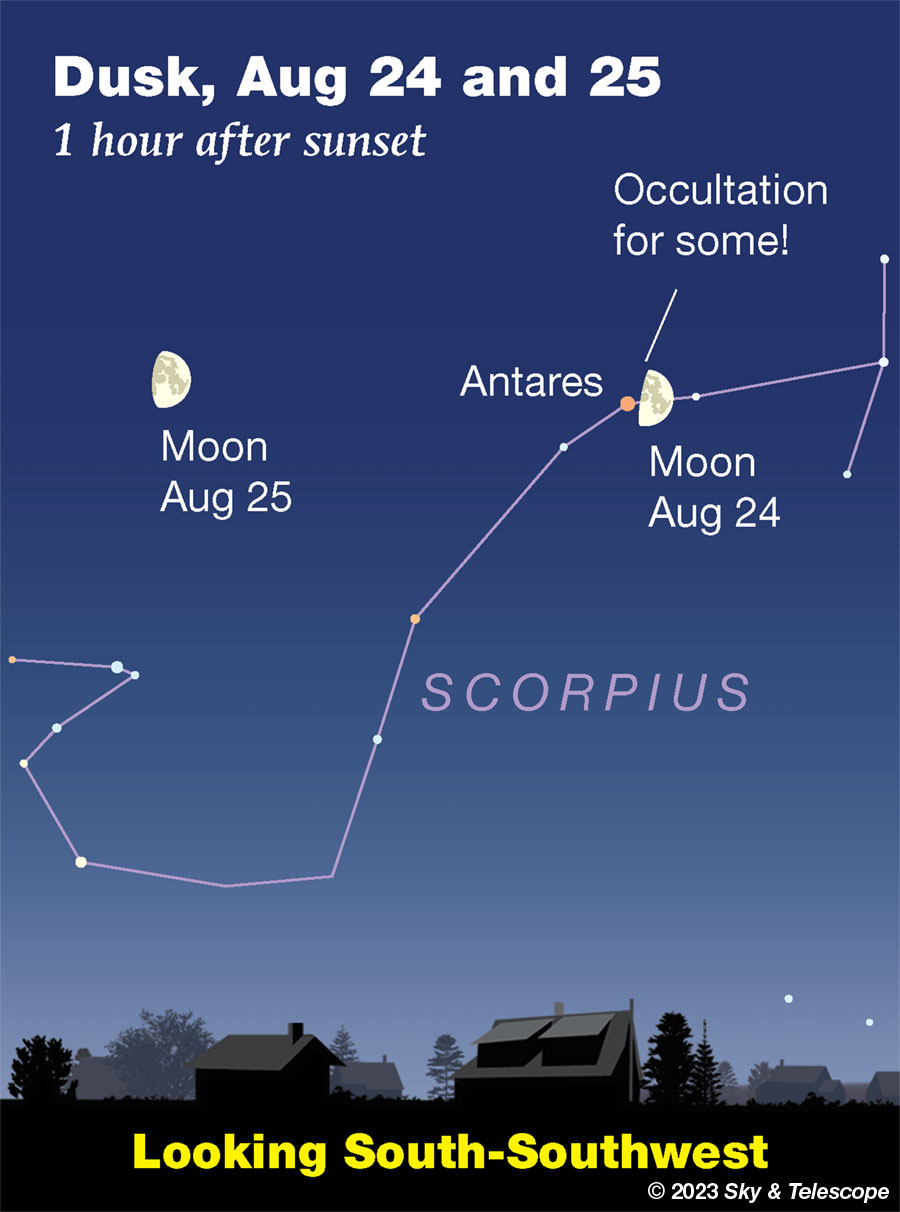 FRIDAY, AUGUST 25
■ How soon after sunset can you see the big Summer Triangle? Face east. Vega, the Triangle's brightest star, is nearly at the zenith (for skywatchers at mid-northern latitudes). Deneb is the first bright star to Vega's east-northeast. Altair shines less high in the southeast.
SATURDAY, AUGUST 26
■ Saturn is at opposition tonight (exactly so at 4 a.m. on the 27th EDT). In a telescope, do you notice that Saturn's rings are distinctly brighter, compared to Saturn's globe, than you usually see them? This is the Seeliger effect, caused by the solid ring particles backscattering sunlight to us when the Sun is almost directly behind us. The dusty surfaces of the Moon and Mars also display this "opposition effect," but Saturn's clouds do not. In the case of Saturn the effect is named for Hugo von Seeliger, who studied it in detail and published his findings in 1887.
The brightening begins several days before Saturn's opposition, is strongest right around that date, and fades for several days after.
SUNDAY, AUGUST 27
■ The waxing gibbous Moon shines in the south after dark. High above it, by three or four fists at arm's length, spot 1st-magnitude Altair with its little sidekick, 3rd-magnitude Tarazed (Gamma Aquilae) about a finger-width above it.

Much closer to the right of the Moon is the Sagittarius Teapot. Its four-star handle is the part closest to the Moon, less than a fist at arm's length. About a fist right of the handle, and perhaps a bit lower, is the Teapot's spout. Binoculars help through the moonlight.
---
This Week's Planet Roundup
Mercury and Mars finally disappear down into the sunset in the west.
Venus (about magnitude –4.3) emerges very low in brightening dawn this week. Look for it just above the horizon due east starting about 20 or 30 minutes before sunrise. Binoculars will help. Venus gets higher and less difficult every day.
Even low magnification will show that, as Venus emerges from inferior conjunction, it's again a very thin crescent. The crescent will get thicker and smaller in the weeks to come as it shines higher in the dawn, the reverse of how it grew thinner and larger while heading down into the sunset last month.
Jupiter (magnitude –2.5, in Aries) rises around 11 p.m. Watch for it to come up low in the east-northeast. By the beginning of dawn, Jupiter shines very high in the south.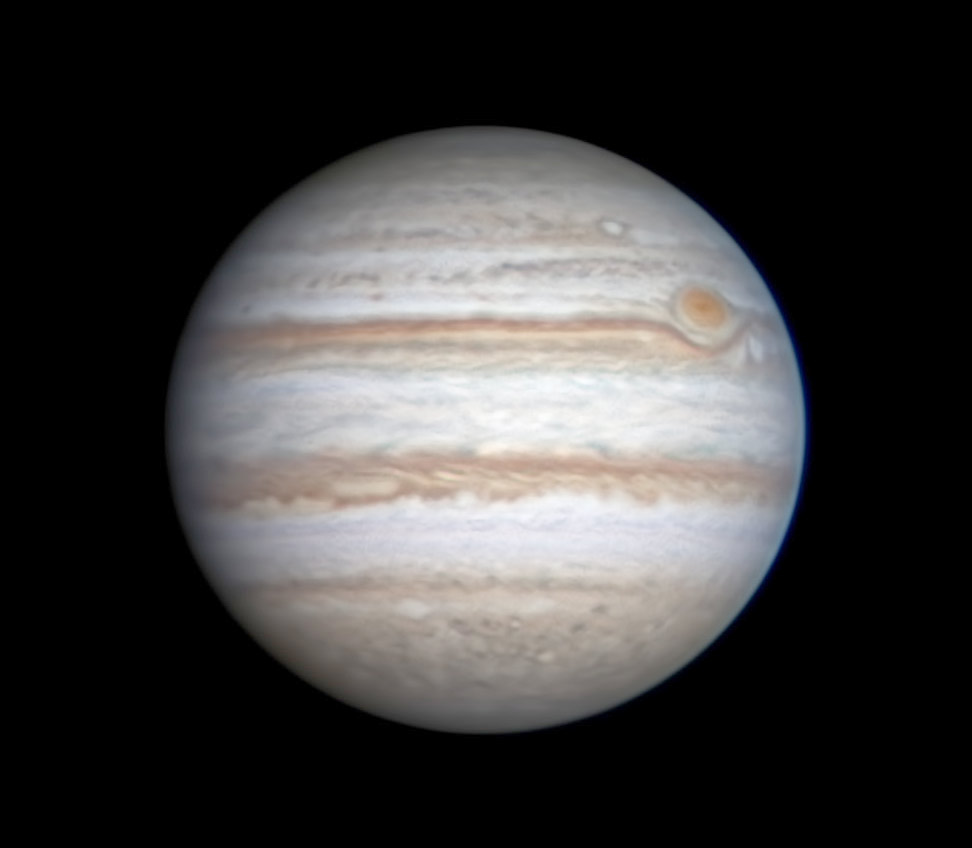 Saturn (magnitude +0.5, in dim Aquarius) rises in bright twilight; it comes to opposition this week, on August 26th. In late twilight you'll find Saturn glowing as the brightest thing low in the east-southeast. It's at a fairly good height for telescopic observing by 11 p.m. (by which time Fomalhaut is twinkling two fists below it). Saturn is at its highest in the south around 1 a.m.
Watch for the Seeliger Effect to develop on Saturn's rings this week; see August 26th above.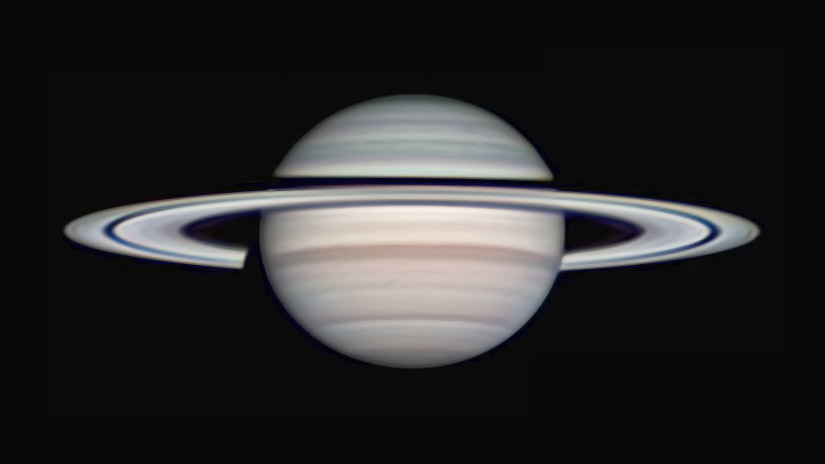 Uranus, magnitude 5.7 in Aries, is nice and high in late evening, about 8° east of Jupiter.
Neptune, magnitude 7.8 at the Aquarius-Pisces border, is high by midnight, about 2o° east of Saturn.
---
All descriptions that relate to your horizon — including the words up, down, right, and left — are written for the world's mid-northern latitudes. Descriptions and graphics that also depend on longitude (mainly Moon positions) are for North America.
Eastern Daylight Time (EDT) is Universal Time minus 4 hours. UT is sometimes called UTC, GMT, or Z time.
---
Want to become a better astronomer? Learn your way around the constellations. They're the key to locating everything fainter and deeper to hunt with binoculars or a telescope.
This is an outdoor nature hobby. For a more detailed constellation guide covering the whole evening sky, use the big monthly map in the center of each issue of Sky & Telescope, the essential magazine of astronomy.
Once you get a telescope, to put it to good use you'll need a much more detailed, large-scale sky atlas (set of charts). The basic standard is the Pocket Sky Atlas (in either the original or Jumbo Edition), which shows all stars to magnitude 7.6.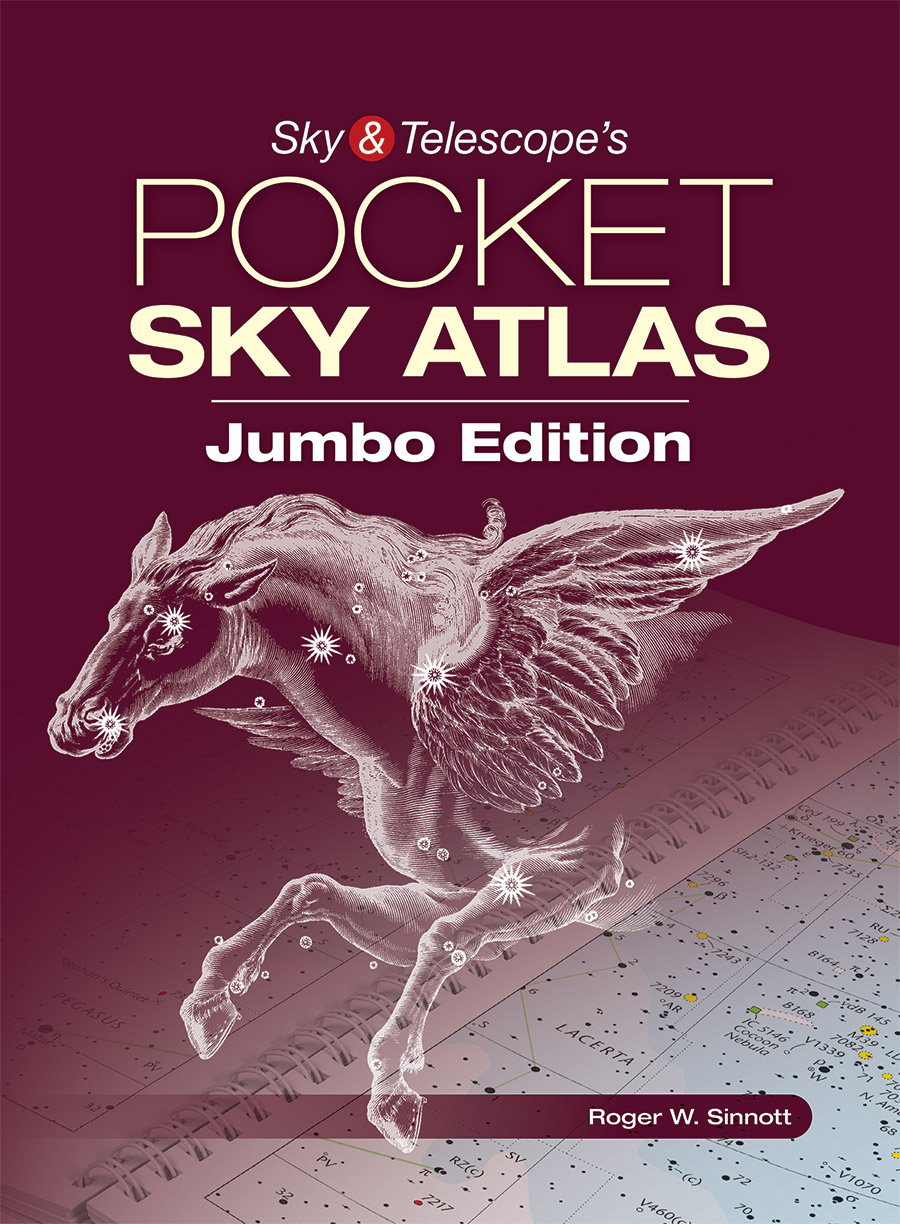 Next up is the larger and deeper Sky Atlas 2000.0, plotting stars to magnitude 8.5; nearly three times as many. The next up, once you know your way around, are the even larger Interstellarum atlas (stars to magnitude 9.5) or Uranometria 2000.0 (stars to mag 9.75). And be sure to read How to Use a Star Chart with a Telescope. It applies just as much to charts on your phone or tablet as to charts on paper.
You'll also want a good deep-sky guidebook. A beloved old classic is the three-volume Burnham's Celestial Handbook. An impressive more modern one is the big Night Sky Observer's Guide set (2+ volumes) by Kepple and Sanner.
Do computerized telescopes replace charts? Not for beginners I don't think, especially not on mounts and tripods that are less than top-quality mechanically. Unless you really prefer spending your time getting finicky technology to work rather than getting to know the sky. As Terence Dickinson and Alan Dyer say in their Backyard Astronomer's Guide, "A full appreciation of the universe cannot come without developing the skills to find things in the sky and understanding how the sky works. This knowledge comes only by spending time under the stars with star maps in hand."
But finding very faint objects the old-fashioned way with charts isn't simple either. See How to Use a Star Chart with a Telescope to learn the tricks.
---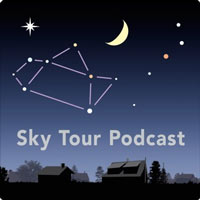 Audio sky tour. Out under the evening sky with your
earbuds in place, listen to Kelly Beatty's monthly
podcast tour of the naked-eye heavens above. It's free.
---

"The dangers of not thinking clearly are much greater now than ever before. It's not that there's something new in our way of thinking, it's that credulous and confused thinking can be much more lethal in ways it was never before."
— Carl Sagan, 1996
"Facts are stubborn things."
— John Adams, 1770
---