FRIDAY, NOVEMBER 18
Orion clears the eastern horizon by about 8 or 9 p.m. now, depending on how far east or west you live in your time zone. Upper left of Orion, bright Mars glares. Keep going upper left of Mars by a similar amount, and there's Capella.
High straighter above Orion are Aldebaran and, higher still, the little Pleiades cluster, the size of your fingertip at arm's length.
Down below Orion, Sirius rises around 10 or 11 p.m. Sirius always follows two hours behind Orion, or equivalently one month behind Orion, as they cross the sky through the night and through the seasons.
■ The Leonid meteor shower may have a predicted outburst late tonight. The Leonids could put on a show in the early-morning hours of Saturday the 19th for eastern and central North America. Last week's Sky at a Glance had the date wrong (as the 18th); that was the date of the annual normal, weak maximum.
Meteor-shower analyst Mikhail Maslow predicts a possible outburst of up to 250 or 300 meteors per hour visible starting around 1 a.m. EST Saturday morning (6:00 UT), good timing for eastern North America. The farther east you are the better. The shower's radiant, near the Sickle of Leo, will be well up by then for the East Coast and will climb higher into dawn. The light of the Moon, two days day past first quarter, will interfere to some degree.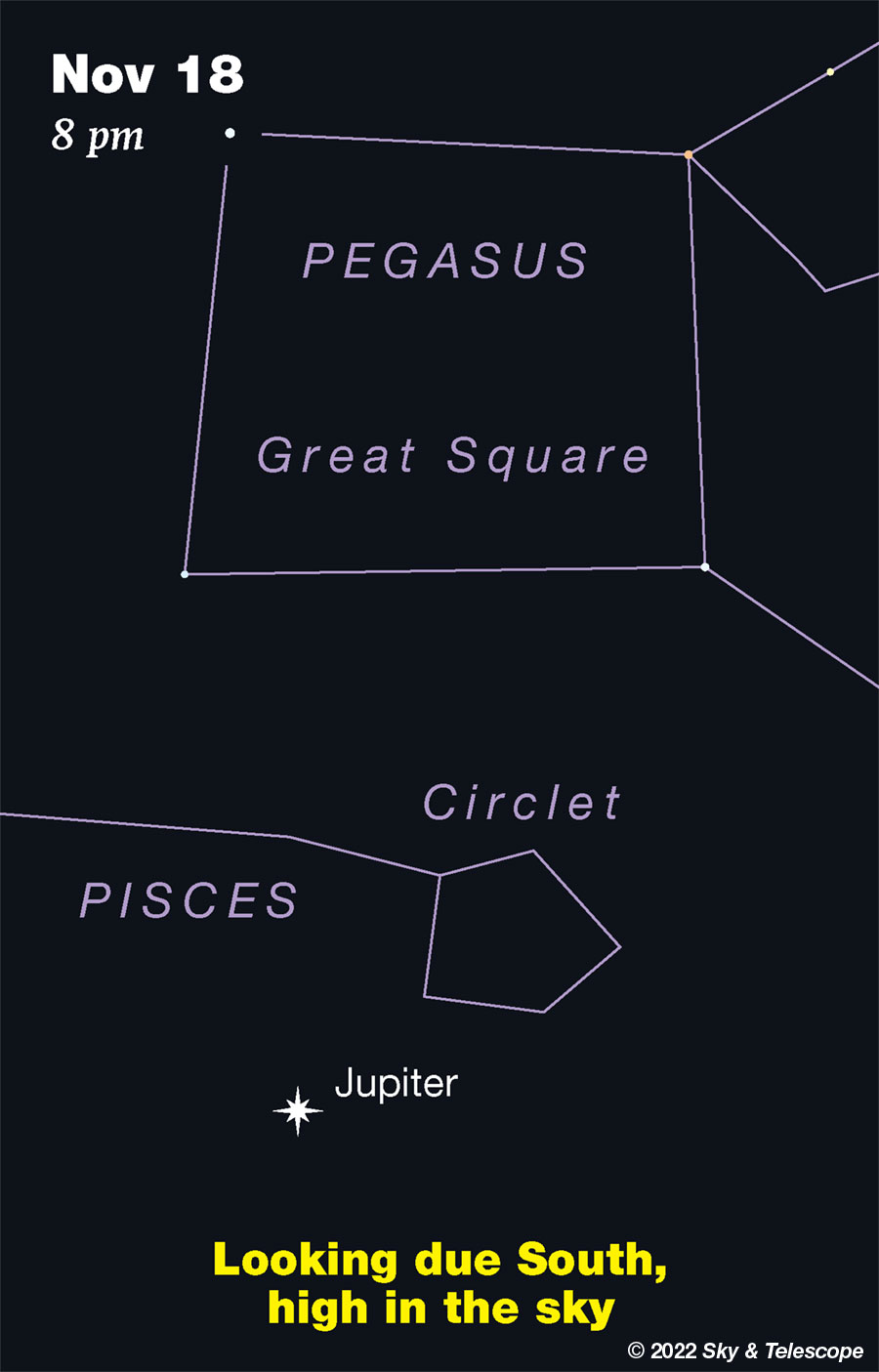 SATURDAY, NOVEMBER 19
■ Whenever Fomalhaut is culminating (crossing the meridian due south, which it does around 7 p.m. this week), the Pointer stars of the Big Dipper stand upright low due north, straight below Polaris.
Also at that time, the first stars of Orion are soon to rise above the east horizon (for the world's mid-northern latitudes). Starting with the rise of Betelgeuse, it takes Orion's main figure a little more than an hour to completely clear the horizon.
■ Algol in Perseus should be at its minimum brightness, magnitude 3.4 instead of its usual 2.1, for a couple hours centered on 10:25 p.m. EST; 7:25 p.m. PST.
SUNDAY, NOVEMBER 20
■ With the Moon gone from the evening sky, you've got your darkest evenings for deep-sky hunting. Have you been to the Perseus Double Cluster over and over? It's always a delight... but why not try for some lesser-known open clusters, each of them different, and some interesting double stars farther south in Perseus? Use Ken Hewitt-White's "Off the Beaten Track in Perseus" article, chart, and pix in the November Sky & Telescope, page 54.
■ Do you get up very early on Monday morning? Before dawn grows bright, spot the waning crescent Moon low in the east-southeast with 1st-magnitude Spica sparkling 4° or 5° to its upper right, as shown below.
If you're early enough and get ambitious, above Spica by about a fist and a half is 3rd-magnitude Gamma Virginis, a close, equal double star for telescopes. Its current separation is 3.25 arcseconds. Its two F0 suns are aligned north-south.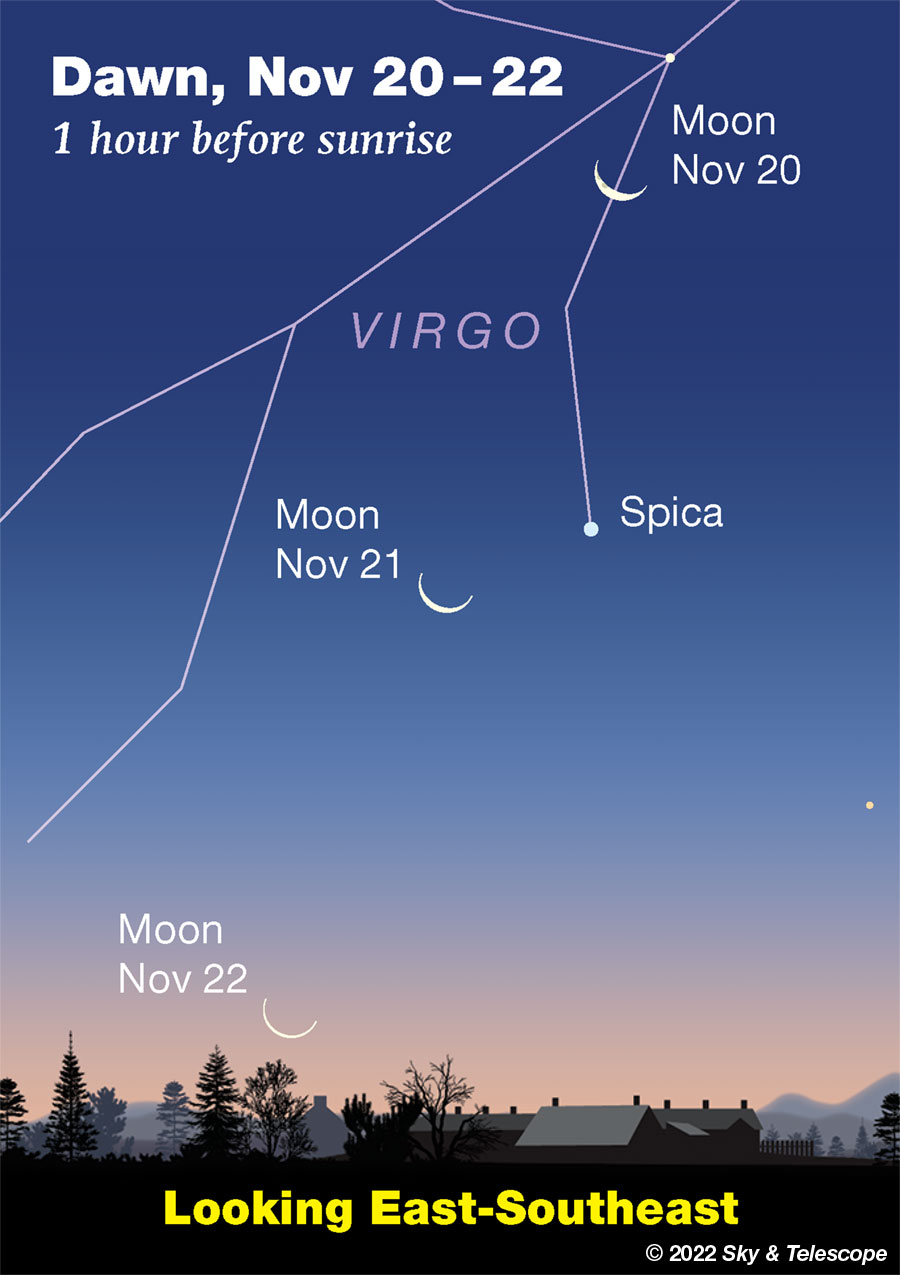 MONDAY, NOVEMBER 21
■ Vega is the brightest star high in the west after dark. Close by it are three interesting double stars for binoculars and telescopes.
Just above Vega, spot 4th-magnitude Epsilon Lyrae, the Double-Double. Epsilon forms one corner of a roughly equilateral little triangle with Vega and Zeta Lyrae. The triangle is less than 2° on a side, hardly the width of your thumb at arm's length.
Binoculars easily resolve Epsilon. And a 4-inch telescope at 120× or more should, during good seeing, resolve each of Epsilon's wide components into a tight pair.
Zeta too is a double. This pair is much closer and appears single in most binoculars, but a telescope plainly resolves it.
Delta Lyrae, upper left of Zeta by a similar distance, is a much wider and easier binocular pair. Its stars are reddish orange and blue.
TUESDAY, NOVEMBER 22
■ Jupiter's Great Red Spot should transit the planet's central meridian around 9:52 p.m. EST; 6:52 p.m. PST.
■ Algol should be at its minimum brightness for a couple hours centered on 7:14 p.m. EST. It will take several additional hours to fully rebrighten.
WEDNESDAY, NOVEMBER 23
■ New Moon (exact at 5:57 p.m. EST).
■ This is the time of year when the Great Square of Pegasus floats highest overhead in early evening. Look for it above Jupiter. Your fist at arm's length fits inside it.
The western (right) side of the Great Square points far down almost to Fomalhaut in the south. Its eastern side points down less directly toward Beta Ceti (Diphda), less far below.
THURSDAY, NOVEMBER 24
■ Does the Sun already seem to be setting about as early as it ever will? You're right! We're still nearly a month from the winter solstice — but the Sun sets its earliest around December 7th if you live near latitude 40° north, and already the Sun sets within only 3 minutes of that time.
A surprising result of this: The Sun actually sets a trace earlier on Thanksgiving than on Christmas — even though Christmas is around solstice time!
But once again, in celestial mechanics every seeming abnormality is balanced out by an equal abnormality somewhere else. The offset of the earliest sunset from the solstice date is balanced out by the opposite happening at sunrise: The Sun doesn't come up its latest until January 4th. All this is due to the tilt of Earth's axis and the eccentricity of Earth's orbit.
FRIDAY, NOVEMBER 25
■ Now that the Pleiades and (below them) Aldebaran are shining due east after dark, can Orion be far behind? Orion's entire iconic figure, formed by its brightest seven stars, takes about an hour and a quarter to clear the eastern horizon. By roughly 8 p.m. it's just about made it, as shown below. By 10 it's up in fine, pre-winter view.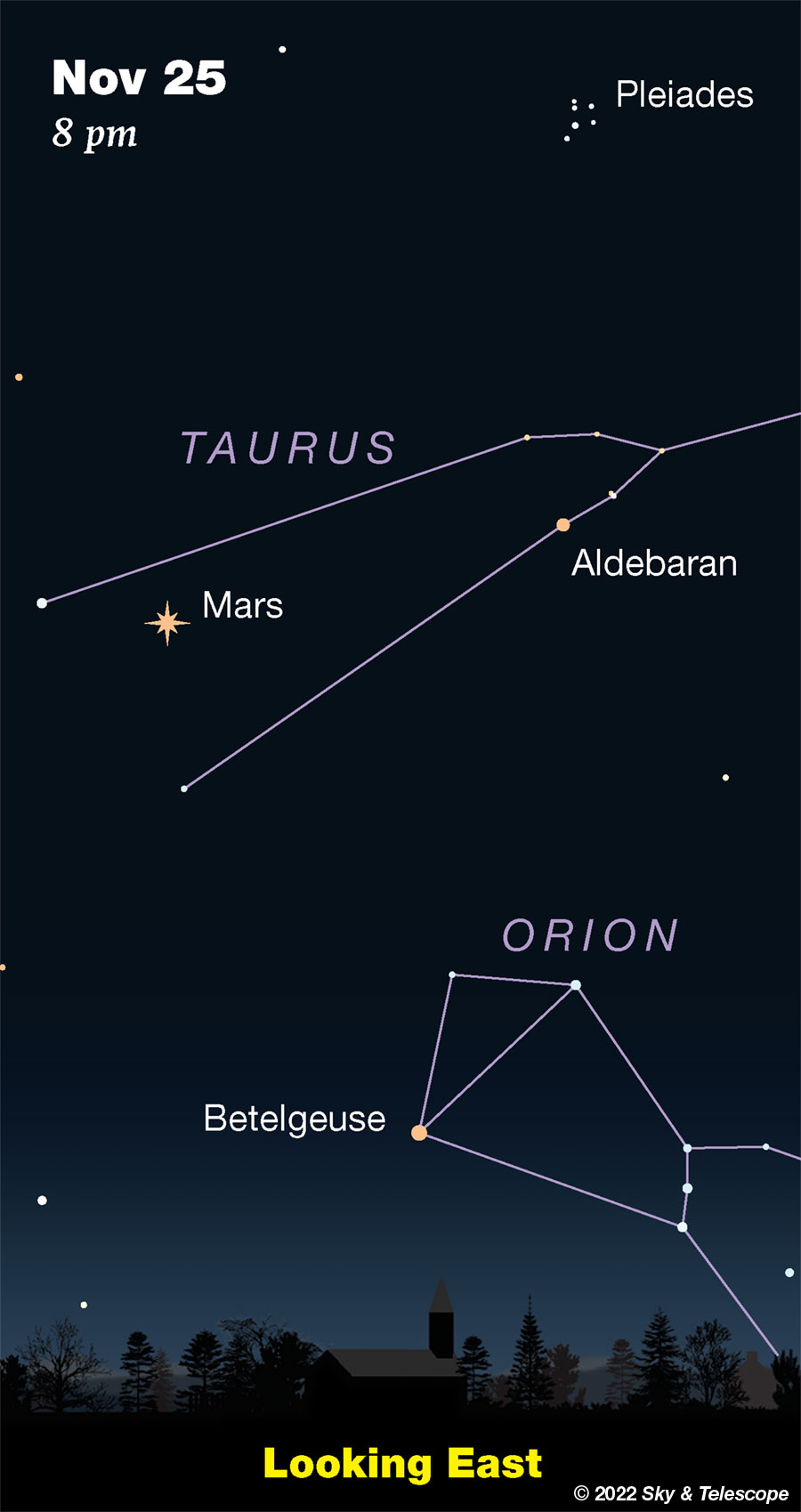 ■ Using a telescope, watch for Jupiter's moon Io to slowly reappear from behind Jupiter's eastern limb around 7:11 p.m. EST, soon after dark in the Eastern time zone. Then Europa does the same around 10:41 p.m. EST, better timing for the rest of North America.
Watch for each to gradually appear as a tiny bump on Jupiter's shimmering limb, then bud off and separate into open space.
Meanwhile, Jupiter's Great Red Spot should cross the planet's central meridian around 7:22 p.m. EST. Fifty minutes later it's already halfway to the preceding (celestial west) limb. Jupiter rotates fast.
SATURDAY, NOVEMBER 26
■ The bowl of the Little Dipper swings down in the evening at this time of year, left or lower left of Polaris due north. The rest of the Little Dipper is dim. By about 11 p.m. this week it hangs straight down from Polaris.
■ Two faint fuzzies naked-eye: The Andromeda Galaxy (M31) and the Perseus Double Cluster are two of the most famous deep-sky objects. They're both cataloged as 4th magnitude, and in a fairly good sky you can see each with the unaided eye. Binoculars make them easier. They're located only 22° apart, very high toward the east early these evenings — to the right of Cassiopeia and closer below Cassiopeia, respectively.
But they look rather different, the more so the darker your sky. See for yourself. You can find them with the all-sky constellation map in the center of the November or December Sky & Telescope.
---
This Week's Planet Roundup
Mercury and Venus are hidden deep in the glow of sunset.
Mars, brightening from magnitude –1.6 to –1.7 this week, clears the east-northeast horizon around the end of twilight. It gains altitude until culminating nearly overhead around 1 or 2 a.m. There's no missing it; Mars now outshines even Sirius (which rises around 9 or 10 p.m.). Mars's fiery yellow-orange color always helps give it away.
Mars has passed between the horntips of Taurus, Beta and fainter Zeta Tauri, moving west (retrograde). It's on its way to opposition the night of December 7-8 — when the full Moon will occult Mars for much of North America and Western Europe! Map and timetables.
Mars-colored Aldebaran, only a tenth as bright at magnitude +0.9, sparkles to Mars's upper right by 14°, roughly a fist and a half at arm's length. Somewhat farther to the planet's lower right is Mars-colored Betelgeuse. How do the three compare? Color perception can be tricky; see "Seeing the True Colors of Mars," a lesson for astronomers from a chemist, in the November Sky & Telescope, page 52.
In a telescope Mars now appears 16.7 to 17 arcseconds wide, almost the 17.2 arcseconds it will display around its closest approach to Earth on December 1st. (The reason Mars's closest-to-Earth date and opposition date are a week apart stems from the ellipticity of the two planets' orbits, Mars's especially. Mars has the most non-circular orbit of any planet but Mercury.)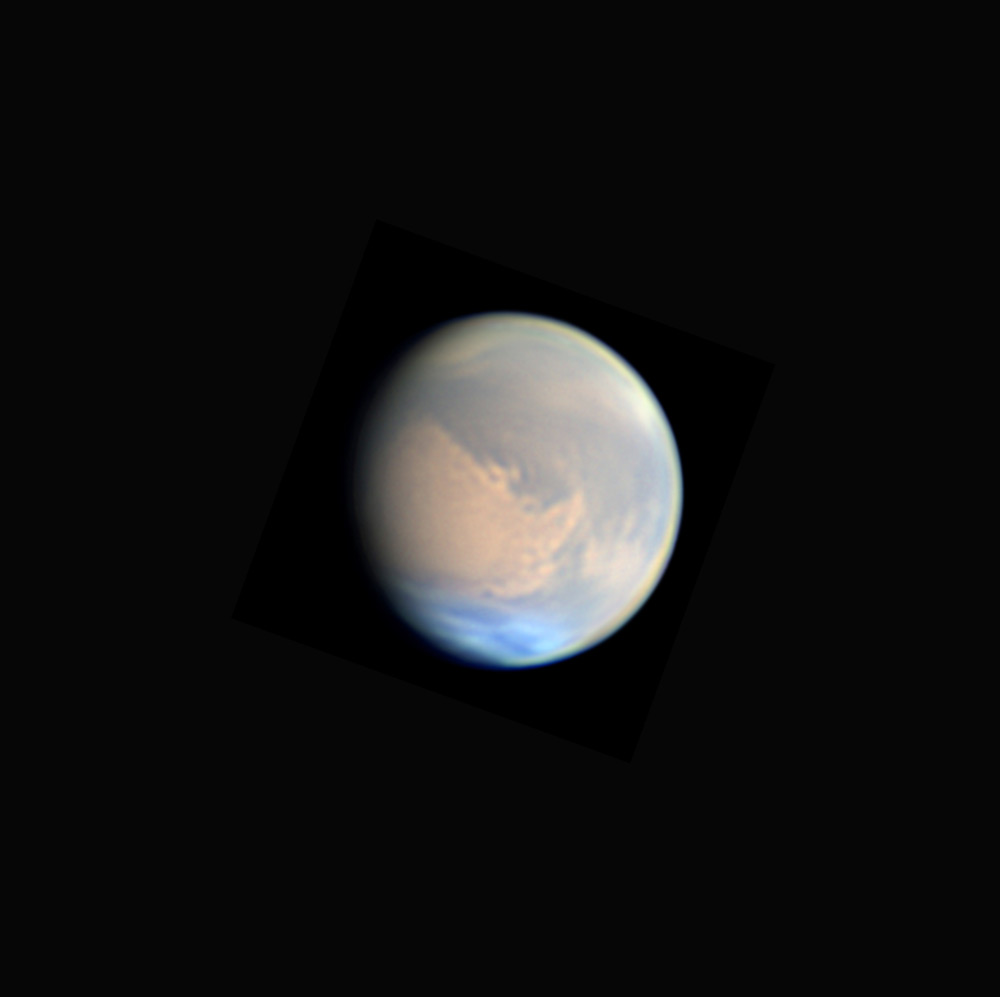 Jupiter blazes white high in the southeast in twilight at magnitude –2.8. It's highest in the south as early as 8 p.m. now, in dim Pisces. In a telescope it shrinks a bit this week, from 46 to 45 arcseconds wide.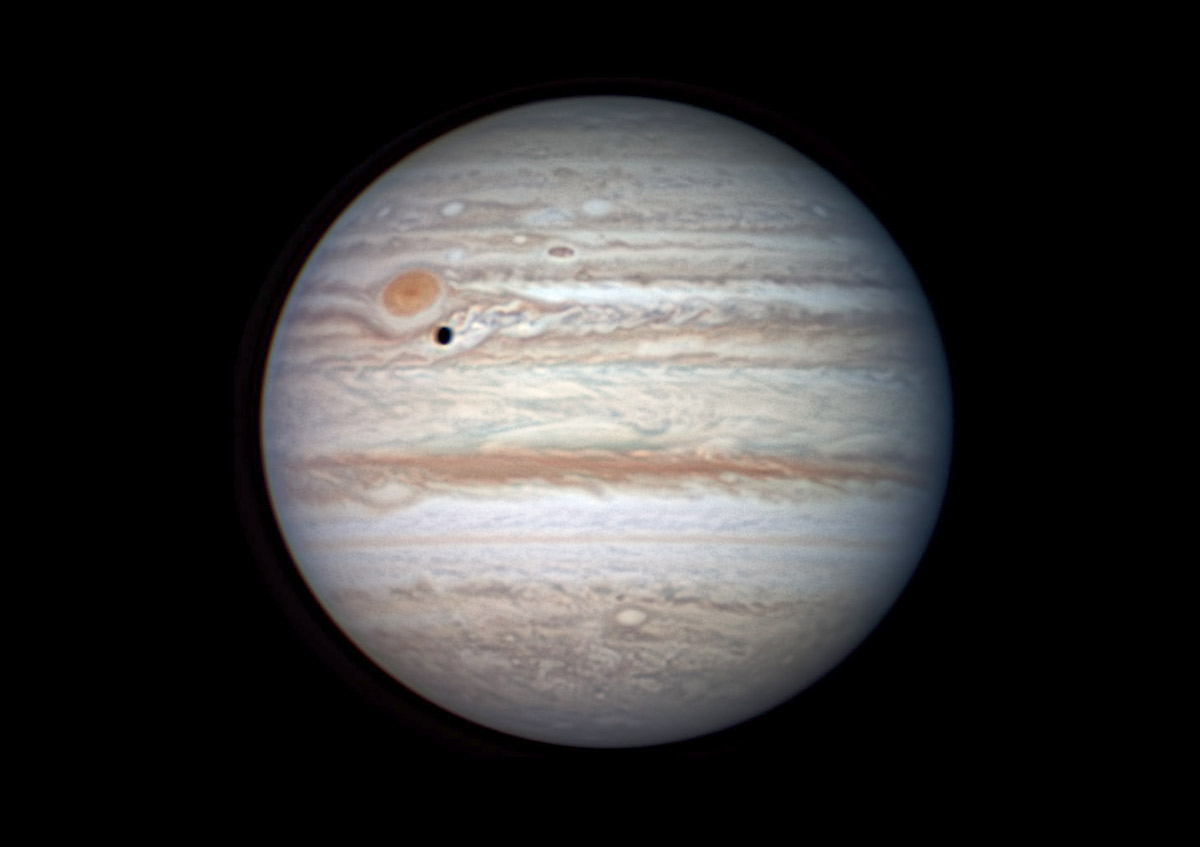 Saturn, magnitude +0.7 in Capricornus, glows highest in the south as twilight fades. As night progresses, it moves lower toward the southwest and sets around 10 or 11 p.m.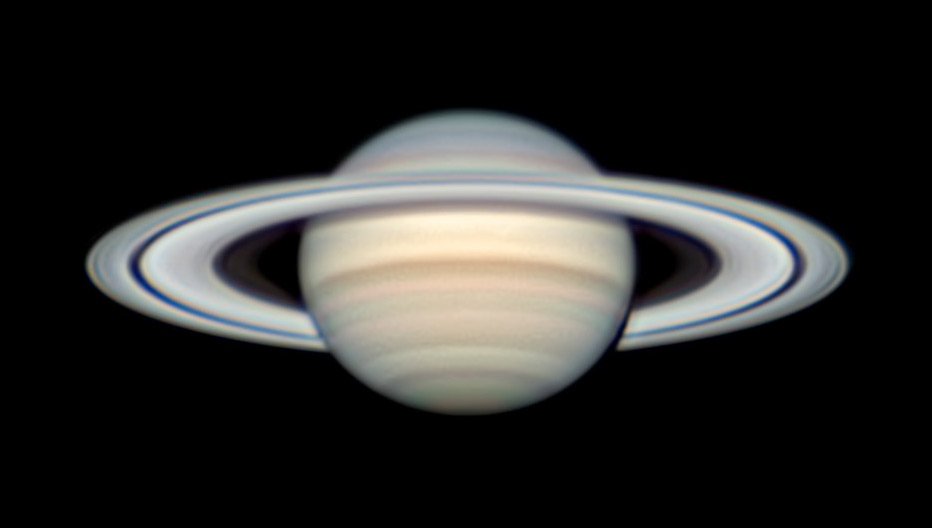 Uranus, magnitude 5.6 in Aries, is past opposition. It's up in the east in good binocular or telescope view by mid-evening, displaying a tiny, very slightly blue-greenish gray disk 3.8 arcseconds wide. It a telescope at high power it's obviously non-stellar. See the Uranus finder charts in the November Sky & Telescope, page 49.
Neptune, magnitude 7.9 at the Aquarius-Pisces border, is high in the evening 6° west of Jupiter. It's just 2.3 arcseconds wide, again non-stellar in a telescope but requiring more effort than Uranus. It's slightly bluish gray, if you have enough aperture to show color at all in something this faint. See the Neptune finder charts in the September Sky & Telescope, page 49.
---
All descriptions that relate to your horizon — including the words up, down, right, and left — are written for the world's mid-northern latitudes. Descriptions and graphics that also depend on longitude (mainly Moon positions) are for North America.
Eastern Standard Time (EST) is Universal Time minus 5 hours. Universal Time is also called UT, UTC, GMT or Z time.
---
Want to become a better astronomer? Learn your way around the constellations. They're the key to locating everything fainter and deeper to hunt with binoculars or a telescope.
This is an outdoor nature hobby. For an easy-to-use constellation guide covering the whole evening sky, use the big monthly map in the center of each issue of Sky & Telescope, the essential magazine of astronomy.
Once you get a telescope, to put it to good use you'll need a detailed, large-scale sky atlas (set of charts). The basic standard is the Pocket Sky Atlas (in either the original or Jumbo Edition), which shows stars to magnitude 7.6.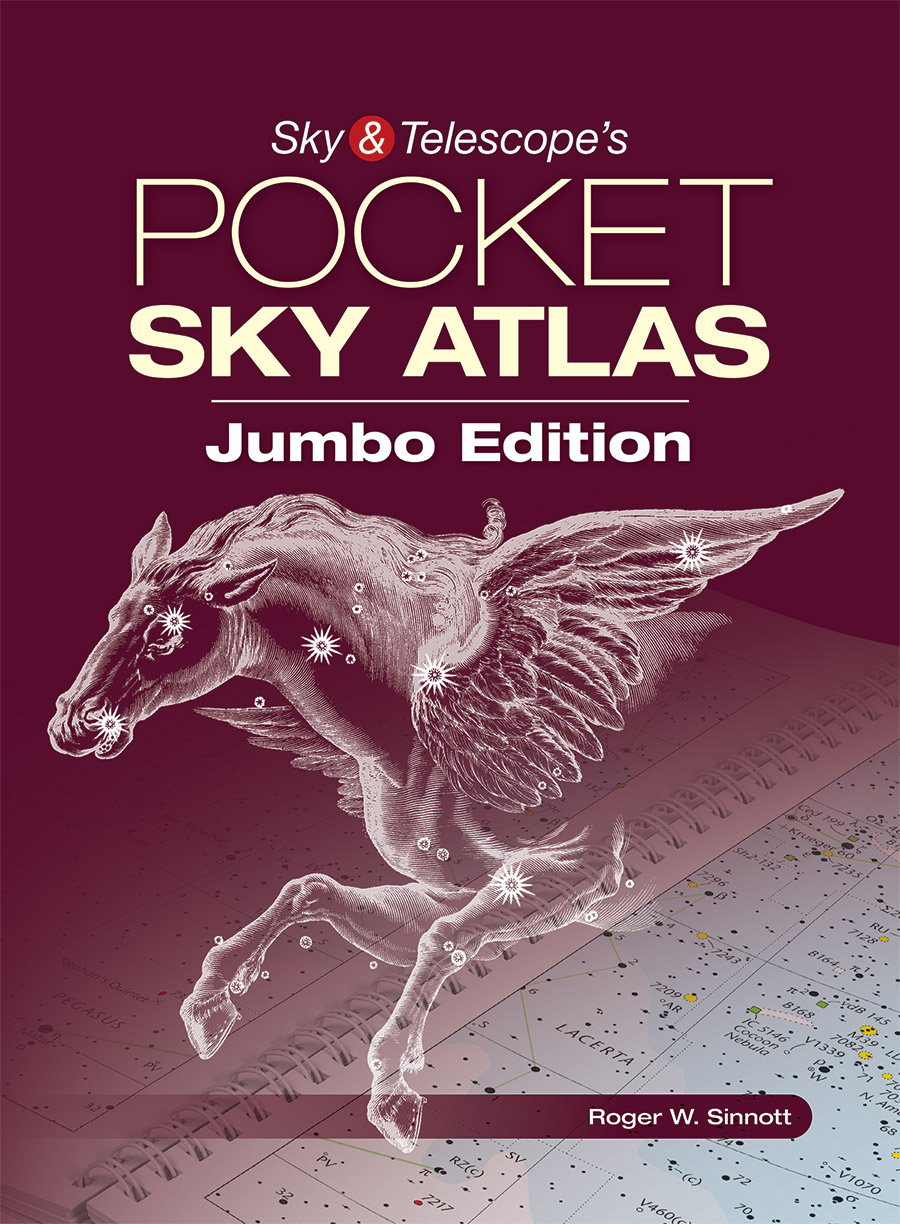 Next up is the larger and deeper Sky Atlas 2000.0, plotting stars to magnitude 8.5; nearly three times as many. The next up, once you know your way around, are the even larger Interstellarum atlas (stars to magnitude 9.5) or Uranometria 2000.0 (stars to magnitude 9.75). And be sure to read How to Use a Star Chart with a Telescope. It applies just as much to charts on your phone or tablet as to charts on paper.
You'll also want a good deep-sky guidebook. A beloved old classic is the three-volume Burnham's Celestial Handbook. An impressive more modern one is the big Night Sky Observer's Guide set (2+ volumes) by Kepple and Sanner.
Can a computerized telescope replace charts? Not for beginners, I don't think, and not on mounts and tripods that are less than top-quality mechanically, meaning heavy and expensive. And as Terence Dickinson and Alan Dyer say in their Backyard Astronomer's Guide, "A full appreciation of the universe cannot come without developing the skills to find things in the sky and understanding how the sky works. This knowledge comes only by spending time under the stars with star maps in hand."
---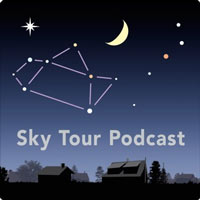 Audio sky tour. Out under the evening sky with your
earbuds in place, listen to Kelly Beatty's monthly
podcast tour of the heavens above. It's free.
---

"The dangers of not thinking clearly are much greater now than ever before. It's not that there's something new in our way of thinking, it's that credulous and confused thinking can be much more lethal in ways it was never before."
— Carl Sagan, 1996
"Facts are stubborn things."
— John Adams, 1770
---