FRIDAY, JULY 14
■ Altair shines high in the east-southeast after dark. It's the second-brightest star on the eastern side of the sky, after Vega higher to its upper left. The third star of the Summer Triangle is Deneb, less bright, left of them.
Above Altair by a finger-width at arm's length is little Tarazed, 3rd magnitude and orange, which helps to identify it.
Altair is a fast-spinning, white type-A star, somewhat larger and hotter than the Sun, only 17 light-years away. It spins so fast that, using interferometry, astronomers were able in 1999 to confirm that it is widened around its equator into a very ellipsoid shape.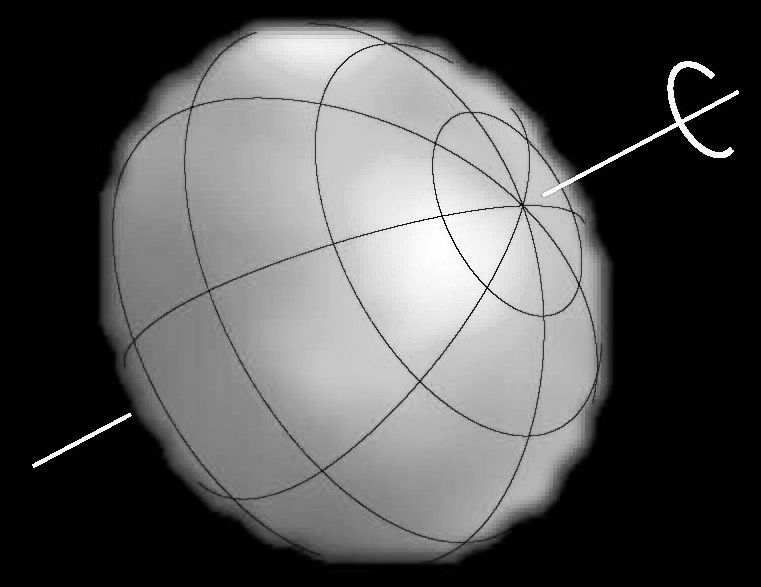 SATURDAY, JULY 15
■ Now that Altair is getting nice and high in the east-southeast, and with the evenings moonless, it's time to greet the Dolphin and the Arrow.
Little Delphinus is about a fist at arm's length lower left of Altair. He's leaping leftward just below the summer Milky Way.
Sagitta, the Arrow, is smaller and fainter. Look for it closer to Altair's upper left. The Arrow points lower left past the Dolphin's nose. For more on Sagitta and its telescopic cluster M71, see the July Sky & Telescope, page 43.
Also in the vicinity is the lovely little binocular asterism The Coathanger. It's 4° above (northwest of) Sagitta's tail and currently poses upside down. See page 54 of the July Sky & Telescope, which includes lots of telescopic sights around it.
SUNDAY, JULY 16
■ The tail of Scorpius is low due south after dark, to the lower right of the Sagittarius Teapot. How low depends on how far north or south you live: the farther south, the higher.
Look for the two stars especially close together in Scorpius's tail. These are Lambda and fainter Upsilon Scorpii, known as the Cat's Eyes. They're 0.6° apart and canted at an angle; the cat is tilting its head to the right. And the cat has a bleary eye; Upsilon is fainter than Lambda (they're magnitudes 2.6 and 1.6). Both are blue-white giants, 500 and 700 light years away, respectively. The fainter one is indeed the nearer one.
Between the Cat's Eyes and the Teapot's spout are the open star clusters M6 and especially M7, showy in binoculars.
A line through the Cat's Eyes points west (right) by nearly a fist-width toward Mu Scorpii, a much tighter pair known as the Little Cat's Eyes. They're oriented almost exactly the same way as Lambda and Upsilon. If you have very sharp eyes, can you resolve the Mu pair without using binoculars?
MONDAY, JULY 17
■ With the advance of summer the Sagittarius Teapot, in the south-southeast after dark now, is starting to tilt and pour from its spout to the right. The Teapot will tilt farther and farther for the rest of the summer — or for much of the night if you stay out late.
■ New Moon (exact at 2:32 p.m. EDT).
TUESDAY, JULY 18
■ About 20 minutes after sunset, start looking very low in the west-northwest for Venus, lesser Mercury, and the thin crescent Moon as shown below. Regulus and Mars are much fainter. Binoculars will help.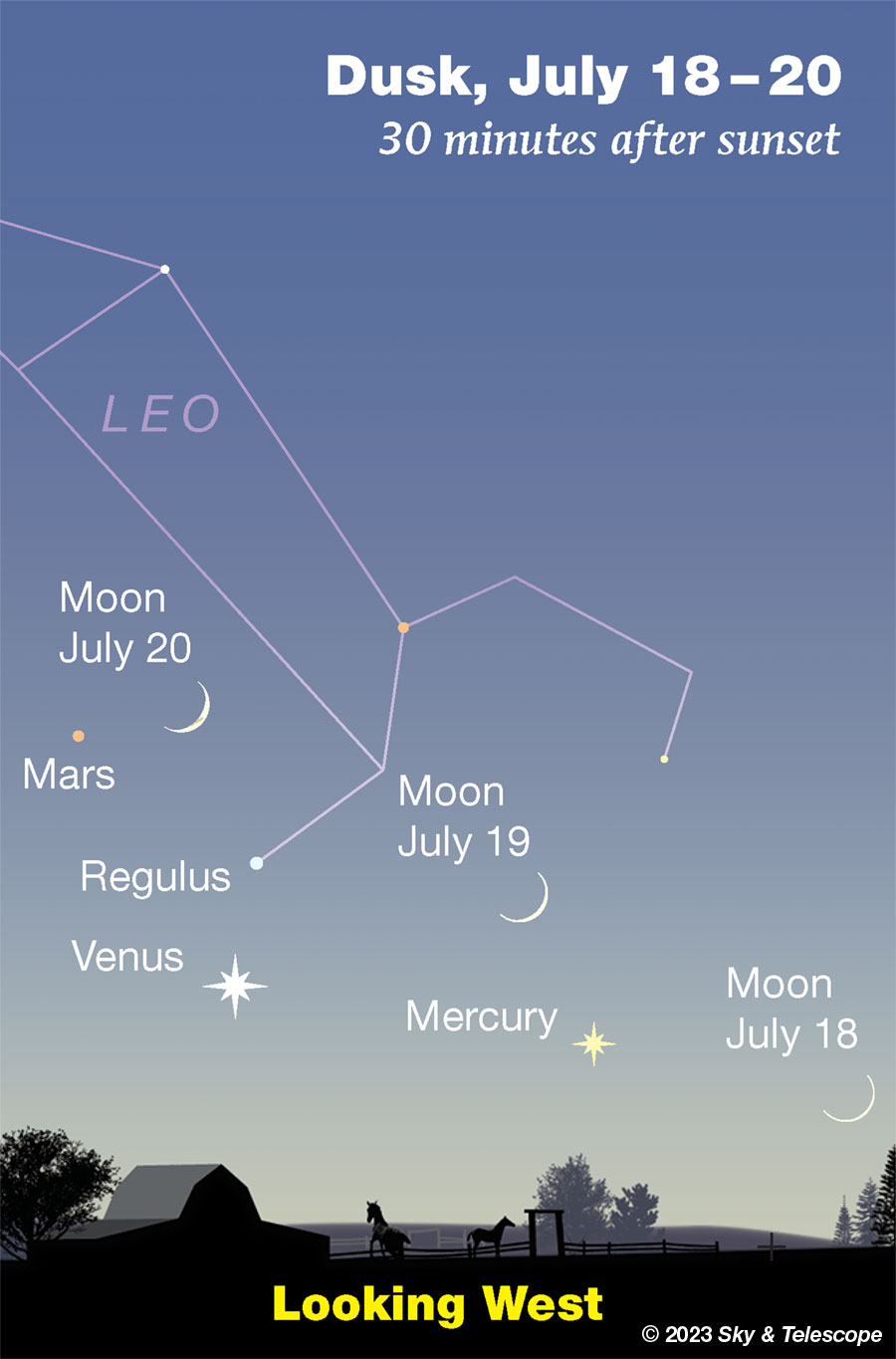 WEDNESDAY JULY 19
■ Now the crescent Moon is easier to spot low in the west early twilight, helping mark the way to three planets as shown above.
■ At the end of these long summer twilights, look low in the northwest and north. Would you recognize pearly, night-glowing noctilucent clouds if you saw them? They're the most astronomical of all cloud types, with their extreme altitude and formation on, among other things, meteoric dust particles. I think they're also the most beautiful. Noctilucent cloud season runs from mid-May to mid-August (in the Northern Hemisphere). They used to be rare, but they're becoming more common as Earth's atmosphere changes, probably due to the extra methane at very high altitudes as a result of global warming. See Bob King's article.
THURSDAY, JULY 20
■ As summer progresses, bright Arcturus moves down the western side of the evening sky. Its pale ginger-ale tint always helps identify it.
Arcturus forms the bottom point of the Kite of Boötes. The Kite, rather narrow, extends upper right from Arcturus by 23°, about two fists at arm's length. The top of the kite is bent slightly down, as if something hit it.
FRIDAY, JULY 21
■ In late twilight, look about a fist at arm's length above the Moon for Denebola, Beta Leonis. That's Leo's tail tip. This late in July, Leo is going goodbye.
SATURDAY, JULY 22
■ A twilight challenge. Spot the crescent Moon in the west-southwest about 30 minutes after sunset. Look for Venus about three fists at arm's length to its lower right. Fainter Mercury, even fainter Regulus, and puny Mars form a straight diagonal line a little way above Venus. The line is about fist and a half long, from lower right to upper left.
SUNDAY, JULY 23
■ To me, the thick waxing crescent is one of the most interesting phases for exploring the Moon's terminator with a telescope. And this evening, above or upper right of the Moon by a couple degrees is 3rd-magnitude Gamma Virginis (Porrima), a fine close telescopic double star for telescopes. Its components are 3.3 arcseconds apart this year, oriented almost north-south. They're both magnitude 3.5.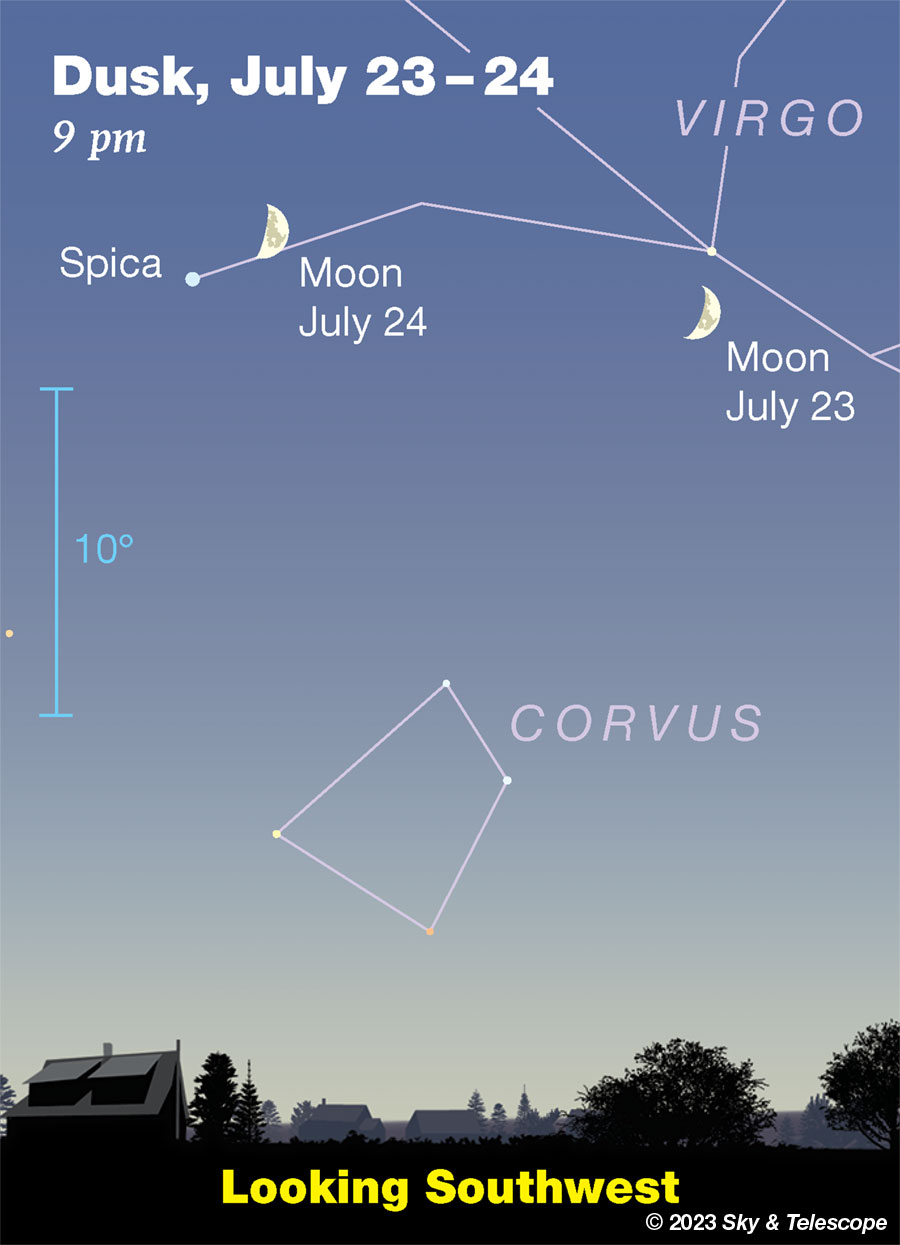 ■ It's late July. . . so can you catch the heliacal rising of Rigel and Orion's Belt — far out of season! — low in the brightening dawn? See the July Sky & Telescope, page 50.
---
This Week's Planet Roundup
Mercury is deep in the glow of sunset, to the lower right of brighter Venus. Start looking for them about 20 minutes after sunset. Binoculars help. Mercury is 20° from Venus on July 14th, closing to 11° by the 21st. During that time Mercury fades from magnitude –0.7 to –0.3.
Venus (magnitude –4.6) is the first point of light you'll see low in the west as twilight fades. It sets during twilight, sooner every day.
Get your telescope on Venus as early as you can, preferably during late afternoon in a clear blue sky while it's still high. Venus is a tiny, thin white crescent, enlarging and thinning and as it swings closer to Earth and closer to our line of sight to the Sun. From July 14th to 21st it expands from about 42 to 46 arcseconds in diameter while waning from 19% to 15% sunlit. It will continue to swell and thin in phase as it drops toward its conjunction with the Sun.
Good binoculars, steadily braced, are enough to show Venus's tiny crescent. But with the naked eye? Mere 20/20 vision isn't good enough; success may await the eagle-eyed with 20/15, 20/12, 0r (rare) 20/10 vision. You may improve your chances by sighting through a round hole in a piece of aluminum foil 1 mm, 2mm, or 3mm in diameter (try them all). This will mask out the optical aberrations that are common away from the center of your eye's cornea and lens.
One person who apparently succeeded in spotting the crescent of Venus was Edgar Allan Poe, as memorialized in his poem "Ulalume." See my story about that in December 2021; scroll down here to the Planet Roundup.
Mars (only magnitude +1.8!) glows weakly above or upper left of Venus as twilight deepens. They're 6° apart on July 14th, 9½° by the 21st. Between them is sparkly Regulus, magnitude +1.4, noticeably brighter than Mars.
In a telescope Mars is a tiny blob 4 arcseconds in diameter.
Jupiter (magnitude –2.3, in Aries) rises around 1 a.m. in the east-northeast. By the beginning of dawn it shines high toward the east-southeast.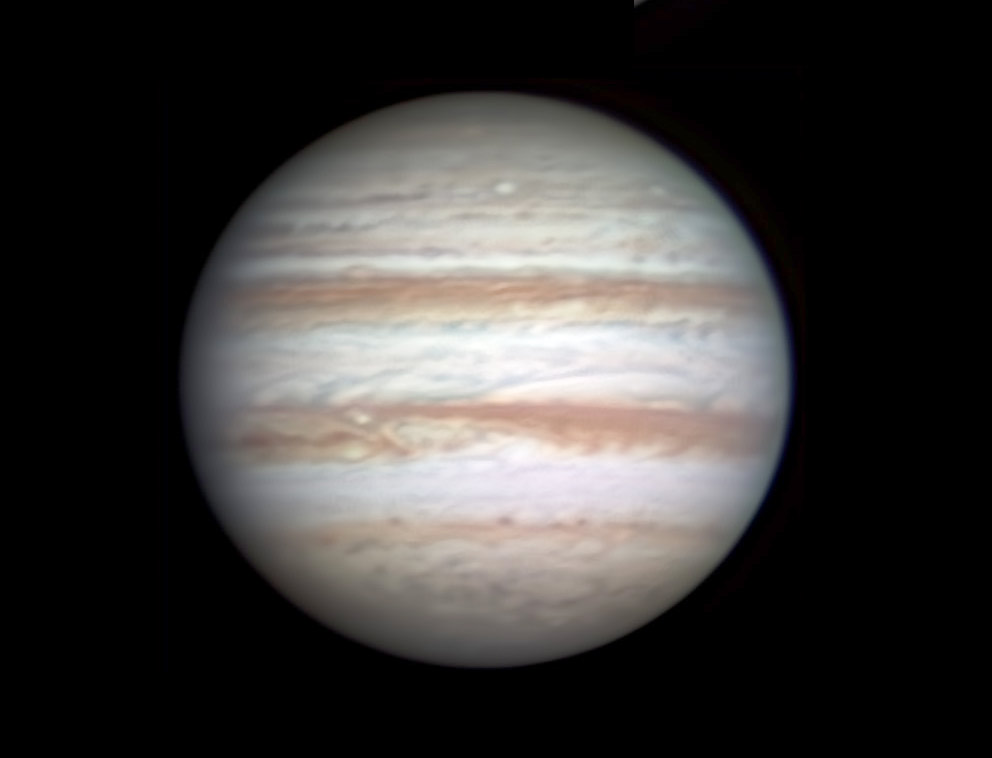 Saturn (magnitude +0.8, in dim Aquarius) rises around 11 p.m. It's at its highest in the south and sharpest and steadiest in a telescope just before dawn begins. The 1st-magnitude star about two fists below it then is Fomalhaut.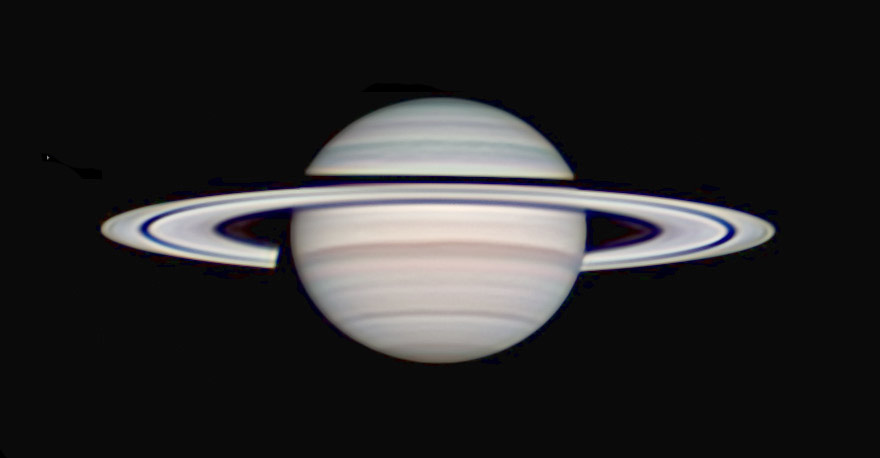 Uranus, magnitude 5.8 in Aries, is well up in the east by the beginning of dawn. It's about 11° lower left of Jupiter.
Neptune, magnitude 7.9 at the Aquarius-Pisces border, is highest in the southeast before dawn begins, about 2o° east of Saturn.
---
All descriptions that relate to your horizon — including the words up, down, right, and left — are written for the world's mid-northern latitudes. Descriptions and graphics that also depend on longitude (mainly Moon positions) are for North America.
Eastern Daylight Time (EDT) is Universal Time minus 4 hours. UT is sometimes called UTC, GMT, or Z time.
---
Want to become a better astronomer? Learn your way around the constellations. They're the key to locating everything fainter and deeper to hunt with binoculars or a telescope.
This is an outdoor nature hobby. For a more detailed constellation guide covering the whole evening sky, use the big monthly map in the center of each issue of Sky & Telescope, the essential magazine of astronomy.
Once you get a telescope, to put it to good use you'll need a much more detailed, large-scale sky atlas (set of charts). The basic standard is the Pocket Sky Atlas (in either the original or Jumbo Edition), which shows all stars to magnitude 7.6.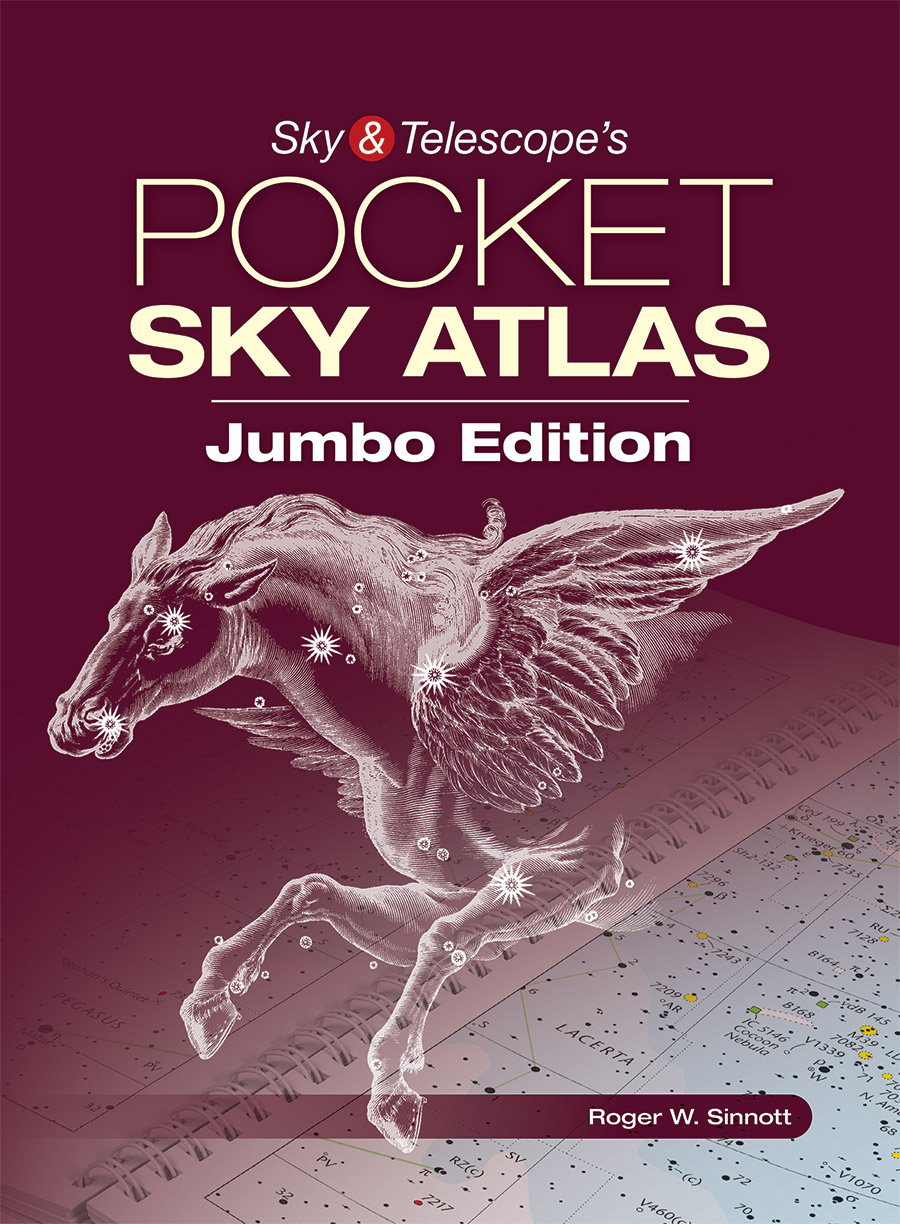 Next up is the larger and deeper Sky Atlas 2000.0, plotting stars to magnitude 8.5; nearly three times as many. The next up, once you know your way around, are the even larger Interstellarum atlas (stars to magnitude 9.5) or Uranometria 2000.0 (stars to mag 9.75). And be sure to read How to Use a Star Chart with a Telescope. It applies just as much to charts on your phone or tablet as to charts on paper.
You'll also want a good deep-sky guidebook. A beloved old classic is the three-volume Burnham's Celestial Handbook. An impressive more modern one is the big Night Sky Observer's Guide set (2+ volumes) by Kepple and Sanner.
Do computerized telescopes replace charts? Not for beginners I don't think, especially not on mounts and tripods that are less than top-quality mechanically. Unless you really prefer spending your time getting finicky technology to work rather than getting to know the sky. As Terence Dickinson and Alan Dyer say in their Backyard Astronomer's Guide, "A full appreciation of the universe cannot come without developing the skills to find things in the sky and understanding how the sky works. This knowledge comes only by spending time under the stars with star maps in hand."
But for finding faint objects that's not simple, either. How to Use a Star Chart with a Telescope tells the tricks.
---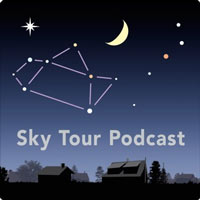 Audio sky tour. Out under the evening sky with your
earbuds in place, listen to Kelly Beatty's monthly
podcast tour of the naked-eye heavens above. It's free.
---

"The dangers of not thinking clearly are much greater now than ever before. It's not that there's something new in our way of thinking, it's that credulous and confused thinking can be much more lethal in ways it was never before."
— Carl Sagan, 1996
"Facts are stubborn things."
— John Adams, 1770
---