The October 2023 and April 2024 solar eclipses will thrill millions of North Americans. These maps will enlighten and inspire viewers for the events to come.
Excitement is building for two solar eclipses that will crisscross North America within six months of each other. The annular solar eclipse will be October 14th and will be seen from Oregon to Texas. In this warm-up act, the Sun will appear behind the dark Moon as a brilliant thin ring and will dazzle millions inside the path of annularity. The total solar eclipse will be on April 8, 2024, and will be seen from Mazatlán, Mexico to Newfoundland, Canada. A total solar eclipse is easily the most beautiful spectacle you will ever see in the sky.
These solar eclipses will thrill many millions of people in North America. Below is a series of eclipse maps to enlighten and inspire viewers about the amazing eclipse phenomena to come. These maps may also help you select your choice viewing location for both eclipses.
I created these maps using ArcGIS software, applying geographic analysis on U.S. Bureau of the Census data and a variety of cited data sources. You'll find many more eclipse maps like this at GreatAmericanEclipse.com.
Populated Places in the Eclipse Paths
I calculate that 6.6 million people live inside the path of the annular solar eclipse, and 31.6 million people live inside the path of the total solar eclipse. Let's see which cities are directly impacted by the eclipses.
The October 14, 2023, annular solar eclipse crosses the United States from Oregon to Texas and then proceeds to Central America and South America. The greatest populations inside the path by state are Texas with 3,855,000, New Mexico with 1,524,000 and Oregon with 1,002,000. Out of the 25 most populous cities inside the path, all but one are in Oregon, New Mexico, and Texas. The areas of Nevada, Utah, Arizona, and Colorado inside the path are lightly populated but incredibly scenic, with the nation's richest concentration of National Parks.
Find more maps with population numbers and estimated eclipse visitation here.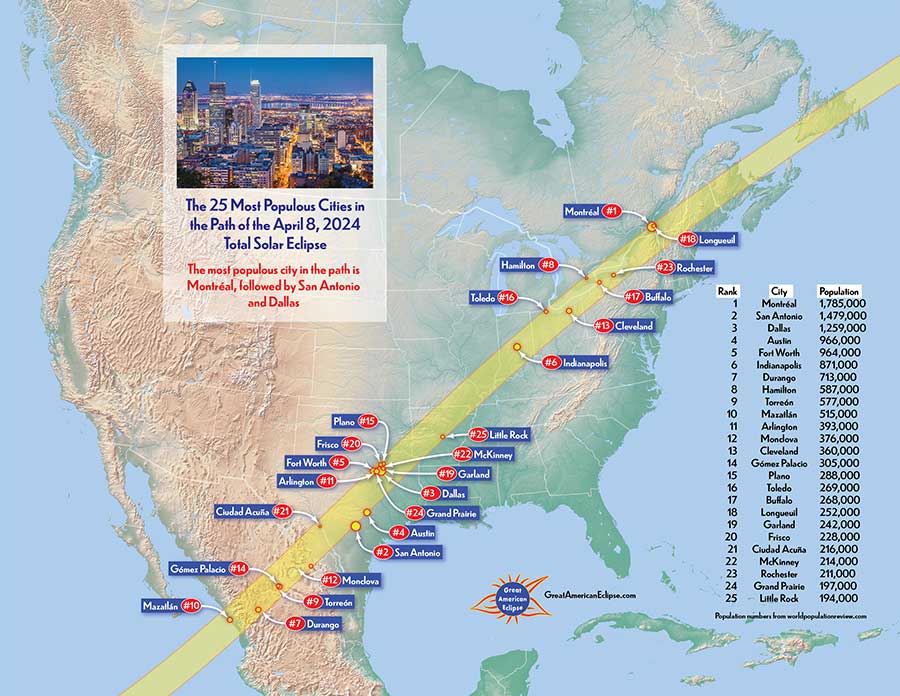 The impact of the April 8, 2024, total solar eclipse will be enormous, since so many people already live inside the path of totality. Also, the proximity of many metropolitan areas within a day's drive will spur many visitors to travel inside the path on eclipse day. The four states with the most people living inside the path of totality are Texas with 12,784,000, Ohio with 7,275,000, Indiana with 3,947,000, and New York with 3,732,000.
The most populous city in the path is Montréal, Canada. The next four most populous cities are all in Texas. Six of the top 25 most populous cities are in Mexico, with Mazatlán being a favored choice for many because of excellent weather prospects and tourist infrastructure. These metropolitan areas are close enough for a trip on the day of the eclipse: Houston, Tulsa, Nashville, St. Louis, Cincinnati, Columbus, Toronto, Pittsburg, and Québec City.
Find more maps with population statistics and estimated eclipse visitation here.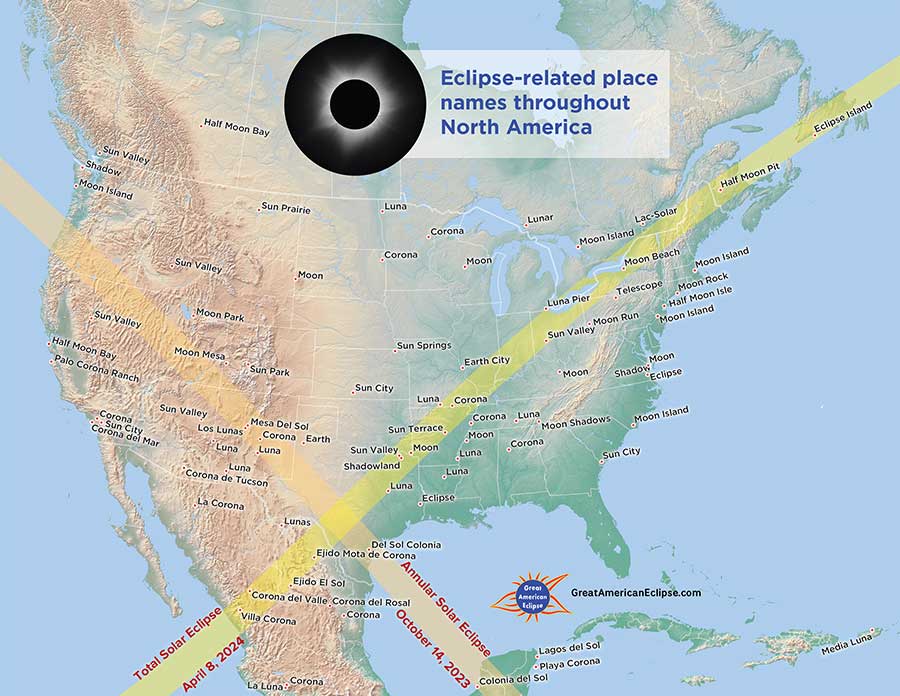 If you'd like to view the solar eclipses from a place or town with an eclipse-related name, you've got choices! Most notable is Eclipse Island in Newfoundland, Canada. Other choices in the 2023 path are the towns of Corona, Mesa del Sol, and Los Lunas, all in New Mexico. In the 2024 path, you can go to Moon Beach in New York, Corona in Missouri, Moon in Oklahoma, Shadowland in Texas, and Corona del Valle in Mexico. By my count, there are seven towns in the U.S. named Corona in South Dakota, Minnesota, Alabama, Arkansas, Missouri, New Mexico, and California.
Interesting Places to View the Eclipses
These maps present a series of interesting places that might guide selection of an optimal viewing point. Some people like to enjoy eclipses in crowds, others in solitude. Some people are indifferent to a viewing location and happy to observe from a parking lot, others seek out scenic or interesting places to enhance the experience of the eclipse.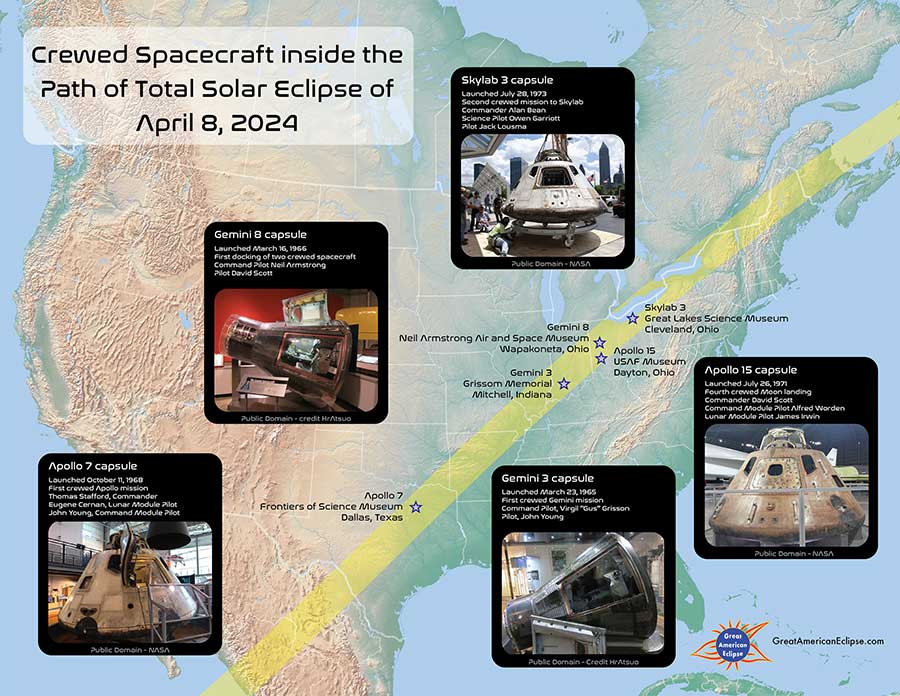 A fun fact is that there are five former crewed spacecraft on display in museums within the path of the 2024 eclipse. These museums will likely have eclipse-viewing events, and these spacecraft are well worth a visit if you observe the eclipse nearby:
Gemini 3 was the first U.S. crewed spacecraft, with two astronauts. Gemini 8 featured the first of two spacecraft to provide reconnaissance in preparation for the Moon missions. Apollo 7 was the first orbital mission of the Apollo program. Apollo 15 was the fourth mission to land on the Moon and sported the first lunar rover. Skylab 3 was the second mission to America's first space station and used Apollo capsules to reach this outpost.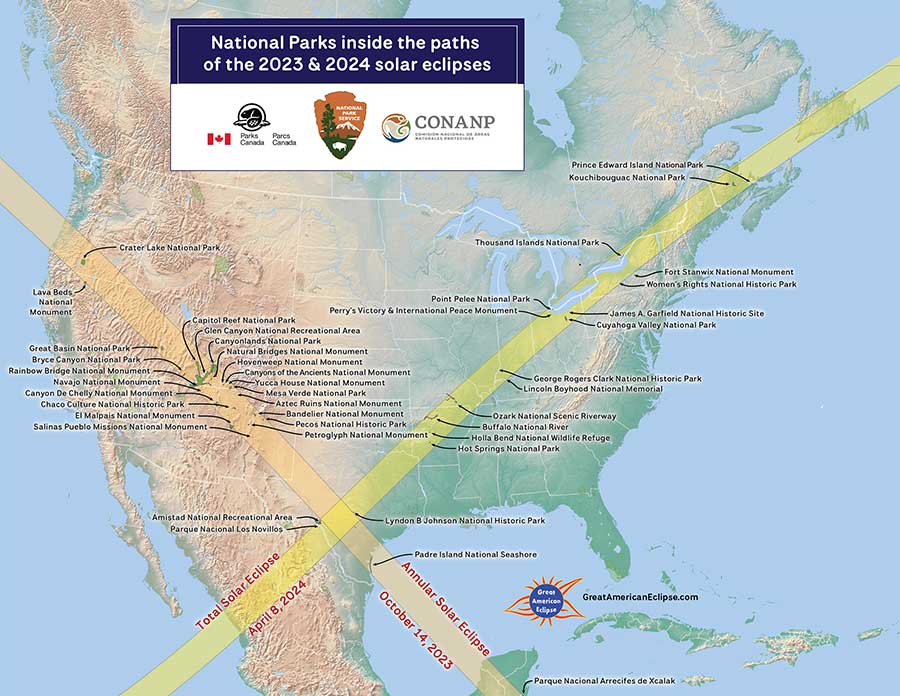 If you could design an eclipse path to optimize the crossing of some of the most beautiful scenery and densest concentration of National Parks, the path of the 2023 annular solar eclipse is it! Weather in the Four Corners region is generally sunny in October and the national parks are less crowded during the fall season. For scenic vistas, you can't beat Crater Lake National Park in Oregon. Great Basin National Park in Nevada has some of the darkest night skies in the nation. Canyon de Chelly National Monument has photogenic cliffs and towers. Canyonlands National Park boasts sweeping canyon views. Chaco Culture National Historic Park is known for important archeo-astronomical sites.
The path of the 2024 total solar eclipse visits two national parks at Hot Springs, Arkansas, and Cuyahoga Valley, Ohio. The path also goes through three Canadian national parks in Ontario and New Brunswick.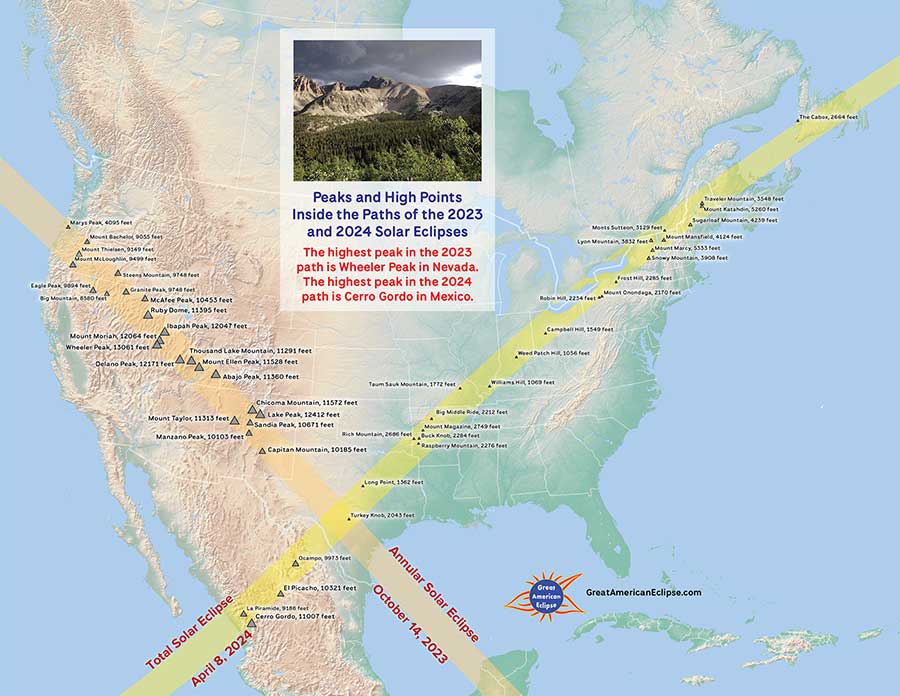 For those who are fit and ambitious, viewing an eclipse from a mountain peak offers several advantages; a panoramic view of the landscape, clarity of sky due to the high elevation, great natural beauty, and solitude. From a peak during an annular eclipse, there will be interesting photographic foregrounds. During a total eclipse, a peak offers a dramatic view of the Moon's shadow sweeping across the landscape.
Peaks in the path of the 2023 annular solar eclipse that are above 12,000 feet in elevation are Wheeler Peak and Mount Moriah in Nevada, Delano Peak in Utah, and Lake Peak in New Mexico. Our chosen location for the 2023 eclipse is Ski Santa Fe just below Lake Peak, which promises an extended train of Baily's Beads due to its location just inside the northern limit line of annularity.
In the 2024 path, notable peaks are Cerro Gorda in Mexico, Mount Katahdin in Maine, and the highlands near The Cabot in Newfoundland. Local hills in the central and midwestern United States can also be good viewing points to see the Moon's shadow over the landscape.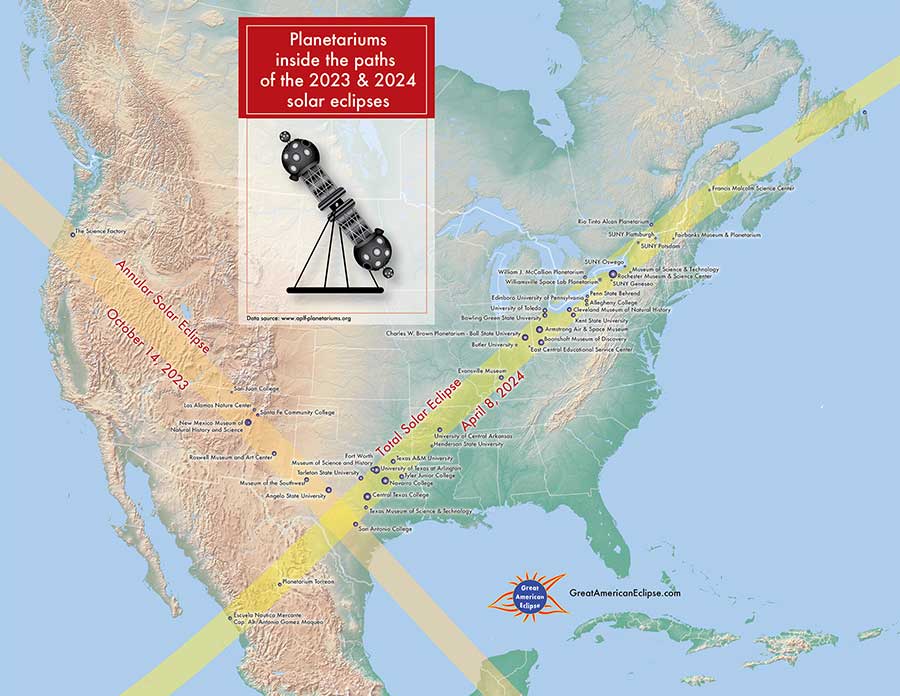 There are numerous planetariums inside the eclipse paths. Of course, visitors won't want to be inside the planetarium during an eclipse, but most will have outdoor viewing events and are good resources for reliable eclipse information. Chances are that a planetarium site will offer projected images of the eclipse in progress and viewing guidance from planetarium staff.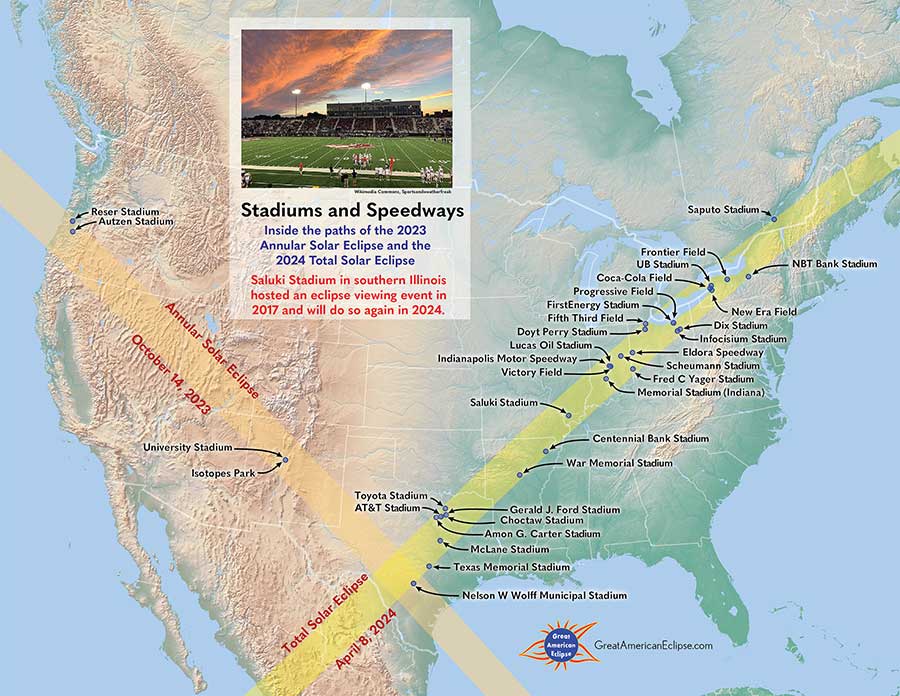 Stadiums are great places to view a solar eclipse if you'd like to be in the company of thousands of other eclipse enthusiasts. A stadium event usually has an experienced astronomer giving guidance on when and how to view the eclipse with the advantage of ample facilities and easy parking. The total solar eclipse of April 8, 2024, occurs just after the beginning of the Major League Baseball season and two MLB parks are in the path; Globe Life Field in Arlington, Texas, and Progressive Field in Cleveland, Ohio.
Saluki Stadium at Southern Illinois University hosted an eclipse viewing event in 2017 and will do so again in 2024. The Nelson Wolff Municipal Stadium in San Antonio has the distinction of being in the paths of both the 2023 and 2024 solar eclipses.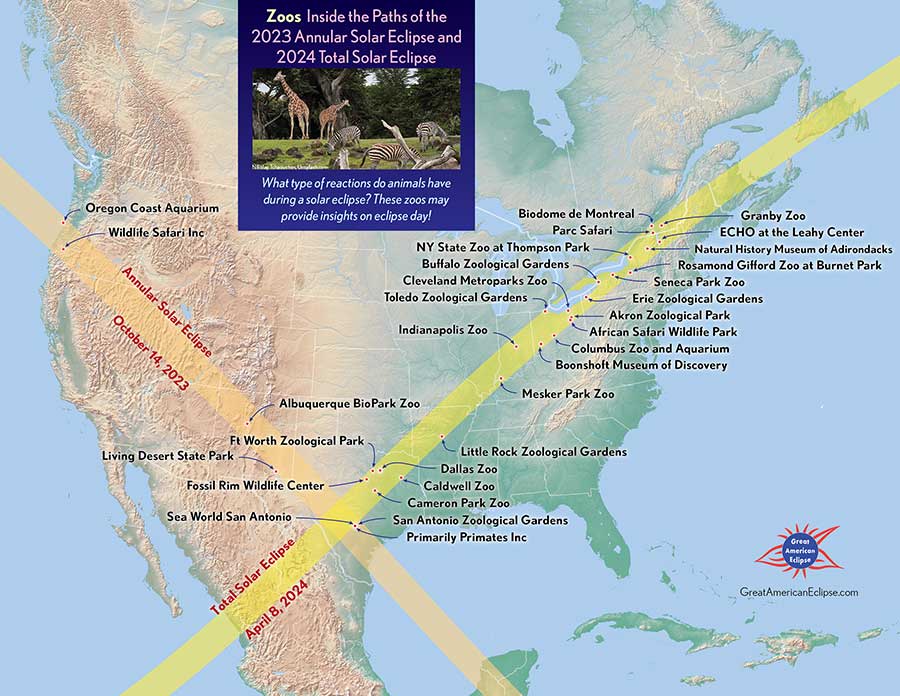 There are many anecdotes of animals having strong reactions during a solar eclipse. If you are curious or would like to perform some citizen science, visit a zoo during eclipse! Some interesting choices would be the Albuquerque BioPark, Cleveland Metroparks Zoo, the Buffalo Zoological Gardens, and Parc Safari in Québec. In my estimation, the species with the most remarkable reactions during totality are Homo Sapiens, bipedal primates that respond with cries of joy and ecstasy.
Simulate Space Travel with the Eclipse's Help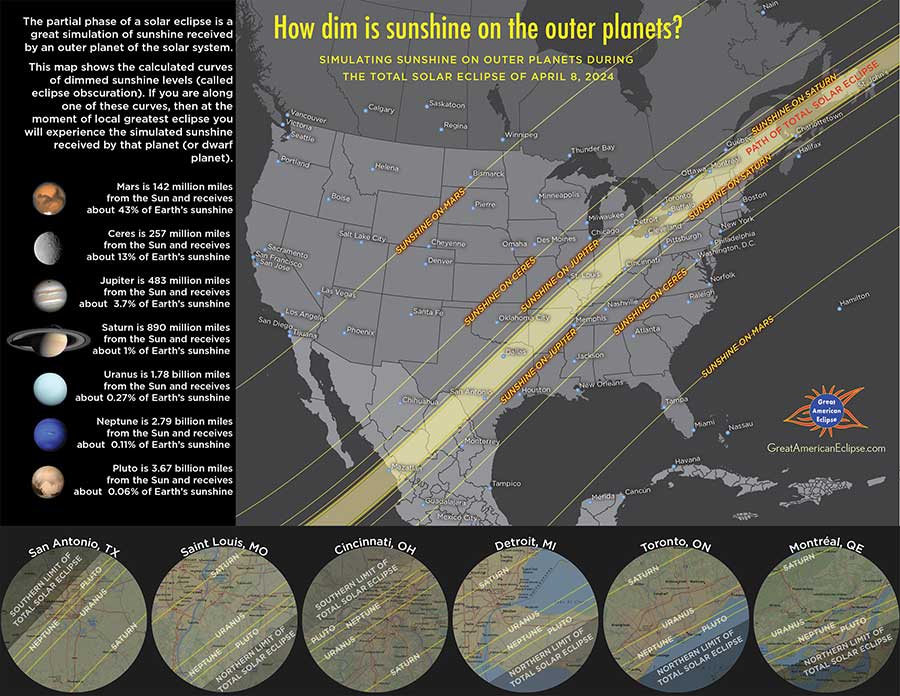 Did you know that a solar eclipse can mimic the intensity of sunshine on the outer planets of the solar system? It's simple to calculate: All you need to know is the mean orbital distance compared to Earth's, then apply the inverse-square law of illumination and compare it to the level of light received during the eclipse.
The map shows the light levels at maximum partial eclipse. For Tampa, Florida, viewers will experience daylight similar to that on Mars. Sunshine on the dwarf planet Ceres will be simulated at Milwaukee, Washington D.C., and Philadelphia. Pittsburgh will experience an intensity of daylight like that on Jupiter. People will experience Saturn-levels of sunlight in Detroit, Ottawa, Québec, and St. Louis.
The inset maps show which neighborhoods of cities at or near the path will experience Uranus-, Neptune-, or Pluto-like levels of sunshine. But if you are in these areas, you are very close to totality, and we urge you to drive the few remaining miles to the path of totality!
Eclipses Past and Future
Now let's explore solar eclipses over North America in the past and future. The dates for the next and last years of annular or total solar eclipse were computed using ArcGIS geographic analysis on eclipse paths over many centuries.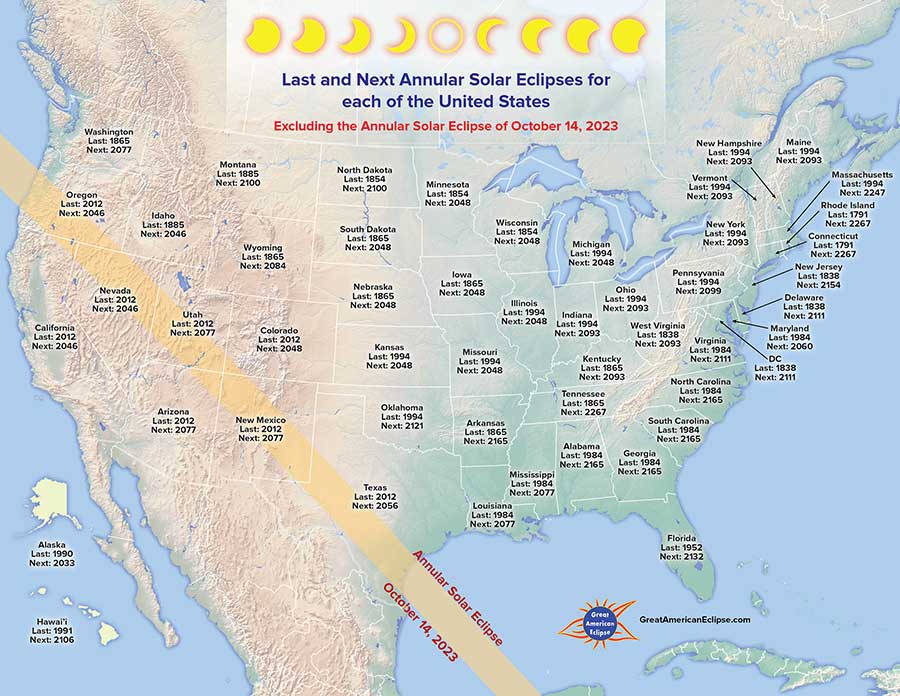 It is interesting to note that Oregon, California, and Nevada have three annular solar eclipses in a span of 34 years from 2012 to 2046. The longest that any of the states have gone without experiencing annularity are Rhode Island and Connecticut — none since 1791. These same two states will have to wait the longest until an annular solar eclipse is visible again, in 2267. This is a gap of 476 years between annular solar eclipses.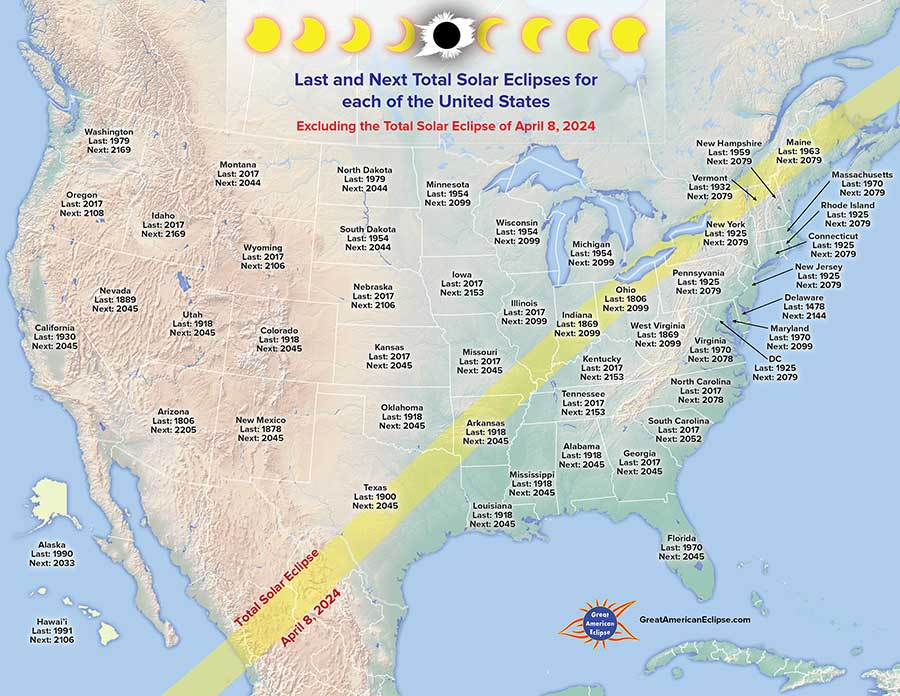 Missouri has the best incidence of total solar eclipses in this era, with three eclipses in a span of 28 years: 2017, 2024, and 2045. The state that has gone longest since a total solar eclipse is Delaware — none since 1478. The state which will have to wait the longest for totality is Arizona, in 2205. Arizona has a gap of 399 years between total solar eclipses, but Delaware has the greatest gap of 666 years, from 1478 to 2144.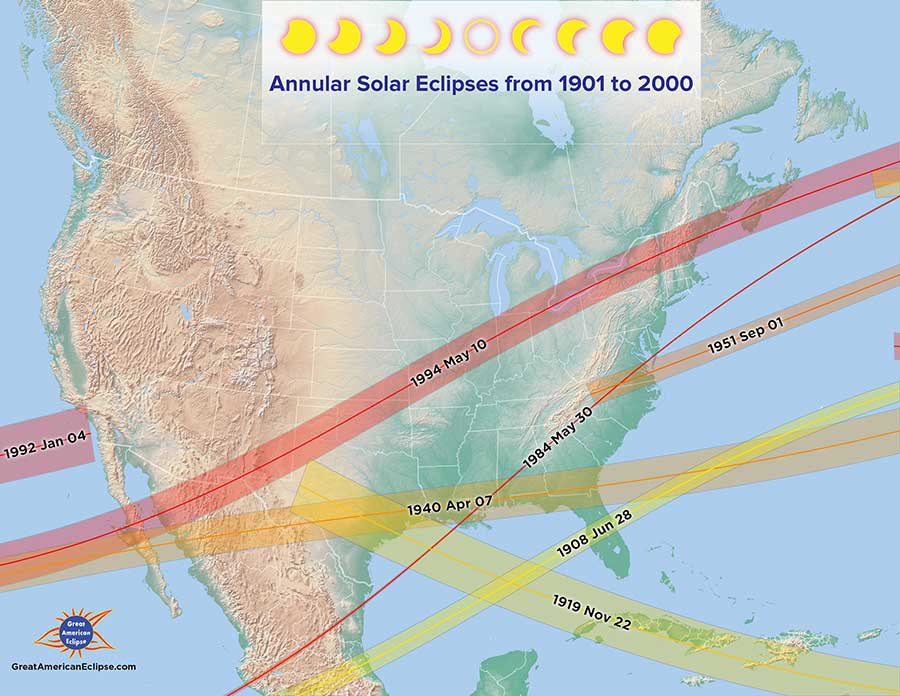 An extremely short annular solar eclipse crossed from Louisiana to Virginia on May 30, 1984. Photographs from the event reveal that there probably was never a complete annular ring, but instead an annular ring broken by high points along the lunar limb. A dramatic sunset annular eclipse happened over parts of Southern California on January 4, 1992 but clouds thwarted most viewers that day. A widely viewed annular solar eclipse bisected the United States on May 10, 1994.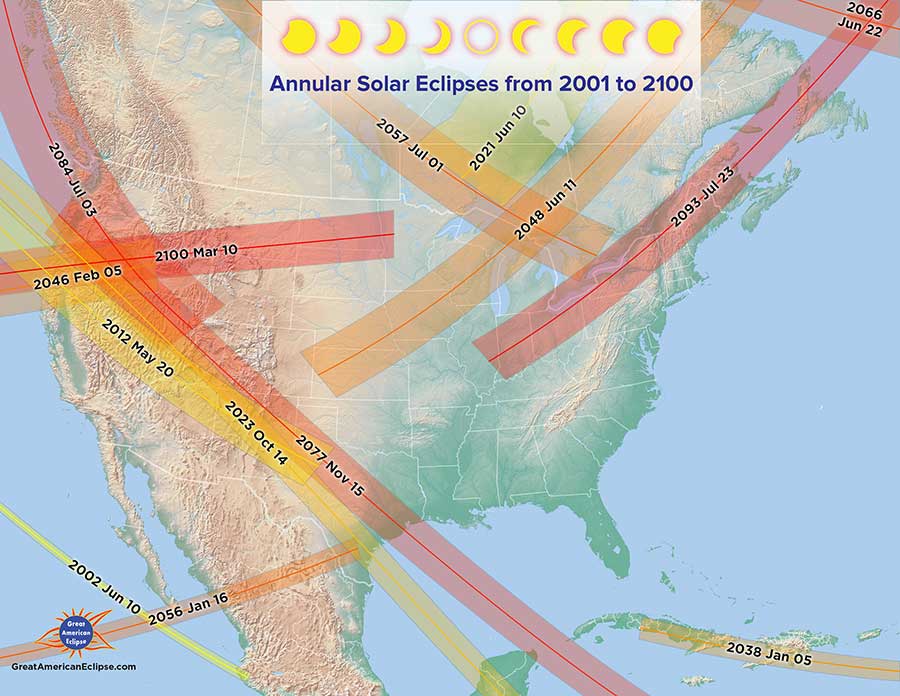 There is a striking overlap of annular eclipses over the western United States in 2012, 2023, 2046, 2077, and 2084. After the coming annular eclipse this October 14th, the next occurs on February 5, 2046. Viewing an annular solar eclipse at either sunrise or sunset is a very special experience. The next opportunities are at sunset over Idaho in 2046, sunrise over Kansas in 2048, and at sunset over Texas in 2056.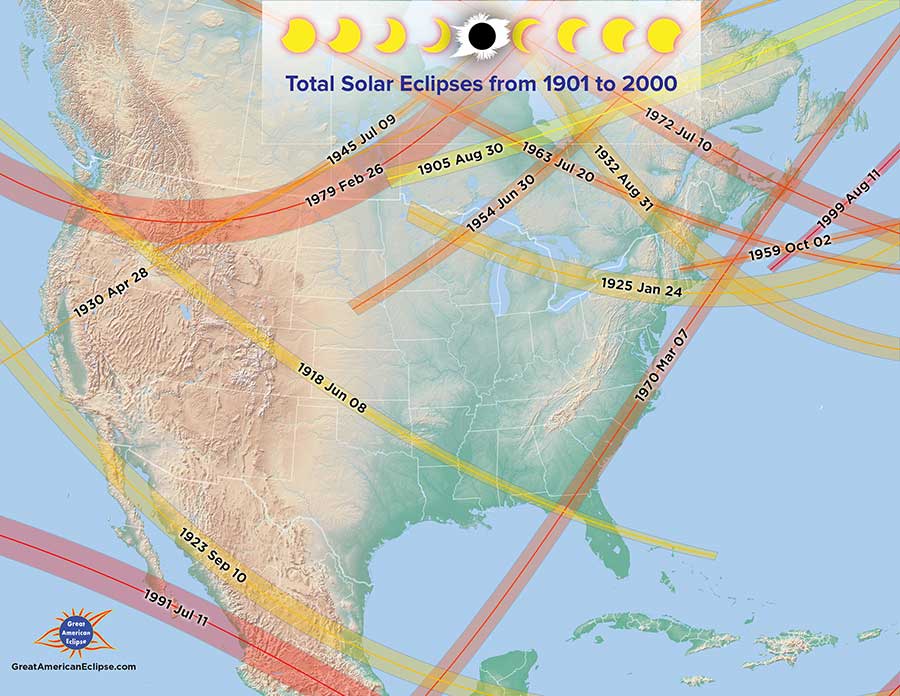 Many of today's veteran solar-eclipse chasers saw their first solar eclipse in 1970 along the Atlantic coast of the United States. More eclipse chasers saw their first in 1979 over the Pacific Northwest or Hawaii and Baja California in 1991.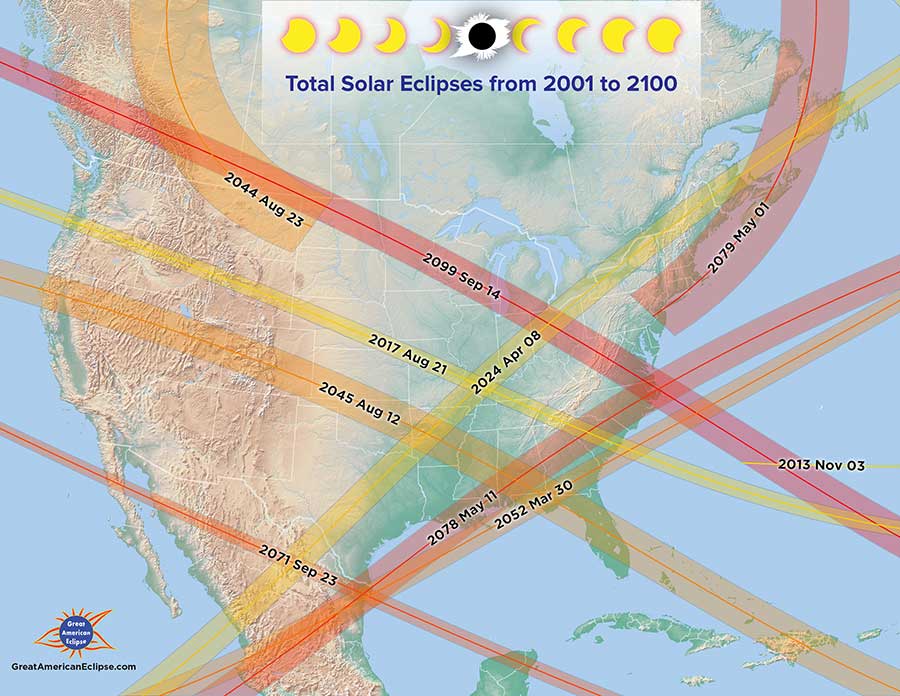 After the 2024 total solar eclipse, the next time totality visits North America is at Alaska in 2033 and then western Canada, Montana, and North Dakota in 2044. A long-duration total solar eclipse anticipated by many is the 2045 eclipse, which crosses from California to Florida. The total solar eclipse of August 12, 2045 will have a maximum duration of totality of 6 minutes and 6 seconds near the eastern coast of Florida.
In summary, the impact of the 2023 and 2024 solar eclipses will be enormous. The memory of the 2017 Great American Eclipse is still be fresh in many people's memory and the path of the 2024 eclipse comes close to the most populated areas of the United States and Canada. Millions of people in North America will enjoy a peak life experience, moved by the surreal beauty of the Sun's corona.
---
Michael Zeiler is a retired cartographer and operates the Great American Eclipse website with his wife, Polly White. Michael is coauthor of Atlas of Solar Eclipses - 2020 to 2045 and Field Guide to the 2023 and 2024 Solar Eclipses. Michael also developed Sky & Telescope's 12" Eclipse Globe.