Long-time Sky & Telescope collaborator Bradley Wells Timerson passed away at age 68 on Wednesday, October 17, 2018.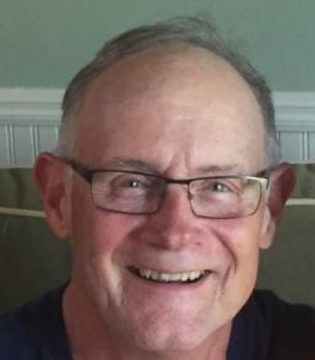 Brad was the Vice President of Planetary Occultations Services for the International Occultation Timing Association (IOTA), as well as the North American Coordinator for observations. From late 2006 through September 2018, Brad analyzed North American observations of asteroids occulting background stars, producing plots that revealed asteroids' shapes and even an asteroidal moon. He also provided Sky & Telescope calculations for upcoming occultations, so that events could be published in the magazine.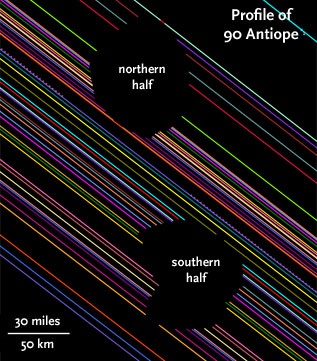 A prolific observer and author, Brad was involved in a total of 60 academic articles, 26 of them published in refereed journals. Among these was the announcement of the discovery of a probable satellite to the Trojan asteroid Agamemnon.
Brad was born on February 24, 1950, in Geneva, New York. One of his greatest passions in life was astronomy, starting at a young age. All young Brad wanted for Christmas was a telescope, which his parents wisely gave him, and that telescope would play a large part in his life.
His love for astronomy as well as meteorology led him into a career teaching high school science. Known as Mr. Science to his students, he taught at the Newark Central School District in New York for more than 30 years. In addition to teaching earth science, physics, astronomy, and meteorology, Brad also served as the chairperson of the science department and spearheaded countless science projects that harnessed the imaginations of the students and staff. Many students visited his home observatory to look at the Moon, planets, and stars.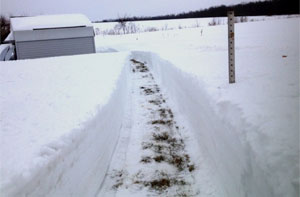 Brad was an active weather spotter for several local news stations and kept records of the weather at his home for many years. He also measured earthquakes with his in-home seismometer. In retirement, he continued to contribute to the scientific community via amateur astronomy, astrophotography, and weather-spotting.
Brad began observing lunar occultations in the late 1960s. Soon he was helping David Dunham, founder of IOTA, predict lunar occultations, sending out printed copies of their calculations to IOTA members. Later on, he built references webpages to provide such information, such as when the Moon covered the star Aldebaran in 2017. He ultimately observed 186 lunar occultations. Then he started observing asteroid occultations. His first positive asteroidal occultation was in 2004, and he observed 31 positive asteroid occultations in all.
Brad served for 12 years as the North American Regional Coordinator for IOTA. In 2017, Brad was recognized with the Homer F. DaBoll Award from IOTA in recognition for his outstanding service.
George Viscome, a member of IOTA and discoverer of several asteroids, has submitted "Bradtimerson" to the Minor Planet Center for the name of asteroid (35283) 1996 TB1. The name is pending approval by the Minor Planet Center. It will be fitting if some day an IOTA member observes a star covered up by the asteroid "Bradtimerson."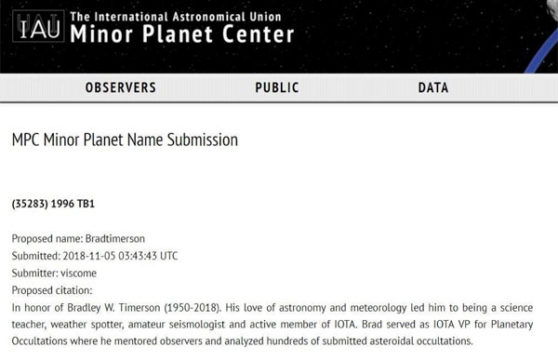 Brad is survived by his wife of 46 years, Cindy Timerson, his children, and his grandchildren.