FRIDAY, OCTOBER 21
■ As autumn advances, the Great Square of Pegasus floats ever higher after dark. Face east-southeast in early evening and look very high. The Square stands on one corner. Your fist at arm's length fits inside it.
Look at its four stars carefully. They're 2nd and 3rd magnitude. Three are white; one is a "red" giant (actually orange-yellow). Can you tell which it is with the naked eye? Binoculars easily reveal that it's the top one, Beta Pegasi or Scheat. Its spectral type M2.5, an old, evolved star of about 2.1 solar masses, about 196 light-years away. See Meet Scheat, the Peak of Pegasus.
Away from the Great Square's left corner runs the main line of Andromeda: three 2nd-magnitude stars about as bright as those of the Square and spaced similarly far apart. The three include the Square's corner.
SATURDAY, OCTOBER 22
■ Spot Altair high in the southwest soon after dark. A finger width to its upper right is its little 3rd-magnitude giveaway marker, Tarazed. About three fists to their right is Vega, brighter even than Altair.
Above Altair lurk two distinctive little constellations: Delphinus the Dolphin, hardly more than a fist at arm's length to Altair's upper left, and smaller, fainter Sagitta the Arrow, slightly less far to Altair's upper right. If your sky is too bright for them, try binoculars.
SUNDAY, OCTOBER 23
■ This is the time of year when, after nightfall, Cassiopeia stands on end halfway up the northeastern sky — and when, off to its left in the north, the dim Little Dipper extends leftward from Polaris. The Little Dipper's two brightest stars (2nd magnitude) are Polaris, the end of its handle due north, and Kochab, the lip of its bowl about a fist and a half to Polaris's left.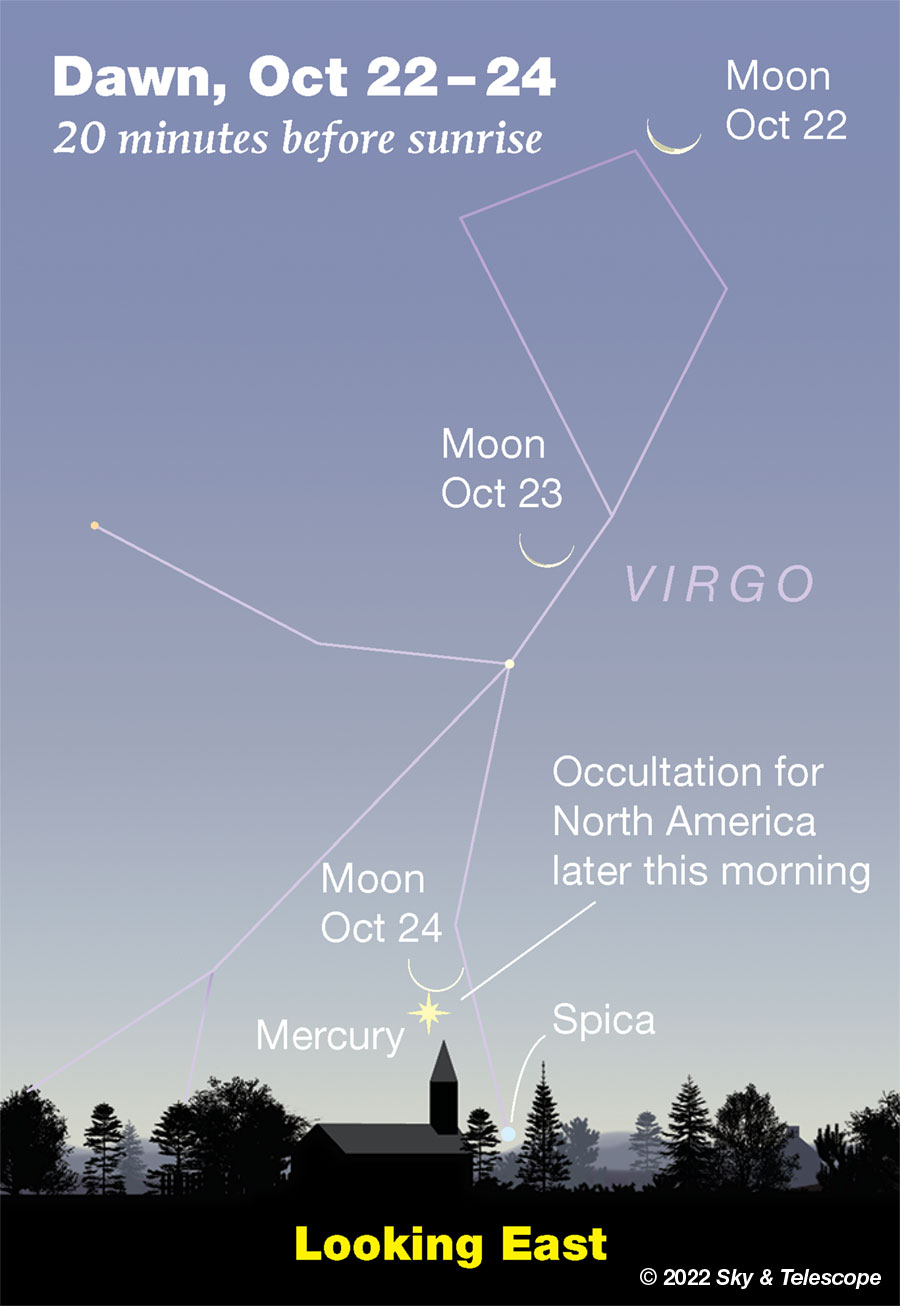 ■ A really tough dawn challenge. On Monday morning October 24th, an extremely thin waning crescent Moon will rise in bright dawn just above Mercury, magnitude –1.0, as shown above. But they're only about 10° from the Sun! Starting about 25 minutes before sunrise, use a telescope to try to penetrate the bright foreground of thick, low atmosphere. Aim 12° to the right of the true east point on your horizon. Yes, you'll need a very low horizon. Maybe you can catch weak, messy gray Mercury.
The Moon, only about 24 hours from new, is probably beyond hope. . . but possibly not? If you catch sight of a hairline wisp of it, you're probably setting your life record for a thin-Moon sighting. The Moon will reach conjunction with the Sun (new Moon) about 24 hours later, at 6:49 a.m. Tuesday morning Eastern Daylight Time. Calculate the time between your sighting and then. That's your thin-Moon record.
As for the Moon's occultation of Mercury in brilliant daylight somewhat later. . . no telescope is going to show such low-surface-brightness objects to close to the Sun in daytime. Yes, that's a challenge to you techy die-hards. Think of a planetary video camera working in near infrared on a well-aimed tracking scope, followed by serious signal-extraction processing of the frame stack. . . .
MONDAY, OCTOBER 24
■ Jupiter's moons Io and Europa emerge out of eclipse from Jupiter's shadow just 15 minutes apart: at 11:33 and 11:48 p.m. EDT, respectively (8:33 and 8:48 p.m. PDT). Using a telescope at moderately high power, watch for them just barely off Jupiter's celestial west (preceding) limb.

Jupiter's Great Red Spot will be excellently placed at the time. It's due to transit the planet's central meridian around 11:49 p.m. EDT.
TUESDAY, OCTOBER 25
■ Partial eclipse of the Sun for Europe, Middle East, NE Africa, west and south Asia. Part of the Moon will cover part of the Sun for much of these regions on this date. Map; click anywhere on the map for the local timetable. Animation of map. Livestream.
■ The Ghost of Summer Suns. Halloween is approaching, and this means that Arcturus, the star sparkling low in the west-northwest in twilight, is taking on its role as "the Ghost of Summer Suns." For several evenings centered on October 25th every year, Arcturus occupies a special place above your local landscape. It closely marks the spot where the Sun stood at the same time, by the clock, during hot June and July — in broad daylight, of course!
So, every year as Halloween approaches, you can see Arcturus as the chilly, wan ghost of the departed summer Sun.
■ New Moon (exact at 6:49 a.m. on the 24th Eastern Daylight Time).
WEDNESDAY, OCTOBER 26
■ Vega is the brightest star very high toward the west these evenings. Face west and look way up.
To Vega's right or lower right by 14° (nearly a fist and a half at arm's length), look for Eltanin, the nose of Draco the Dragon. The rest of Draco's fainter, lozenge-shaped head is a little farther behind. Draco's head is about the width of a typical binocular's field of view.
The main stars of Vega's own constellation, Lyra — faint at 3rd and 4th magnitude — extend to Vega's left by half as far as the distance from Vega to Eltanin.
THURSDAY, OCTOBER 27
■ Jupiter dazzles in the southeast after dark. Below it by almost two fists is 2nd-magnitude Diphda (Beta Ceti), the Frog Star. That's what the name means in Arabic. Almost halfway between them is fainter Iota Ceti, magnitude 3.5.

Look two or three fists right of Diphda and there's 1st-magnitude Fomalhaut, the Mouth of the Fish. It's the Alpha star of the Southern Fish, Piscis Austrinus.
FRIDAY, OCTOBER 28
■ This is the time of year when the Big Dipper lies down horizontal low in the north-northwest after dark. How low? The farther south you are, the lower. Seen from 40° north (New York, Denver) even its bottom stars twinkle nearly ten degrees high. But at the latitude of Miami (26° N) the entire Dipper skims along just below the northern horizon out of sight.
SATURDAY, OCTOBER 29
■ The waxing crescent Moon is back in the evening sky, low in the southwest. As twilight deepens and the stars begin to come out — but before the Moon gets too low — look for the Sagittarius Teapot in its background as shown below. Binoculars help.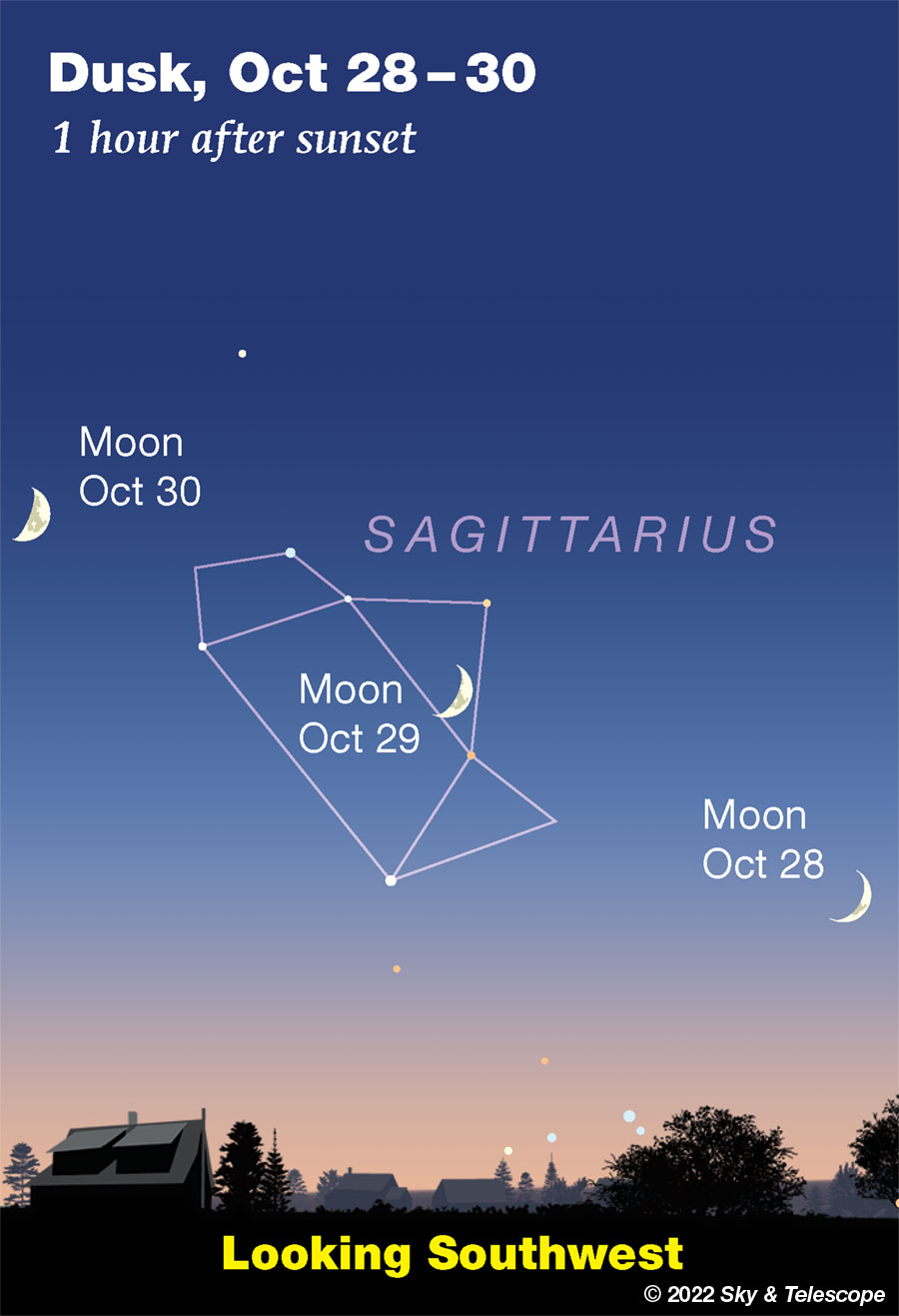 ■ After dark, spot the W of Cassiopeia high in the northeast. It's standing on end (its fainter end).
The third segment of the W, counting down from the top, points almost straight down. Extend that segment twice as far down as its own length, and you're at the Double Cluster in Perseus. This pair of star-swarms is dimly apparent to the unaided eye in a dark sky (use averted vision), and it's visible from almost anywhere with binoculars. In a telescope, it's two overlapping cities of stars.
---
This Week's Planet Roundup
Mercury is sinking away into the sunrise glow. Good luck with it before sunrise on the 24th, even at magnitude –1.0 and even with a telescope. See that date above.
Venus is hidden in conjunction with the Sun.
Mars, magnitude –1.0 in eastern Taurus, clears the east-northeast horizon around 8 or 9 p.m. and gains altitude for most of the night. Still creeping eastward, it has just passed between the horntips of Taurus, Beta and Zeta Tauri.
Orange Aldebaran, much fainter at magnitude +0.9, sparkles to Mars's upper right by about a fist and a half. A similar distance lower right of Mars is orange Betelgeuse.
In a telescope, Mars grows from 14 to 15 arcseconds wide this week. The best time to examine it is when it's very high in the hours before dawn. Mars is getting close to the 17.2 arcseconds diameter it will display around December 1st when passing nearest to Earth.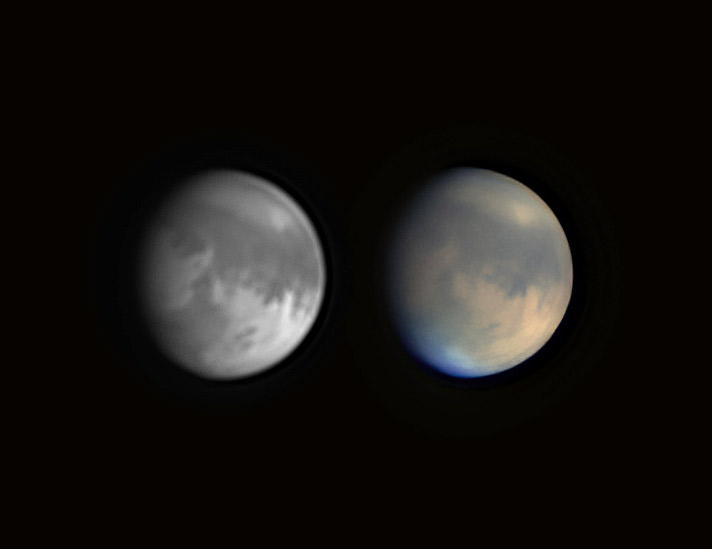 Jupiter is a month past opposition. In early evening it blazes whitely high in the southeast at magnitude –2.8, in dim Pisces. It stands highest in the south around 10 or 11 p.m. In a telescope Jupiter is still a big 48 arcseconds wide.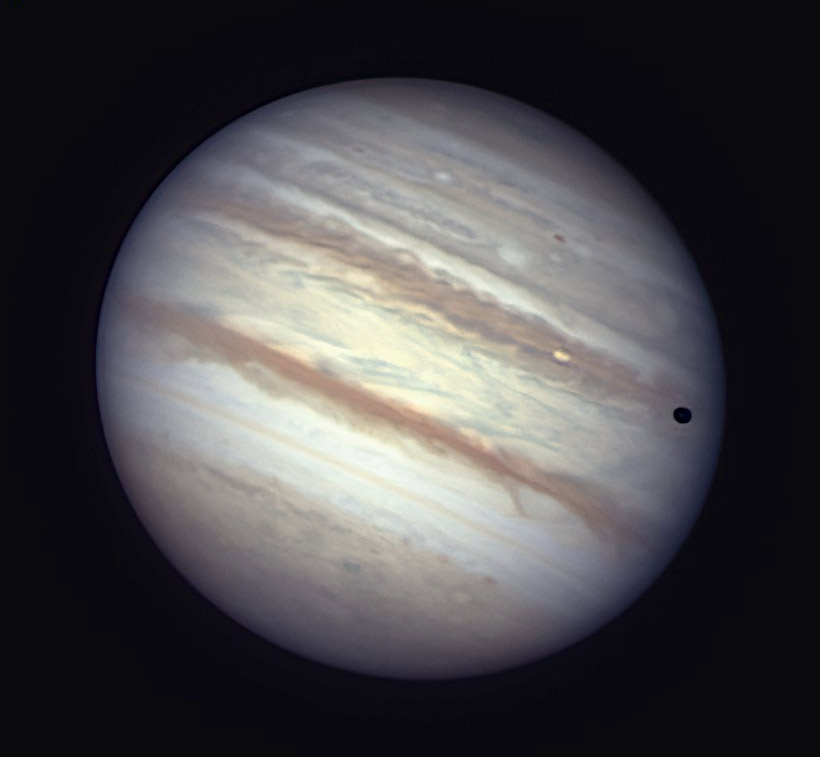 Saturn, magnitude +0.7 in Capricornus, glows highest in the south right after dark. As night progresses, it moves lower toward the southwest and sets around 1 a.m.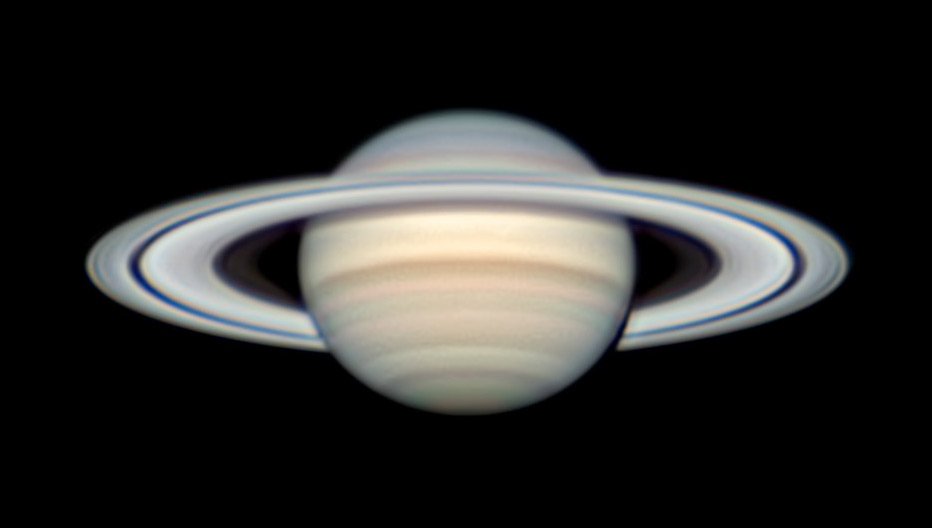 Uranus, magnitude 5.6 in Aries, is up in the east in good binocular or telescope view by mid- to late evening. See the Uranus finder charts in the November Sky & Telescope, page 49.
Neptune, magnitude 7.8 at the Aquarius-Pisces border, is high in the evening about 7° west of Jupiter. See the Neptune finder charts in the September Sky & Telescope, page 49.
---
All descriptions that relate to your horizon — including the words up, down, right, and left — are written for the world's mid-northern latitudes. Descriptions and graphics that also depend on longitude (mainly Moon positions) are for North America.
Eastern Daylight Time, EDT, is Universal Time minus 4 hours. (Universal Time is also called UT, UTC, GMT or Z time.)
---
Want to become a better astronomer? Learn your way around the constellations. They're the key to locating everything fainter and deeper to hunt with binoculars or a telescope.
This is an outdoor nature hobby. For an easy-to-use constellation guide covering the whole evening sky, use the big monthly map in the center of each issue of Sky & Telescope, the essential magazine of astronomy.
Once you get a telescope, to put it to good use you'll need a detailed, large-scale sky atlas (set of charts). The basic standard is the Pocket Sky Atlas (in either the original or Jumbo Edition), which shows stars to magnitude 7.6.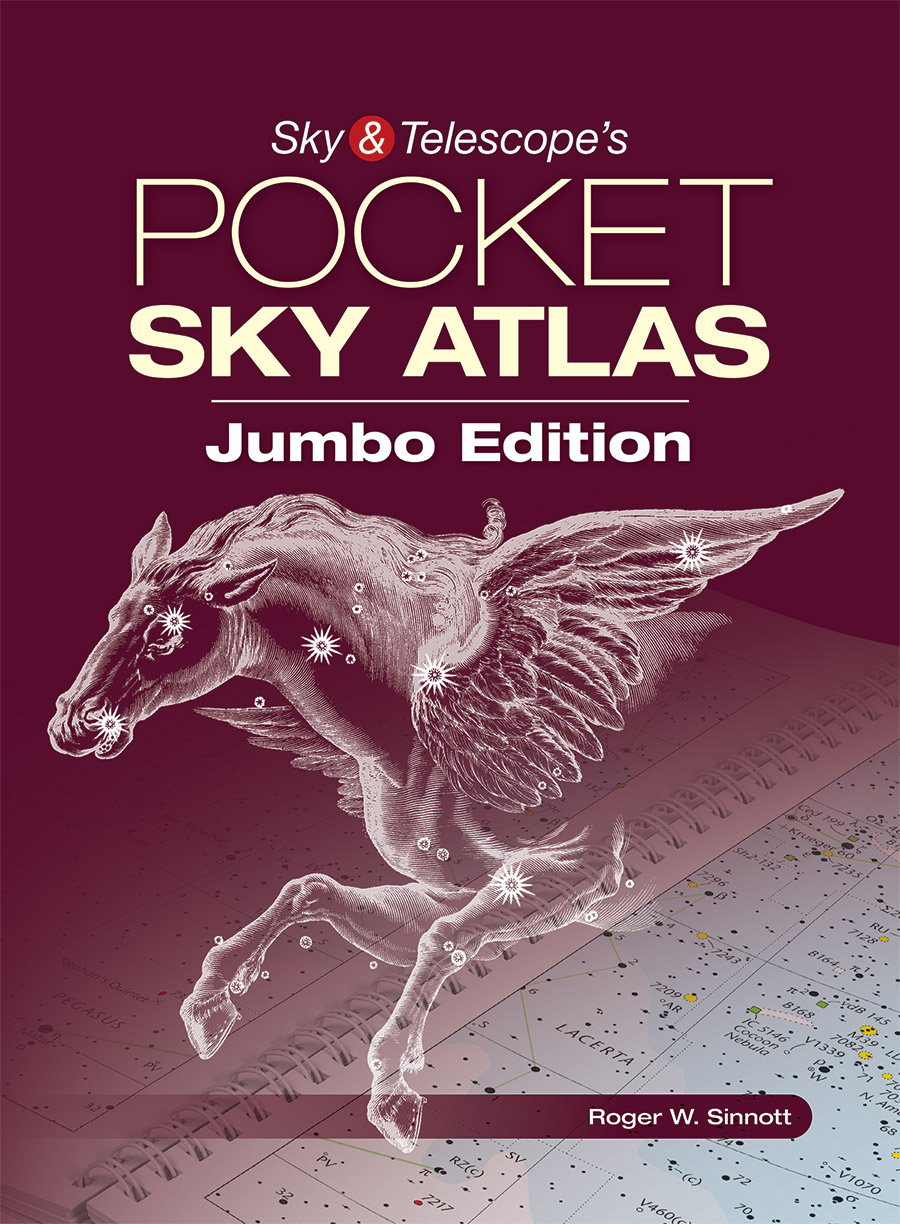 Next up is the larger and deeper Sky Atlas 2000.0, plotting stars to magnitude 8.5; nearly three times as many. The next up, once you know your way around, are the even larger Interstellarum atlas (stars to magnitude 9.5) or Uranometria 2000.0 (stars to magnitude 9.75). And be sure to read How to Use a Star Chart with a Telescope. It applies just as much to charts on your phone or tablet as to charts on paper.
You'll also want a good deep-sky guidebook. A beloved old classic is the three-volume Burnham's Celestial Handbook. An impressive more modern one is the big Night Sky Observer's Guide set (2+ volumes) by Kepple and Sanner.
Can a computerized telescope replace charts? Not for beginners, I don't think, and not on mounts and tripods that are less than top-quality mechanically, meaning heavy and expensive. And as Terence Dickinson and Alan Dyer say in their Backyard Astronomer's Guide, "A full appreciation of the universe cannot come without developing the skills to find things in the sky and understanding how the sky works. This knowledge comes only by spending time under the stars with star maps in hand."
---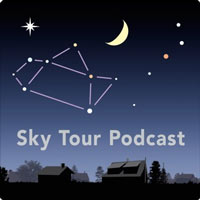 Audio sky tour. Out under the evening sky with your
earbuds in place, listen to Kelly Beatty's monthly
podcast tour of the heavens above. It's free.
---

"The dangers of not thinking clearly are much greater now than ever before. It's not that there's something new in our way of thinking, it's that credulous and confused thinking can be much more lethal in ways it was never before."
— Carl Sagan, 1996
"Facts are stubborn things."
— John Adams, 1770
---